The word chaat conjures up everlasting memories for pretty much any Indian and I am no different. Till date I fondly remember the time spent with friends at a roadside stall munching away on a variety of chaat delicacies and completely oblivious to the rest of the world. Living in the US it is definitely hard to relive those days. So I did the next best thing i.e. make chaat myself at home and have it on this rainy evening. Among the innumerable variety of recipes I chose to make the wickedly delicious, sweet, tangy palate-tingling "Pani-Puri".
The word chaat in Hindi literally means to lick and that is exactly what happens with pretty much any recipe that can even be remotely called as chaat. These recipes are usually characterized by an explosion of flavors in your mouth. Some of the elements included in a typical recipe are the SWEET yogurt, CRISPY Sev, the TANGY dry mango powder and the SPICY chutneys. This typically means pleasing all of your senses with a single recipe. DON'T Y"ALL AGREE???
After all that I don't think I need to tell y'all why we Indians love this style of street food so much. So when we inevitably start having "CHAAT CRAVINGS" our life gets thrown into turmoil (LAUGHS!!!!). Things tend to go in a downward spiral until the cravings are satisfied…. The original idea which wifey dear came up with was for us to have a chaat party for a few close friends.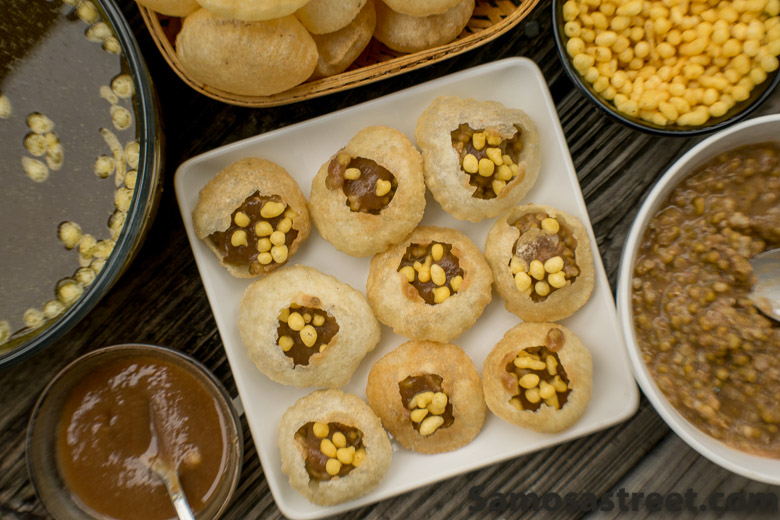 So we went to the Indian store and got pretty much everything that is needed to make multiple recipes. However due to unavoidable circumstances I couldn't settle on a date for the party. That meant all the food was just sitting in our kitchen literally screaming my name (CHUCKLES!!!). Honestly I am an absolute sucker for this style of food!!! (As if I haven't said it enough… RIGHT!!!!). There  was only so much I could do… There was just so long that I could wait.. (LAUGHS!!!).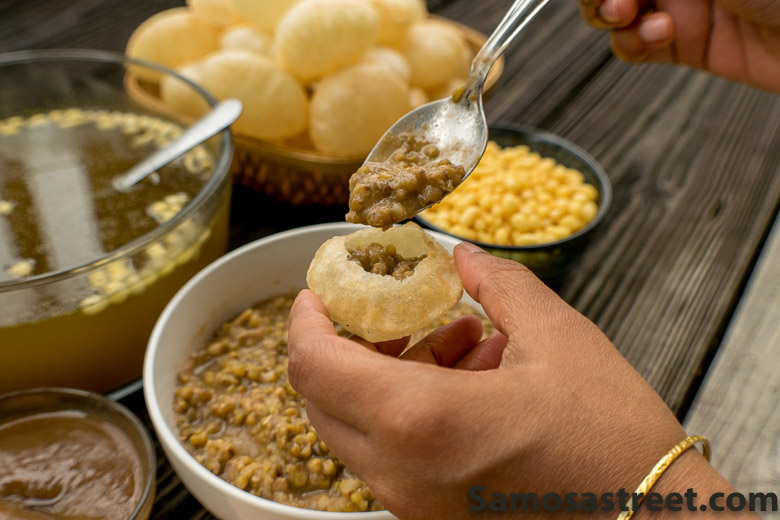 Eventually my resistance crumbled to pieces and I GAVE UP!!!! I didn't make any thing elaborate because the chaat party is still on my mind. But that doesn't mean I couldn't make something tasty and I had the perfect recipe in mind i.e. PANI-PURI.
Puri is basically crispy, puffed and fried bread which is then filled with either a potato or a lentil topping as well as Pani which is basically spiced, flavored water. The fun part is that these puris are not supposed to be broken up but swallowed whole. So as y'all can imagine there are some funny faces/ reactions while eating them (CHUCKLES)..
I had already bought a whole bag of pre-made puris from the Indian stores so half my job was done. The other and easier half of the job was to make the toppings. This time I chose to go with the lentils instead of the potatoes. At least I could tell myself that my cravings are healthy… RIGHT!!!.
Last but not the least was the PANI or the spiced water i.e. take water and add spices to it (DUH!!! It is indeed that simple). I flavored the water with mint powder, amchoor (dry mango powder) and store bought pani puri masala. As of now I honestly don't want to talk any more because I am going to busy myself in wolfing down these one bite goodies (LAUGHS HARD!!!!).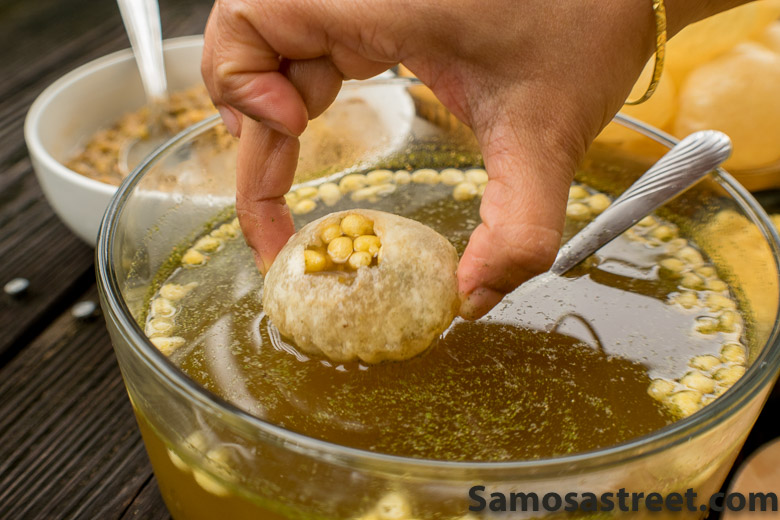 If you are on Facebook I would love it if you like my FACEBOOK page.

Pani Puri
Crispy fried puris stuffed with spicy lentil mixture and dipped in an absolutely flavorful water. Who doesn't love that combo???
Ingredients
1 cup Green Gram/ Moong Dal
1 tsp Cumin Powder
1 tsp Red chili powder
1 tsp Mint Powder
2 tsp Amchur Powder/Dry mango Powder
2 tsp Pani Puri Masala
Black Salt
Salt
4 cup water
Toppings
Dates & Tamarind chutney
Boondi
Packet of readymade Puris
Instructions
Soak Green Gram in water overnight.
Heat a pot over medium heat, add rinsed green gram and 2 cup of water. Cover and simmer until cooked. Drain the water.
Let it cool. Sprinkle cumin powder, red chili powder and salt
In a bowl add 4 cups of water, mint powder, dry mango powder, pain puri masala and black salt. Add ice to it
Assembly
Lightly tap the top of puri with tip of spoon or index finger to make a small hole.
Spoon some Green garam mixture and dates- tamarind chutney inside. Top it with boondi
Dip it in the water
Pop in your mouth immediately.
Please follow and like us: