Another day another recipe inspired by my visit to India. I am sure y'all will agree when I say that the best food is usually inspired by our loved ones and their memories. So this recipe comes from one of my fondest memories with my friends and is called "MASALA PAV" which loosely translates into bread soaked in a spicy gravy or MASALA. Simply imagine an inverted sloppy joe sandwich!!! That means it is more sloppy, a little funky but equally delicious. In fact I am a little biased so I would go ahead and say its a way better and aptly named version of the sloppy joe (LAUGHS!!!).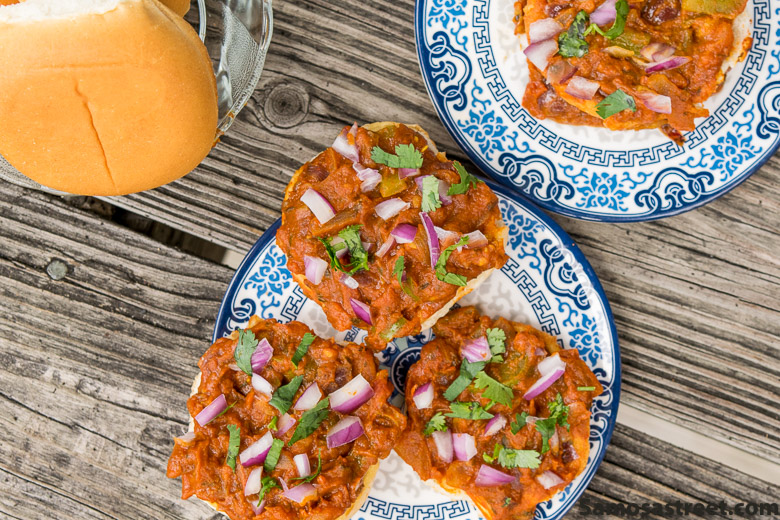 One of the things that I got to do in India was to meet up with my old friends from pharmacy school. We were a close-knit group of five buddies who I would dare say were notoriously well-known in school. Before y'all ask questions I mean that in a really good way (LAUGHS!!). We studied hard and partied harder. All it took was really one phone call late at night for us to plan vacations and we were off the very next morning on a new adventure. Every one of these was more memorable to us than the previous one.
Ahh I could go on reminiscing about the good ol days but I think I should get back to the food now. It is a well-known fact that roadside stalls are a dime a dozen on the streets of Mumbai. So it will come as no surprise to y'all that my friends and I had our own personal favorite located right outside our school. In fact once our day in school ended we never went home without having a snack at the same stall every single day. There are absolutely no prizes for guessing that the snack I am referring to is the sizzlingly delicious "MASALA PAV".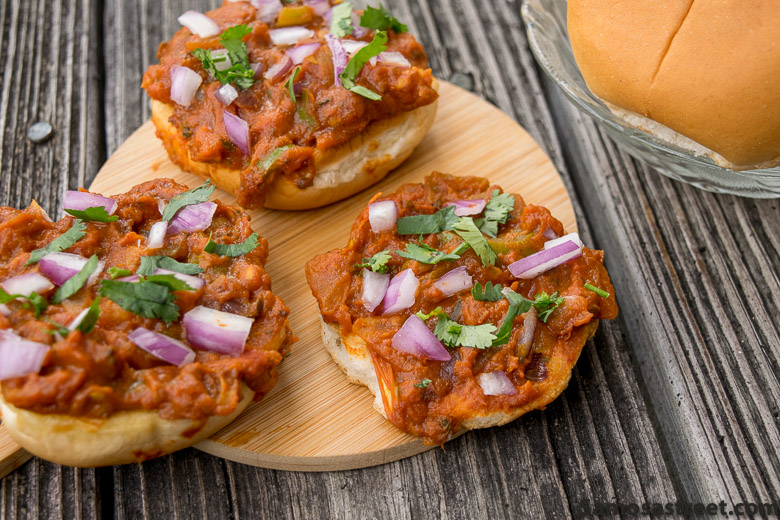 There are innumerable examples of a dish made with a few basic ingredients will set all your senses on fire and dare I say this is one of them. All you need is a list of few basic spices for the masala and you can whip up this delicacy in a matter of minutes.
For my gravy I sautéed garlic-chili paste in butter for a couple of minutes to which I added onions and continued to cook the mixture till the onions were translucent and started to change color. Y'all can completely caramelize the onions if y'all like. My light bulb went on a little late for me to do it and see what difference the caramelized onions would have made to this dish (CHUCKLES!!!). Then add the tomatoes and keep cooking till you get a thick paste. Finally the dry powders go in which will not only spice up the dish but create a perfect symphony of flavors on your palate.
All that is left to assemble the dish. So simply toast the dinner rolls in a little butter and pour a mindful of the sauce on top of it and dig in.
You can eat it with a fork and spoon but I prefer to get messy and dive in with my bare hands. Didn't I say in the beginning that it was an aptly named version of the sloppy joe!!!!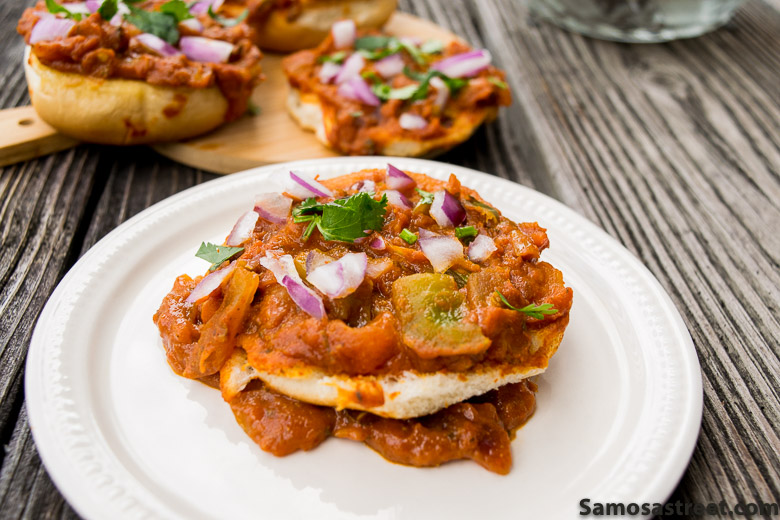 If you are on Facebook I would love it if you like my FACEBOOK page.

Masala Pav
Dinner rolls smeared with a spicy, tangy tomato-onion gravy. A piping hot dish perfect for the cold weather.
Ingredients
3 tbsp Butter
1 Capsicum (cubed)
1 Onion (chopped)
4 Tomatoes (chopped)
1½ tsp Garlic - Green Chili Paste
½ tsp Tumeric
2 tsp Coriander Powder
2 tsp Red Chili Powder
1 ½ tsp Pav Bhaji Masala
3 tsp Fenugreek Leaves
Cilantro
Salt as per taste
6 Dinner rolls
Instructions
Melt butter in a cast-iron skillet over medium heat. Add garlic-chili paste and saute till the raw smell of garlic vanishes.
Add the chopped onions and sauté for few minutes till they start changing color.
Add capsicum, tomato and cook till the tomatoes soften into a thick paste.
Now add tumeric, coriander powder, red chili powder, pav bhaji masala, fenugreek leaves and mix well. Cook for couple of minutes.
Season with salt and garnish with cilantro.
Sauce is ready
Assembly
Cut dinner rolls in half. Melt butter on a pan and toast dinner rolls on both the sides.
Spoon the masala generously on one side of the dinner roll. Garnish with onion and coriander leaves
Please follow and like us: