No sooner had my  obsession with chaat been satisfied than my wife's began. The ingredient she was craving was actually one which we had not eaten for quite a while i.e. Shrimp. Being a dutiful husband I went and got a bag of frozen shrimp from Costco (LAUGHS!!!). Buying from Costco usually means buying in bulk which in our case meant we could make two shrimp recipes for the price of one. One was a delectably appealing shrimp curry while the other was a divinely crispy "FRIED SHRIMP".
The pressure of work has unpredictably ratcheted up a lot in the past couple of weeks. I have started looking at the blog now as a way to calm down amidst all the chaos that happens during the week. But this was one of those change of pace weeks courtesy of a hiking trip organized by my boss. The best part of it was that we were going to do so on a Friday which meant an unexpectedly long weekend.
The plan was to meet at the picturesque Ruffler mountain park in the morning, hike for a couple of hours and then go for a group of lunch. The big problem with doing all this was the heat because the mercury was hovering close to 90 the entire time. So when it was time for us to come home my throat was dry and to no one's surprise I came home with a six-pack of my favorite beverage i.e. BEER. (LAUGHS!!!!).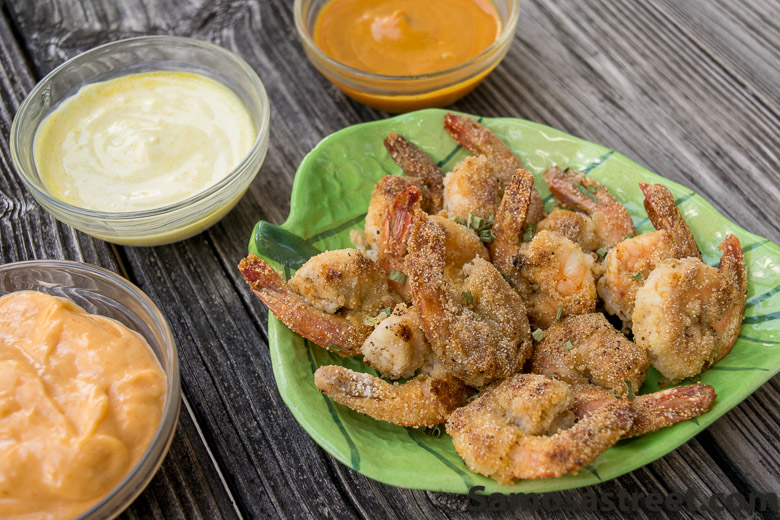 But at dinner time this cold beverage tends to feel lonely and absolutely needs a companion (CHUCKLES!!!). This is the moment the leftover shrimp from Costco runs in to the rescue and suddenly everyone is happy (LAUGHS!!!). That includes me too since I now have the perfect recipe idea for the blog. The recipe is for "FRIED SHRIMP", barely has five ingredients and is ready with minimum fuss. I wish everything in life could come to me this easily (LAUGHS!!).
Minimum fuss calls for marinating the shrimp with a few basic ingredients like ginger-garlic-green chili paste, lemon juice and my favorite Malvani Masala. I realize most of y'all may not have this masala so may I suggest garam masala or even old bay seasoning as worthy replacements.
Whenever its time for me to fry anything I like to use rice flour since it makes things extra crispy.This time I mixed in a little semolina to change things up a bit. All that is left is to dip the marinated shrimp in the flour-semolina mixture and fry them to crispy perfection on a cast-iron skillet. The only thing left is to eat them with your favorite dipping sauce.
P.S; I made 3 different sauces for my shrimp; a sriracha mayo, ketchup-mustard sauce and a curried yogurt sauce.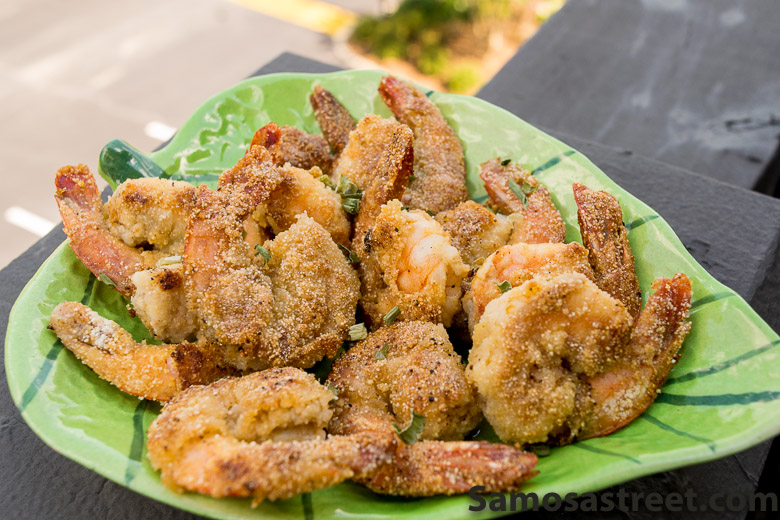 If you are on Facebook I would love it if you like my FACEBOOK page.

Fried Shrimp
Who doesn't love a crispy, spicy, fried to perfection shrimp???
Ingredients
13 Shrimp
2 tsp Ginger Garlic Chili paste
2 tsp Malvani Masala
1 tsp Lemon Juice
3 tbsp Rice Flour
2 tbsp Fine Semolina
Salt
Oil for frying
Instructions
Marinate the shrimp with ginger - garlic - chili paste, malvani masala, lemon juice, salt for 30 minutes.
Combine rice flour, semolina in a plate. Just before frying add the shrimp to the flour mixture. Shake off the excess flour
Heat a cast iron pan over medium heat. Fry a few shrimp at a time until golden and crisp. Drain on paper towels.
Serve with choice of dipping sauce.
Please follow and like us: