Its Nacho time! Corn Chips layered with super flavorful Shredded Chicken, Green Peppers & Homemade Salsa.
This is my first post from the land of Barbecue and Tacos. Since I absolutely love Mexican food it had to be the inspiration for this recipe. One of the more common Tex-Mex dishes is nachos. Add in some Indian flavors and you have a mouthwatering garam masala spiced chicken nachos with onions, peppers and freshly made salsa.
Its been only about 2 weeks since we moved to Dallas, Texas. Now I feel as if I am actually settling down and getting my daily routine pat. So I have started trying to get to know the city by reading up on things like local attractions, the lifestyle and especially the food. As Texas is such a large state, its cuisine has a multitude of influences including German, British, Mexican and Italian.
Tex-Mex cuisine basically combines traditional Mexican cuisine with American cooking techniques. Dishes like nachos, fajitas, quesadillas are an integral part of this cuisine. That is a lot of ideas for future posts. As of now the biggest problem for me with recipes like that is not a lot of equipment and a half full pantry. It is simply because my new job  has turned out to be extremely hectic. I have had to hit the ground running from day one. That automatically means I am exhausted at the end of the week and absolutely do not feel like stepping out of the apartment over the weekend.
Considering all that I had to make something with minimum fuss but maximum flavor. So I simply cooked the chicken with onions & peppers, added in some leftover garam masala, topped it with salsa and cheese & Voila!!! I had chicken nachos. Its that easy and you would be surprised as to how good it actually tastes.
Bring the water to a boil in a large pot. Add in the chicken and cook until tender. Once it is cooked, drain the water and let it cool. Shred the chicken with two forks and set aside.
Saute the onions and green pepper in a sauce pan over medium-high heat for about 4-5 minutes. Then mix in the chicken along with the tomato puree and the dry spice powders. Cook for another 5 minutes till the flavors come together. The tomato gives a nice tangy taste to the chicken and compliments the spicyness of the garam masala beautifully.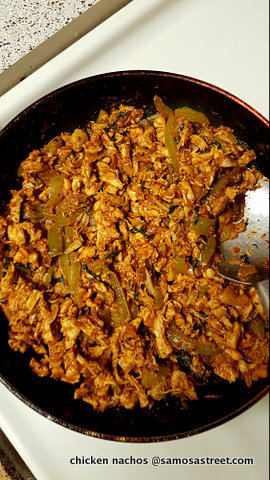 I actually used store bought garam masala but you can substitute your own spice blend in this recipe. I would love to hear about your spice blends in the comment section.
For the big finish drizzle some lemon juice over the chicken!!!!
Now you are ready to assemble. Arrange the corn chips in a serving plate. Add the cooked chicken and sprinkle the salsa evenly over it.
Top the plate with cheese. Heat in a microwave until the cheese is well melted. Garnish with cilantro.
Dive into it immediately!!!!!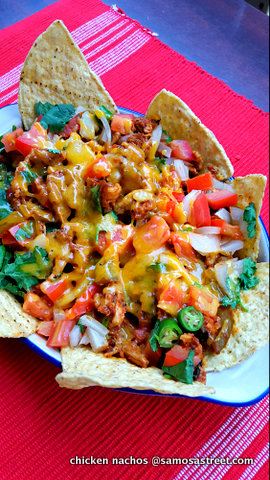 Click here to like us on FACEBOOK.
Shredded Chicken Nachos
Its Nacho time! Corn Chips layered with super flavorful Shredded Chicken, Green Peppers & Homemade Salsa.
Ingredients
Chicken
¾ pound Chicken (boneless skinless thighs)
½ cup Tomato puree
½ small Onion (diced)
1 half Green pepper (cut into strips)
1 tsp Red Chilli Powder (optional)
2 tsp Garam Masala
1 tsp Lemon Juice
Salt as per taste
Coriander (garnish)
Salsa
1 Tomato (diced)
½ Small onion (diced)
2 Green chillies (chopped)
1 tsp Lemon juice
Salt
Coriander (garnish)
Instructions
Salsa
In a bowl add tomato, onion, green chillies and mix. Add in the salt, coriander and mix well. Drizzle the lemon juice over it and refrigerate overnight.
Chicken
Boil the chicken thighs in a large vessel till tender.
Drain the water and let it cool. Then shred it with two forks and set aside.
Heat the oil in a sauce pan over medium-high heat and saute the onions and peppers in it untill soft.
Add the chicken to the pan and sear for 3 minutes.
Add tomato puree, garam masala powder, red chili powder and salt. Simmer for another 3-4 minutes.
Finish off with a little bit of lemon juice.
Assemble
Arrange the corn chips in a dish.
Top chicken mixture and salsa evenly over the chips.
Sprinkle cheese over the chips. Place the dish in a microwave to melt the cheese completely.
Garnish with cilantro.
Dive into it immediately.
Please follow and like us: