Bite size cauliflower wings are sweet, sticky and finger licking good !!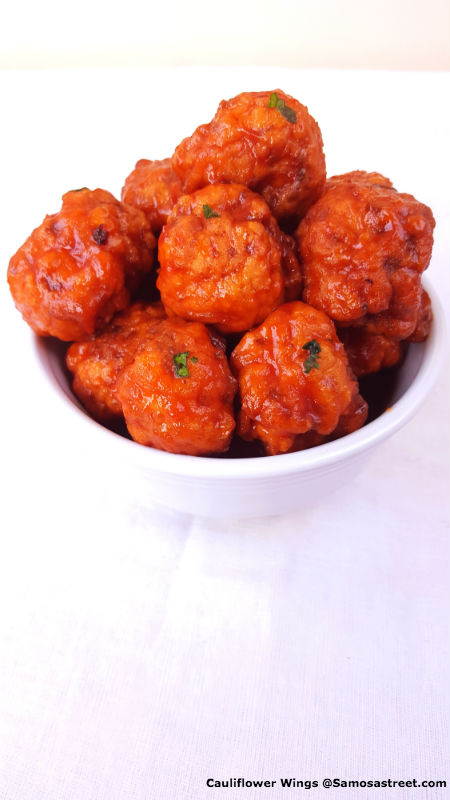 Happy Mother's Day to the most special person in my life. MY MOM!!!! And not to forget the rest of the wonderful mother's out there. On this day I had to come up with something inspired by Mom. It's a tall order considering the fact that she is the reason I love cooking in the first place. But I did make an effort with these delectably tasty "CAULIFLOWER WINGS". They are sweet, spicy, tangy… AHH Forget the descriptions!!! Just try these wings Y'ALL and let me know.
Every mother in this world has the unenviable task of making food tasty for her kids. By that I mean getting kids to eat all the veggies. (CHUCKLES!!!) In my case it was no different. Pretty much once or twice a week I came home expecting her to cook me something new and tasty. It must not have been easy for her but she rose to the challenge admirably. I must say all MOM's are the best chefs in the world.
Now as she has gotten up there in age it is time for her to focus on a diet, which suits her the best. Which means tasty but more importantly healthy food. At the same time I consider myself to be on the other side of the table so to speak. I should be coming up with recipes, which she can enjoy. This past weekend she was telling me all the fun she had at a family function and one of the things she mentioned was all the kids gobbling up the chicken wings.
That got me thinking about making a healthier version of these wings. I was just about to go to the store to buy chicken when my wife yelled "HOW ABOUT CAULIFLOWER WINGS"??? I thought "WOW it saves me a trip to the store. Just Kidding. My first thought it was a simply awesome idea.
The wings always have a partner in crime i.e. WING SAUCE. This is a pretty basic sauce so simply whisk all the ingredients for the sauce and keep aside.
Next comes the star of the dish, "CAULIFLOWER". Cut the cauliflower in bite size florets.
In a bowl combine gram flour, rice flour, red chili powder, dry mango powder and salt. Add water and whisk thoroughly to make a smooth batter. The batter should not be very thick. Heat oil in a pan. Working in batches, dip each cauliflower florets in the batter to get an even coating. Shake off the excess batter and fry until golden brown. Drain on absorbent paper. Deep-frying is the one thing in the recipe that my mom won't like. But I had to do it since it is my guilty pleasure. SORRY MOM!!!
Toss the florets in wing sauce.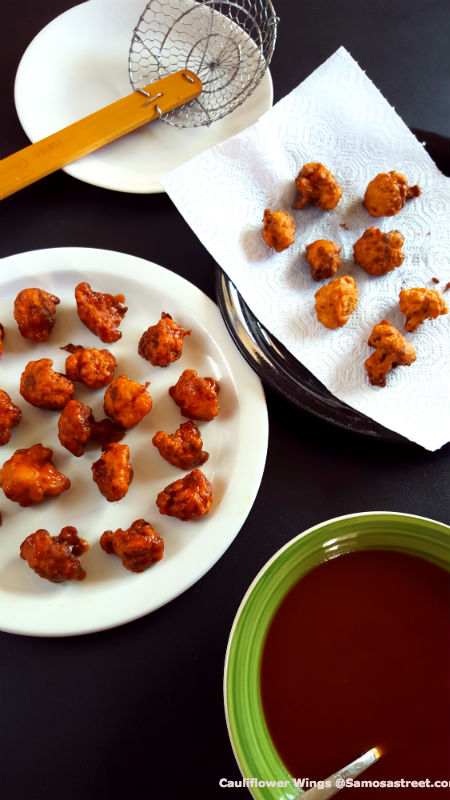 Enjoy immediately. For me its time to see what my mom thinks of my recipe. WISH ME LUCK GUYS!!!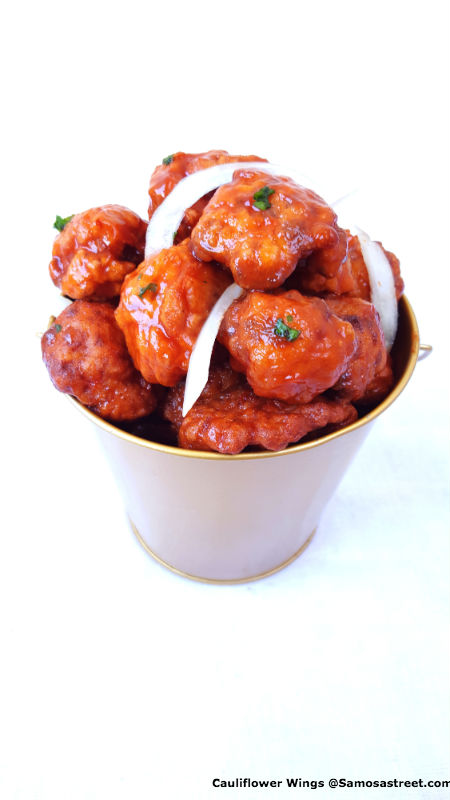 If you are on Facebook I would love it if you Like my FACEBOOK page.
Cauliflower Wings
Bite size cauliflower wings are sweet, sticky and finger licking good !!
Ingredients
1 Small Cauliflower
1 cup Gram Flour/Besan
1 tbsp Rice Flour
½ tsp Red Chili Powder
1½ tsp Dry mango Powder
Salt as per taste
Water as needed
Oil for frying
Wing Sauce
1 cup Tomato Ketchup
5 tsp White Vinegar
2 tsp Soy Sauce
3½ tbsp Tamarind Water
1 tsp Red Chili Paste
1½ tbsp. Sugar
¾ cup Water
Instructions
WING SAUCE
In a bowl whisk all the ingredients for wing sauce and keep aside.
WINGS
Cut the cauliflower in bite size florets.
In a bowl combine gram flour, rice flour, red chili powder, dry mango powder and salt.
Add water and whisk thoroughly to make a smooth batter. The batter should not be very thick.
Working in batches, dip each cauliflower florets in the batter to get an even coating. Shake off the excess batter and deep-fry until golden brown. Drain on absorbent paper.
Toss the florets in wing sauce. Enjoy immediately
Notes
Red chili paste – Soak 6 dry red chili in water for 3 to 4 hour. Retain the water. Blend the chilies to make a fine paste. Use the retained water if required for blending. OR You can use green chillies or Sriracha as per your taste
Tamarind water – Soak 5 tamarind pods in water for 4 hours. Mash with a spoon, strain and discard the solid. OR use tamarind paste
Please follow and like us: