One of the guilty pleasures for wifey and I in life is sev puri from our home city of Mumbai. One of the few occasions that we get to taste it is on our bi-monthly trip to Atlanta to buy Indian groceries. But what happens when we are craving street food and there is a long way to go for our trip to ATL??? That is my cue to whip up this delicious concoction at home usually with some kind of unusual twist. This time the end result turned out to be this funky, frugal and lip-smackingly delicious Black Bean Sev Puri.
Living in a small city like Birmingham, AL we cannot get our usual fix of Indian foods from a couple of small mom and pop Indian stores. There is no option but to drive a couple of hours to Atlanta to shop at the big daddy of Indian stores (CHUCKLES!!!). If y'all are thinking that this is one mighty inconvenience then I would have definitely agreed.. But that was before I realized that this Indian store is located next to a couple of restaurants selling Mumbai street food. Now wifey and I are usually on cloud nine on the days we go grocery shopping..
Our last excursion was a couple of weeks ago and I must say this time we indulged ourselves a little more than normal (LAUGHS!!!!). Even the temple we went to had its own little restaurant and we just couldn't help ourselves and started eating earlier than we had planned… Here's where I pump the brakes and stop talking because all this was 2 weeks ago and any more talk about it is just making my mouth salivate!!!!!
But being a decent enough cook myself I am indeed in a position to do something about it.. That and the intense cravings wifey and I were having for the street food especially "chaat" turned out to be a huge motivation for this recipe. Chaat for the uninitiated is a type of savory snack served on the roadside shacks of Mumbai. If you ask me then I will say that the sheer variety of dishes it is definitely a cuisine by itself.
Initially I was just going to make one of the traditional recipes for wifey and I to enjoy. But when wifey dear started talking about one of Gordon Ramsay's black bean recipes I knew I had the inspiration for my next post. Chef Ramsay roasted the black beans with a few spices and served it with guac and tortilla chips.
Yours truly simply made a salsa with the black beans and served it over a crispy puri which is truly a staple of a large number of chaat recipes. Now if that isn't being truly inspired by your idol then I don't know what is???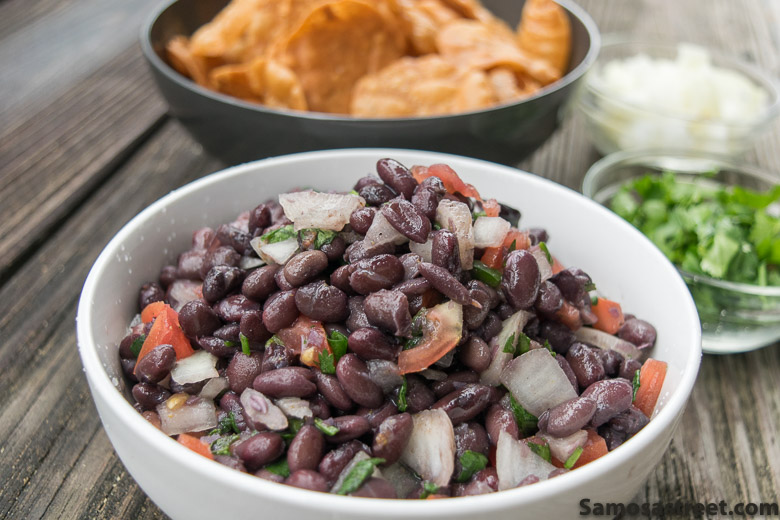 For the salsa topping I kept it simple with onions, tomatoes, jalapeños for a little heat, cilantro, lemon juice and another mainstay of Mumbai street food i.e. chaat masala.
It didn't take me long to fry up the puris too since I have made it before HERE. The only modification being to poke holes in the dough to allow the puris to crisp up instead of puffing up.
All that's left is to simply top these puris with the black bean mixture and enjoy the delicious bite of black bean goodness…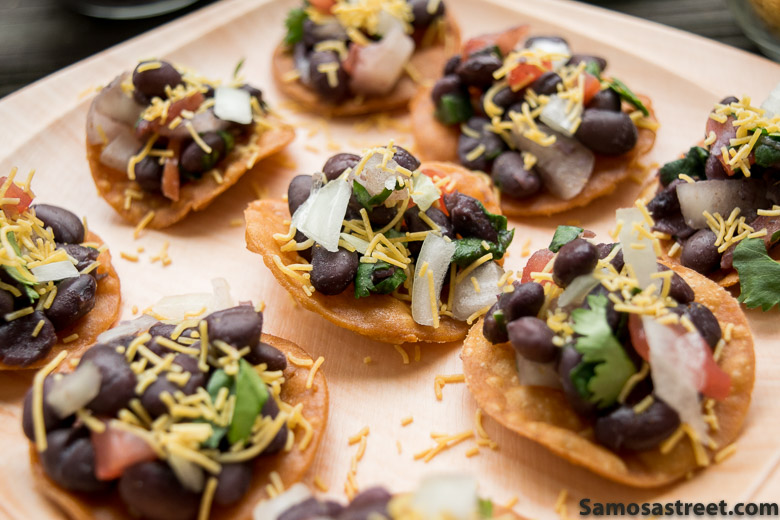 Other Chaat Recipes you may Enjoy !!
If you are on Facebook I would love it if you Like my FACEBOOK page.
If you like this recipe don't forget to Pin it and follow us on PINTEREST.
Did you make this recipe? Share a photo on INSTAGRAM at #samosastreet.

Black Bean Sev Puri
Black Bean Sev Puri, as the name indicates is puris topped with a black bean salsa and sev. Tangy, crispy and tongue ticklingly delicious chaat!!!!!
Ingredients
Black Bean Salsa
1½ cup Black Beans
½ medium Onion (diced)
½ Jalapeno (diced)
1 full Tomato (diced)
1½ tbsp Lemon Juice
1½ tsp Chaat Masala
Generous Cilantro
Salt to taste
Puri
¼ cup Rice Flour
¼ cup Whole Wheat Flour
¼ cup All purpose flour
5 tbsp Water
Salt
Oil for deep frying
Instructions
Cook black beans in a pressure cooker till soft.
In a large bowl mix all the ingredients mentioned in the above list for the salsa and keep it in a refrigerator for an hour or overnight which would be better.
Puri
Combine rice flour, wheat flour, all purpose flour and salt. Add water little at a time and mix. Knead slowly to form a semi stiff dough. Divide the dough in equal parts.
On a floured surface roll the dough in a thin circle with a rolling pin.
With a cutter, cut out circles in the dough. Remove the extra dough and add it to the unused dough. Prick each puri with a fork.
Gently slide 3 to 4 puris into the hot oil in a frying pan and fry till golden brown on both sides.
Drain on absorbent paper. Repeat with the remaining dough.
Assembly
Fill a plate with puris. Top it with the black bean mixture. Sprinkle sev evenly over it.
Pop in your mouth immediately.
Enjoy.
Please follow and like us: