First of all I would like to wish all my friends in India a Happy Ganesh Chaturthi.. May the biggest and the best problem solver in the world shower you with a lot of love and moments just and sweet and delectable as his favorite MODAKS.. If ever there was a time for me to make these MODAKS it was right now on this very auspicious occasion. But me being me I just cant seem to do anything on time. So I decided to do something which is universally loved i.e. Mac & Cheese or Spinach Mac & Cheese to be more specific. This is an Indianized version of the dish with the pasta cooked in a lusciously delightful spinach sauce and topped with cottage cheese.
I am never going to get tired of saying that the best part of the holy month of Shravan comes at the very end in the form of the festival honoring the almighty Lord Ganesh (LAUGHS!!!). Although there are people like me who are nothing more than kids in a grown-up body who think that the only reason to celebrate this festival is to eat all the sweets especially the MODAKS (LAUGHS HARD!!). Modaks are basically steamed rice flour dumplings stuffed with a sweet filling of shredded coconut and jaggery. It is a delicacy which is specifically made for this occasion just because it is Lord Ganesh's favorite sweet.
After so many years I finally decided that this would be as good a time as any to actually make this speciality at home. The problem was this easy looking recipe is actually very complicated when you actually start making them. You need expert advice (HINT: Mom, which she made it a point to remind me) before you even attempt to make it. Me being the over smart guy that I am went ahead and made it anyways and the result was let's say a predictable disaster (LAUGHS!!!). In the end I simply gave up and decided that a PLAN B was in order.
Fortunately for me Plan B was staring me right in the eye. Sitting on top of the fridge were boxes of pasta courtesy of our first trip to the wholesale retailer Costco. Taking into account the lack of time in my hands I decided that store bought pasta was going to be my best option. However the trick was in giving an Indian touch to the sauce by adding a whole bunch of spices to it. While I found the pasta sitting on top of the fridge I found the inspiration for the sauce sitting inside it, i.e. A HUGE bag of spinach. I knew I had the framework of the recipe in mind in the sense that I was going to make a creamy Spinach Mac & Cheese.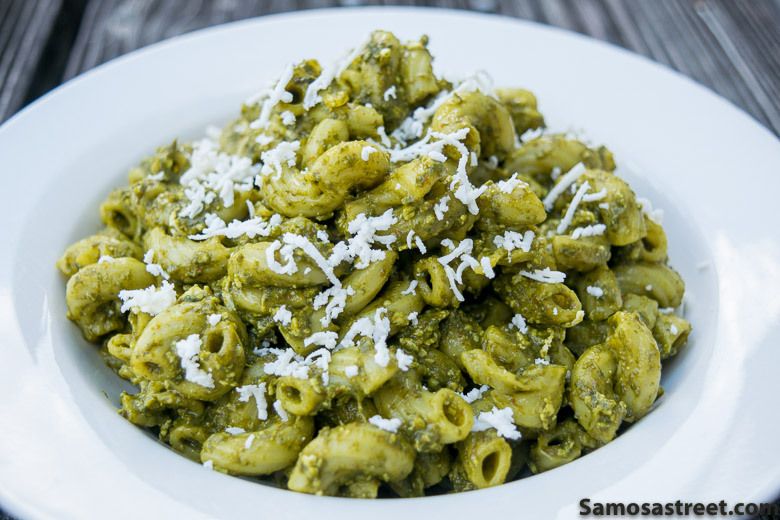 I was going to base this recipe on the classic Palak Paneer (Spinach & Cottage Cheese) which is a very popular dish in the northern part of India. The recipe starts with blanching the spinach in boiling water for a couple of minutes and instantly shocking it with cold water which preserves the color of the spinach at the same time the spinach is cooked. Once cooked the spinach is then simply pureed into a smooth paste.
In sauces like these an absolute must-have for me are pan-roasted onions blended into a paste. Once the two pastes are ready it was time to get cooking. Cook the ginger-garlic paste, onion paste and spinach paste in that order in a deep saucepan or a wok. In the meantime do not forget to cook the pasta according to the instructions on the packet.
Now it was time to build a flavor profile. So in went the tomato puree for a little tang, and heavy cream to give the sauce a  rich, creamy texture. Last but certainly not the least are the dry spice powders; red chili, turmeric and coriander powders. In addition to these I have also used fenugreek leaves which gives the dish a unique, earthy flavor. Add a dash of garam masala and an absolutely divine sauce is ready for the pasta to take a dive into. So please do not keep the pasta waiting any more and let it dip into the pool of deliciousness. Top it with shredded cottage cheese and ENJOY!!!!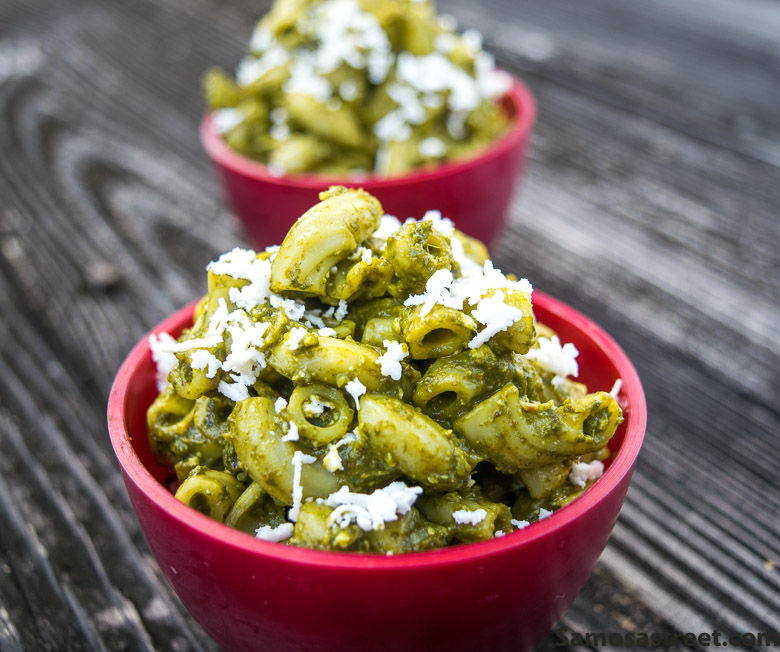 If you are on Facebook I would love it if you like my FACEBOOK page.

Spinach Mac & Cheese
It's the popular Mac & Cheese... Indian-Style!!! The pasta is submerged in a blissfully palate-pleasing Garam Masala spiced Spinach sauce and then topped with Cottage Cheese...
Ingredients
½ Packet Elbow Pasta
½ bag Spinach Leaves
150 gm Cottage Cheese/Paneer (Grated)
1 small Onion (chopped)
½ cup Tomato Puree
¼ cup Cream
½ inch Ginger (chopped)
3 Garlic Cloves (chopped)
2 tsp dried Fenugreek Leaves (Optional)
3 tsp Coriander Powder
1 tsp Turmeric
2 tsp Red Chili Powder
1½ tsp Garam Masala
2 tbsp Butter
Salt as per taste
Instructions
Blanch spinach leaves in boiling water for 2 minutes. Strain the leaves and put the leaves into cold water. Squeeze out the water and puree in a food processor until smooth.
Heat oil in a pan and add garlic, ginger and saute till raw smell goes away. Add onion and saute till translucent. Once cool, puree in a food processor until smooth and keep aside.
Cook the pasta according to the instructions on the packet and keep aside. Toss it with a little oil to prevent it from sticking.
Add onion paste to melted butter in a large pan and saute for few minutes.
Mix in the spinach puree, cream, tomato puree and sauté till the oil separates.
Add coriander powder, turmeric, red chili powder, fenugreek leaves, garam masala and stir well.
Add pasta and stir gently.
Season with salt and grated cottage cheese. Serve hot.
Please follow and like us: