I cannot believe it's been 4 fantastic years since I started my blog. That's 4 years full of crazy experiences in the food world which have helped me develop quiet a few whimsical recipes along the way. Also how can I forget the wonderful people I have met in this journey who have done nothing but encourage me to keep going.. Although some of them have become frequent visitors to my apartment to eat (Just kidding). So to celebrate I wanted to do something a little outside the box. Drumroll please because I am presenting to you "SHRIKHAND CANNOLI"!!! Cannolis is actually an Italian dessert which I have stuffed with one of India's popular sweets i.e. Shrikhand.
These are the times when you can't help but go back down memory lane and forgive me but I feel like doing just that. The first recipe that I put out was that of a simple chicken curry but I did that with a lot of trepidation. The first few recipes received lukewarm responses but helped me iron out my flaws. Now I won't call myself a chef of any kind but I will say that I have graduated to a decent cook (LAUGHS!!!).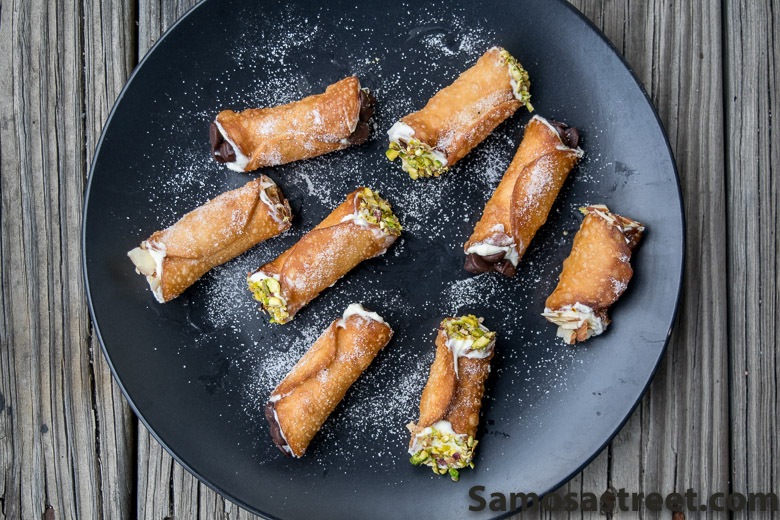 Something else that blogging forced me to do was to work with new ingredients which in turn led me to new cuisines and greatly helped expand my knowledge.
On that train of thought I think I will stop reminiscing about the past and start talking of Cannolis. The cannoli originated in Italy and is actually a tube-shaped shell which is filled with a savory or sweet filling. One interesting tidbit that I came across while reading about this recipe was that the dough for the shells is made with MARSALA WINE which gives the shells a distinct sweetness. It was unlike anything else that I have tasted before.
Basically you are substituting water with wine in the dough-making process. There is hardly anyone in the world who would refuse a little booze in their desserts!!!
Also if you think that you need molds to create the perfect cannoli shape then you are absolutely right!! There are indeed stainless steel molds available in the market that you can buy. But for those of you (i.e. me) who don't want to buy them there is a DIY method that you can use to make the molds. The trick is simple i.e. just roll aluminum foil into a desired size tube.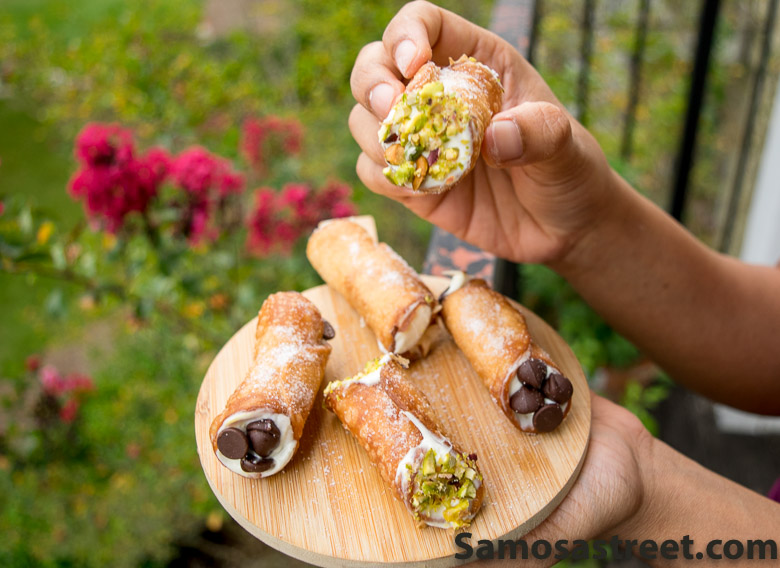 The shells took me a while to master because of my DIY molds but once I did it was a piece of cake to fry as many cannoli shells as I could possibly fill with a delicious filling and stuff down my throat.
As far as the filling goes then I must warn y'all that the number of possibilities can be restricted only by your own imagination. You can do anything from chocolate chips, macadamia nuts, hazelnuts to your favorite candies and cookies along with the traditional cream or cheese filling. I went for the traditional ricotta cheese, pistachios and chocolate chips. But then I also decided to go crazy and stuff the cannoli with the traditional Indian Shrikhand and that's how Shrikhand Cannoli was made.I simply flavored the shrikhand with a little bit of saffron. 
The shrikhand filling tends to be somewhat denser than the traditional ricotta cheese but SPOILER ALERT its no less amazing. You can have it as it is or dip it into chocolate chips for extra chocolatey goodness.
All in all it was the best blogiversary celebration that wifey dear and I have had so far!!!!
If you like this recipe here are few more similar recipes for you to try Whiskey Gulab Jamun, Kesar Shrikhand and Shrikhand Golgappe.
If you are on Facebook I would love it if you Like my FACEBOOK page.
Did you make this recipe? Share a photo on INSTAGRAM at #samosastreet
Shrikhand Cannoli
Crispy sweet cannoli shells filled with the traditional ricotta cheese filling OR with the traditional Indian Shrikhand for an Indian-Italian fusion dish!!!!
Ingredients
Shells
1

cup

All-purpose flour

¼

teaspoon

salt

2

tbsp

sugar

1

tbsp

butter (small pieces)

1

egg (optional)

¼

cup

Marsala wine

Oil for frying

Moulds
Filling
Ricotta cheese

Sugar

or

Shrikhand (recipe link in the instructions)
Toppings
chocolate chips, sliced almond, crushed pistachio or of your choice
Instructions
Shells:
Mix all purpose flour, salt, sugar. Add butter by cutting into dry mixture using fork or hand.

Mix in wine. Knead slowly to form a soft dough.

Let the dough sit in the refrigerator for 30 min.

Heat oil on a high heat.

Divide the dough in equal parts. On a floured surface roll the dough in a thin circle with a rolling pin.

With a cutter, cut out circles in the dough. Remove the extra dough and add it to the unused dough.

Wrap circles around cannoli molds, allowing the ends to overlap and seal together to form the shell.

Fry shells in oil until golden, about 2-3 minutes.

Allow to cool slightly (1-2 minutes).

Using kitchen towel, carefully slide shells from mold and allow to cool.
Filling:
Mix the ricotta cheese and sugar
Assembly:
Take cooled cannoli shells and pipe in filling (shrikhand/ricotta cheese)

Dip finished cannoli in toppings.

Finish with powdered sugar.
Please follow and like us: