This past weekend I found a new toy to play with. It was a big hulking cast iron skillet, which I bought for just about 15 bucks… It felt like Christmas came a little early for me. My first attempt to cook with it was a skillet pizza, which turned out to be quiet a disaster. But the pizza topping that I had whipped was a pleasant surprise on my taste buds, which turned into this delectably flavorsome "PESTO CHICKEN".
It feels that people here in the US start preparing for Christmas the moment thanksgiving dinner is over. Heck there are people for whom Christmas preparations start even earlier. Who am I to blame them because it is definitely the biggest party of the year and you need all the time in the world to get ready. Even though Maddy and I do not celebrate Christmas with such enthusiasm there are a lot of things we love about this festival. Maddy is especially fond of the way people decorate their houses not to mention the beautiful Christmas trees and the food. As for me I am only looking forward to the deals on kitchen equipment (LAUGHS!!!).
I am stating just the obvious when I say that this is definitely a good time to shop around. So my trips to the mall are a little more frequent this time of the year. It was on one such trip that I came across this big cast iron skillet for just 15 bucks. It was too good of an opportunity to pass up on since I knew it could allow me to expand my repertoire of recipes. I immediately began dreaming of fancy recipes like pan-fried fish/meat that I could be posting on the blog (LAUGHS!!!). 
I came back home and by the time reality had set in so I decided to instead make a simple pizza. So I make the dough from scratch and start cooking it on the skillet. When I smelled something burning I realized that I had underestimated the ability of the skillet to cook the pizza. So it didn't take long for that idea to be reduced to ashes (CHUCKLES!!!).
On the bright side the sauce and the topping that I had whipped up for the pizza was simply irresistible. I had chicken as the protein and had sautéed it in a simple spinach pesto. So this chicken combined with a couple of veggies became this palate-pleasingly divine "PESTO CHICKEN".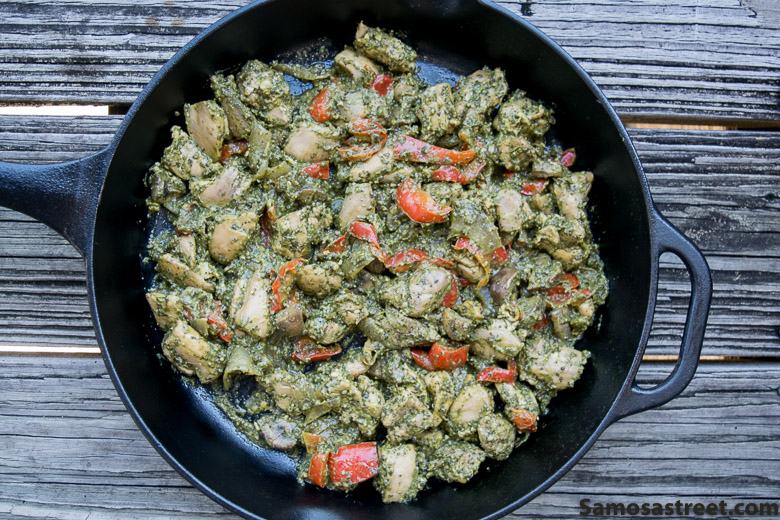 The pesto is simply made up of basil, garlic and almonds (just lying around the house). I used water instead of oil because simply put I did not know the right amount of oil to use (CHUCKLES!!!). I added spinach in it for good measure to make it a little different. Nah!! The only reason I added it was sitting in the fridge not being used (LAUGHS!!).
Once the pesto was ready it was simply a matter of roasting the onions, peppers, mushrooms and chicken in the skillet and then adding the pesto sauce on top to finish it up. The cherry on top was just a dash of lemon juice to give this dish a little kick.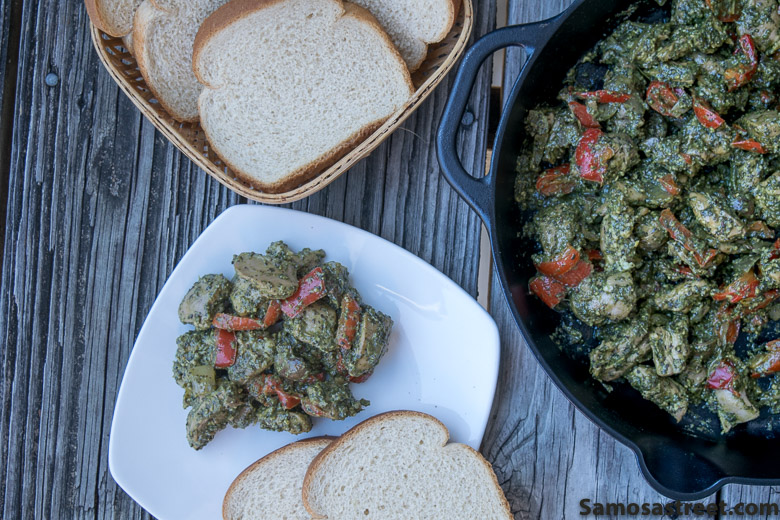 If it were left to me then I would eat the dish as it is because I think its just that good. But y'all can use any type of bread to soak up all the delicious goodness while eating it.. DIG IN!!!
If you are on Facebook I would love it if you like my FACEBOOK page.

Pesto Chicken
This one-pot meal is incredibly simple with chicken, red pepper and mushrooms cooked in a nutty, garlicky and cheesy pesto sauce.
Ingredients
1 pound Boneless, Skinless Chicken Thighs (sliced)
2½ cup Spinach
¾ cup Almonds
¾ cup Basil Leaves
4 Garlic Cloves
1 tbsp Lemon Juice
1 cup Parmesan Cheese
1 Red Pepper (cut into strips)
½ Onion (thinly sliced)
1 cup Mushroom (halved)
Salt as per taste
Instructions
In a food processor add spinach, almonds, basil, garlic cloves, parmesan cheese and blend until the ingredients are finely chopped. Add water to make a smooth paste.
Add lemon juice and season with salt.
Add oil in a cast iron skillet and saute onion until light brown. Add red pepper and mushrooms and cook until soft.
Toss in chicken and cook until the color is changed.
Stir in pesto to coat and let it simmer. Season with salt and serve hot.
Please follow and like us: