Switch on any kind of food channel on TV and you will invariably see a chef roaming around in a farmer's market, seeing the array of fresh ingredients and more often than not getting inspiration for a recipe. I wont call myself a chef by any means but that wasn't going to stop me from attempting to do the same thing (LAUGHS!!!). The fact that a recipe came to mind while doing so was just the icing on the cake. At least for me it was somewhat of an out of the box idea i.e. "FRIED ZUCCHINI BLOSSOMS" stuffed with my latest cheesy obsession which is goat cheese.
If y'all are getting the feeling that this recipe is all about me fulfilling a weird infatuation of mine of behaving like a chef then I won't hesitate to admit that it is true (LAUGHS!!!). I am extremely happy with my current day job but in an alternate world I do wish that I would have discovered my love of cooking a bit earlier which would have allowed me to pursue this as a career.
Leaving aside the world of what-if's I must say that cooking with zucchini blossoms was somewhat of a novelty which added to the whole thing I have got going on right now about feeling like a chef. (CHUCKLES!!!)
The theme of my blog has been to always Indianize (think I just invented that word) all my recipes i.e. add some Indian spices to every recipe. So this recipe was going to be no different. I kept the stuffing really simple with goat cheese, corn, scallions along with salt and pepper. It was the batter that I changed by using gram flour which I seasoned with a touch of garam masala.
A spice blend like that I believe is an important tool to have in your arsenal since it goes well with everything from curries to stir-fries to seasoning up the batter for frying. Also the gram flour batter is something that is commonly used in India to make a variety of fried foods and the reason for that is the extra crunchiness it provides these recipes.
This aspect is instantly visible once you take a bite of the fried zucchini blossoms. This snack is crunchy and the goat cheese gives it a nice, tangy kick. I won't hesitate to chow down on it any time but this time it became the perfect evening snack for me..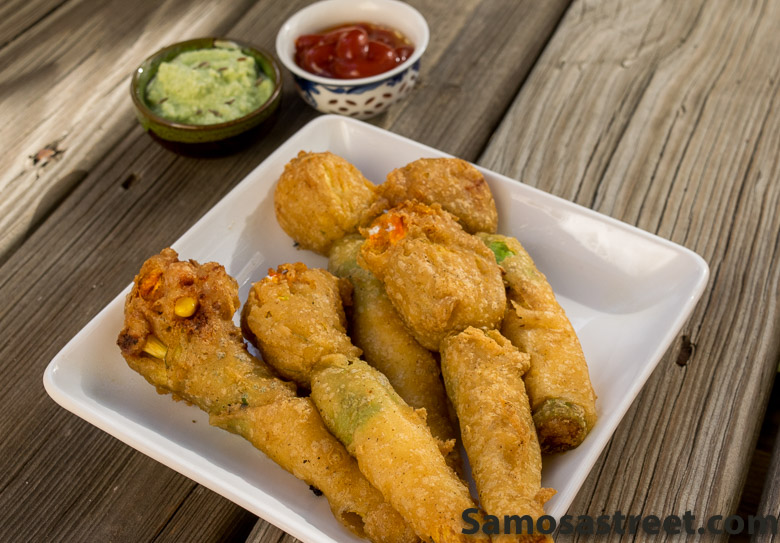 Fried Zucchini Blossoms
Zucchini Blossoms fried in a Gram Flour Batter seasoned with Garam Masala



Ingredients
3/4

Cup

Goat Cheese

1/4

Cup

Boiled Corn

1

strip

Scallions

Black Pepper

Salt
Batter
1/2

Cup

Coarse Gram Flour

1

tsp

Baking Powder

3/4

tsp

Garam Masala

Salt

Water

as needed
Instructions
To make the batter place the gram flour in a bowl. Add salt, baking powder, garam masala, salt and mix. Add sufficient water and whip to a smooth and thick batter. Set aside for at least 15 minutes




In a small bowl mix all the ingredients for the filling and keep aside




Spoon 1 to 2 teaspoons filling into each blossom. Close the blossoms and gently twist the petals to seal.




Heat sufficient oil in a kadai. Dip the stuffed blossoms in the gram flour batter and deep fry till golden and crisp on the outside.




Drain on absorbent paper and enjoy them while still warm.



If you are on Facebook I would love it if you like my FACEBOOK page.
Please follow and like us: