The holy month of Shravan began almost a month ago but the best part of it at least for me begins this coming week. To be more specific it is almost time for the Ganesh festival to begin which is second only to Diwali in terms of its popularity in my home state. I will be just stating the obvious when I say that the festival is going to feel incomplete without sweets. So I will get straight to the point and tell y'all that an absolute must-have for me on this very special occasion is this sweet, buttery pile of delicious goodness also called as "DUDHI HALWA" (Bottle Gourd Pudding).
Lord Ganesh also known as the elephant-headed God is the son of Lord Shiv and Parvati. As the legend goes it was decreed very early in his life that he should be the first God to be pleased before any other Gods will shower their blessings on you. So he does hold a special place in everyone's life. The fact that he is cute and extremely adorable also adds to his charm. Basically at the end of Shravan people invite him to their homes in the form of beautifully decorated idols and worship him for a set number of days.
The easiest way to get into his heart is to make his favorite sweet called as MODAK which is basically a sweet dumpling filled with a mixture of shredded coconut and jaggery. This is a bit difficult to make since it requires a little bit of artistry but I have finally worked up the courage to try it this year. If it ends up to be smooth sailing then I might have a couple of friends over for dinner. But that is a story for some other day. So I am not going to digress too much.
Seeing the degree of difficulty involved in making those dumplings I knew I had to have a Plan B when I went shopping to the Indian Store. That plan was certainly going to be something homemade and not some store bought sweet. Initially the plan was to keep it simple by buying carrots and making the tried and tested Carrot Halwa (Carrot Pudding). Happily for me that plan went right out of the window the moment I stepped into the produce section and laid my eyes on the plump Bottle Gourds which are known as Dudhi in my native language.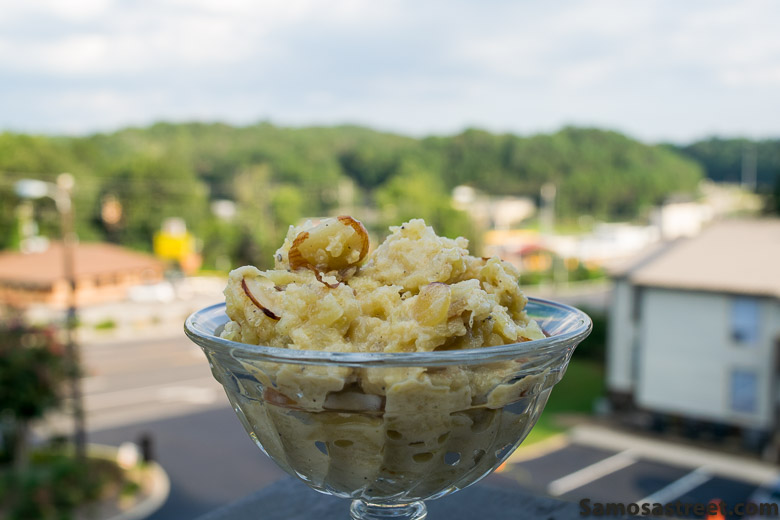 Bottle Gourd Pudding OR Dudhi Halwa may not be as well known as the carrot halwa but by no means it is less tasty. More importantly its always been a personal favorite of mine and to this date I remember eating it with great relish every time MOM made it. So my mind was set that Dudhi Halwa was going to be a lusciously rich and delectable Plan B. I came back home thinking that I had all the bases covered for next week's festival. What I had not counted on was me not being able to resist the temptation of waiting till next week to make one of my favorite childhood delicacies i.e. this halwa/pudding. (LAUGHS!!!)
Eventually I just gave in and decided to make it this week. Before I could even realize it the bottle gourds were peeled and grated and gently simmering in the milk. I have always liked the unique flavor and richness a little clarified butter adds to this halwas so that went into the pan also. After the milk was completely absorbed I sprinkled in some cardamom, sugar and sliced almonds for a little crunch and my halwa was ready.
At this point wifey dear had to resort to threats to prevent me from eating the halwa before the pictures were taken (LAUGHS!!!). I eventually caved in and finally got my hands on it and the moment that I had been waiting on all day long was finally here. I took a bowl of the halwa, dipped my spoon in it and took the first bite and experienced eternal bliss. The sweet bottle gourd, the buttery goodness from the clarified butter, the cardamom and finally the crunchy almonds; it was all there just as I expected.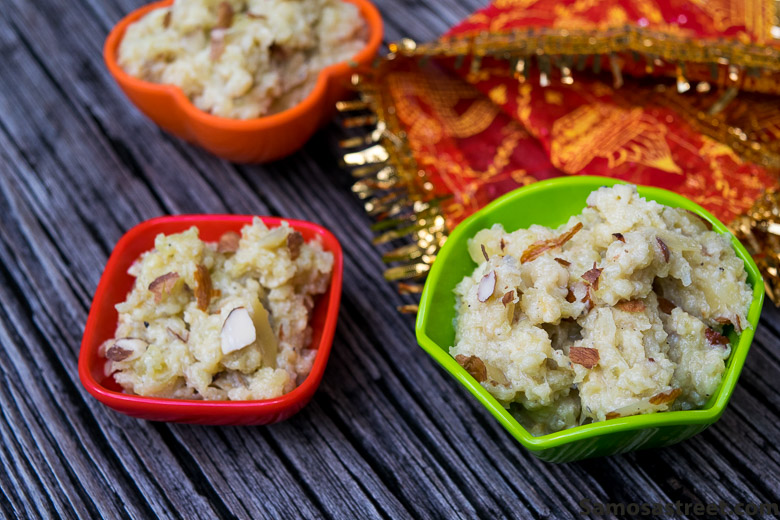 As for what I am going to do if my plans for next week go haywire then I will cross that bridge when I get there (CHUCKLES!!!!).
If you are on Facebook I would love it if you like my FACEBOOK page.

DUDHI HALWA (Bottle Gourd Pudding)
Dudhi Halwa a delicious desert made by slowly cooking bottle gourd in milk and nuts. Mmm…Each spoon will literally melt in your mouth
Ingredients
2 Bottle Gourd/Dudhi
3 tbsp Ghee/ Clarified Butter
2 cups Milk
¾ cup Condensed Milk
½ cup Sugar
¼ cup Sliced Almonds
12 pods Cardamom (Seeds taken out & powdered)
Instructions
Peel and grate bottle gourd, discard the seeds.
Melt ghee in a non-stick pan on a low heat. Add the grated bottle gourd and milk and cook stirring frequently till the milk reduces by more than half.
Pour condensed milk and continue to cook, till the mixture thickens.
Now add sugar and the cardamom powder and continue to cook till the milk is completely absorbed.
Sprinkle in the cardamom powder and garnish with sliced almonds.
Serve it hot or cold
Please follow and like us: