There are always days in life when things do not always go as planned. Occurrences like these can either leave you completely disappointed or may turn out to be a sweet surprise that you may not have expected. I am happy to say that what happened to me was of the latter variety. I had finally mustered up the courage to cook with my least favorite ingredient, which of course turned out to be a disaster. Instead I moved on to cook with the humble spud and ended up with this hot, sweet and delectably cheesy tatertot chaat.
Growing up I was never a picky eater. Instead I was the obedient kid who ate all his veggies (CHUCKLES). The big reason for this was my parents who were great cooks and foodies in their own right.  Now y'all might think no one can be such a perfect kid to which I would say y'all are absolutely right (LAUGHS!!!) There is indeed one vegetable in this world that I will not eat and that is "EGGPLANT" (Cue my wife saying in the background how much she loves it). To be more specific it is the mushy texture that I seem to have a problem with.
I have no issues with fried eggplant for that matter which is exactly what I decided to make for this week's post. But after multiple attempts at the recipe failed miserably I had every reason to hate the eggplant even more. It was at this moment that I decided to move on to Plan B, which was the almighty potato as the star of the dish. Wifey and I were bouncing ideas around and in the spur of the moment she blurted out the words Tatertot Chaat , which instantly stuck a nerve inside my head and everything about it sounded just about right.
I mean c'mon who wouldn't like that??? Crispy crunchy tots with a sweet and sour chutney and toppings of your choice.. Now that is a fun Indian-American fusion dish.. RIGHT Y"ALL!!!!
It is quiet an easy to make dish except for the fact that care needs to be taken while cooking the potatoes. Absolutely do not let the potatoes cook all the way through. If that happens then all you have in your hands is just mush and no amount of flour is going to make up for it. Trust me I am talking from personal experience.. (CHUCKLES).
Once the potatoes are halfway cooked use a grater to finely shred the potatoes. Then squeeze out the water if any with your hands or a clean cloth.
Now it was time to flavor the potatoes. So in went the ginger-garlic-green chilli paste, turmeric powder, chaat masala, lemon juice, scallions and a whole lot of cheese. The recipe was wifey dear's idea and she loves cheese so got to keep the missus happy.. (LAUGHS!!!). Finally add a little AP flour to bring it all together. Then simply form tots of desired shape and fry them into golden brown nuggets of goodness.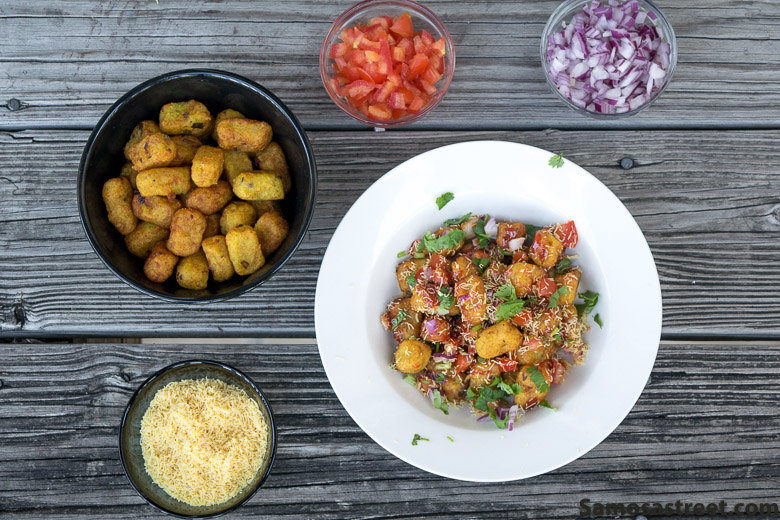 I know, I know y'all are going to want to eat these right now.. But hold on just a bit more and I promise y'all won't be disappointed. The addition of a few garnishes is going to make a world of difference. I am going to keep it simple by just adding onions, tomato, cilantro and sev which is basically fried gram flour for extra crunch. Finally the piece de resistance is the sweet and sour chutney and ta da you have a dish whose flavors are going to make magic on your palate..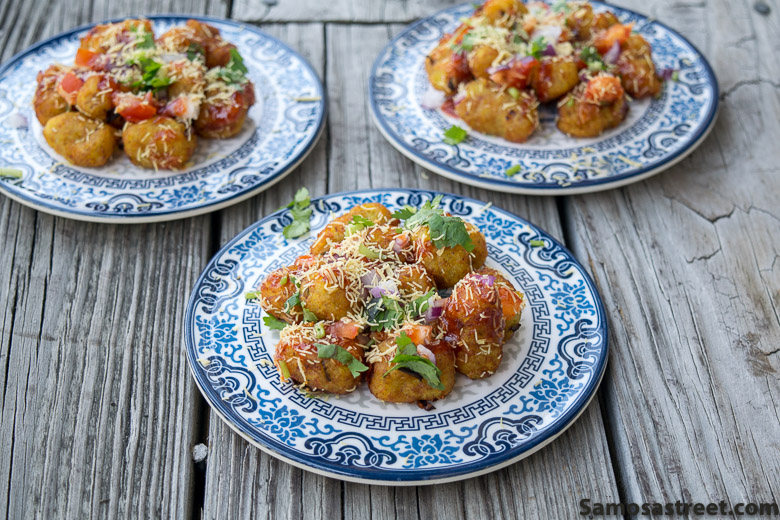 If you are on Facebook I would love it if you like my FACEBOOK page.

Cheesy Tatertot Chaat
Who would have imagined tater tots and chaat together would taste so good? Well I did and the end result is sumptuously delicious...
Ingredients
5 medium sized Potatoes (peeled)
4 sprigs Scallions (chopped)
2tsp Ginger Garlic Chili paste
3 tbsp All Purpose Flour
¾ tsp Turmeric Powder
2 ½ tsp Chaat Masala
3 tsp Lemon Juice
1 cup Parmesan Cheese
Salt
Oil for frying
Topping
1 cup Onion Finely Chopped
1 cup Tomato finely Chopped
1 cup Thin Sev
Coriander leaves Chopped
Sweet and Sour Chutney
Instructions
Place the potatoes in a large saucepan and cover with water. Bring to a boil and let it cook for 8-10 minutes until it is parboiled (not fully cooked). Drain the water and let the potatoes cool.
Using a grater finely shred the potatoes. Then squeeze out the water if any with your hands or a clean cloth.
Transfer the potatoes in a bowl. Add in the scallions, parmesan cheese, all purpose flour, turmeric powder, chaat masala, lemon juice, ginger garlic chili paste, salt and mix. Form the mixture into tots of desired shape.
Heat oil in a pan over medium heat and fry the tots till golden brown and crispy.
Assembly
Fill a plate with tatertots.
Sprinkle onion and tomato. Top it up with sweet and sour chutney.
Garnish with coriander and sev.
Please follow and like us: