Since the beginning of the month I haven't been able to escape the nagging feeling that I have been doing similar types of recipes for a while now. I just had to diversify and I succeeded in doing so with the mouthwateringly sumptuous Vegetable Pot Pie. Since I was on a roll one recipe wasn't going to be enough so I came up with another recipe for stuffed chicken with the classic combination of spinach and mozzarella. As for my own Indian touch to this recipe then y'all just have to wait and find out (LAUGHS!!!).
The pot pie recipe was a bit of a challenge but in the end the crust came out just perfectly and it was totally worth the effort. This got me thinking as to what I need to do for an encore. It had to be something that I had never done before. It was going to be doubly difficult coming up with a recipe considering the pressures of my day job. It came as no surprise to me that my knight in shining armor i.e. wifey dear came to my rescue (CHUCKLES!!!).
Her brilliant idea was that of a stuffed chicken recipe.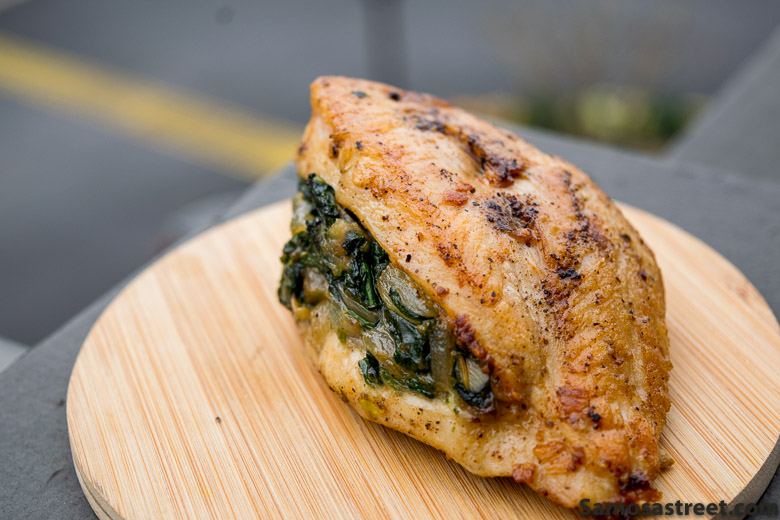 It was indeed a thoughtful suggestion since we had chicken thighs sitting in our freezer. Even the ingredients for the filling, the classic combo of spinach and mozzarella was there in the fridge. So off I went about making the recipe and very quickly I realized that I did not know what I was doing. I really wish I had taken some pictures of the disastrous results for all of you readers enjoyment (LAUGHS!!!!!)
By now its almost cliched to say that our of every kitchen disaster comes out an absolutely delectable dish which is pretty much what happened here. I simply needed to make a few minor changes. The first time I had used chicken thighs which were small and extremely misshapen. This time I went with chicken breasts that were uniformly cut and much better to work with.
Now Ladies & Gentlemen!!! Kids of All Ages here comes the Indian touch that I previously mentioned… Ahh I think I will just cut out the theatrics and get right to the point (LAUGHS!!!). All I did was to season the chicken with salt and pepper on the outside. Then after cutting open the chicken breasts I applied a little ginger-garlic paste, chili powder and store bought chicken masala on the inside. In addition I sprinkled lemon juice and left it marinating in the fridge for about an hour. 
The filling was just spinach and onions sautéed together with a little salt and pepper.
Everything is prepped now and ready to assemble. So stuff the spinach in the chicken breasts making sure to hide a heaping helping of gooey mozzarella in the middle. Then shallow fry them in a cast iron skillet too get a golden brown and crispy skin on the outside and finally finish cooking in a preheated 400F oven for about 10 minutes.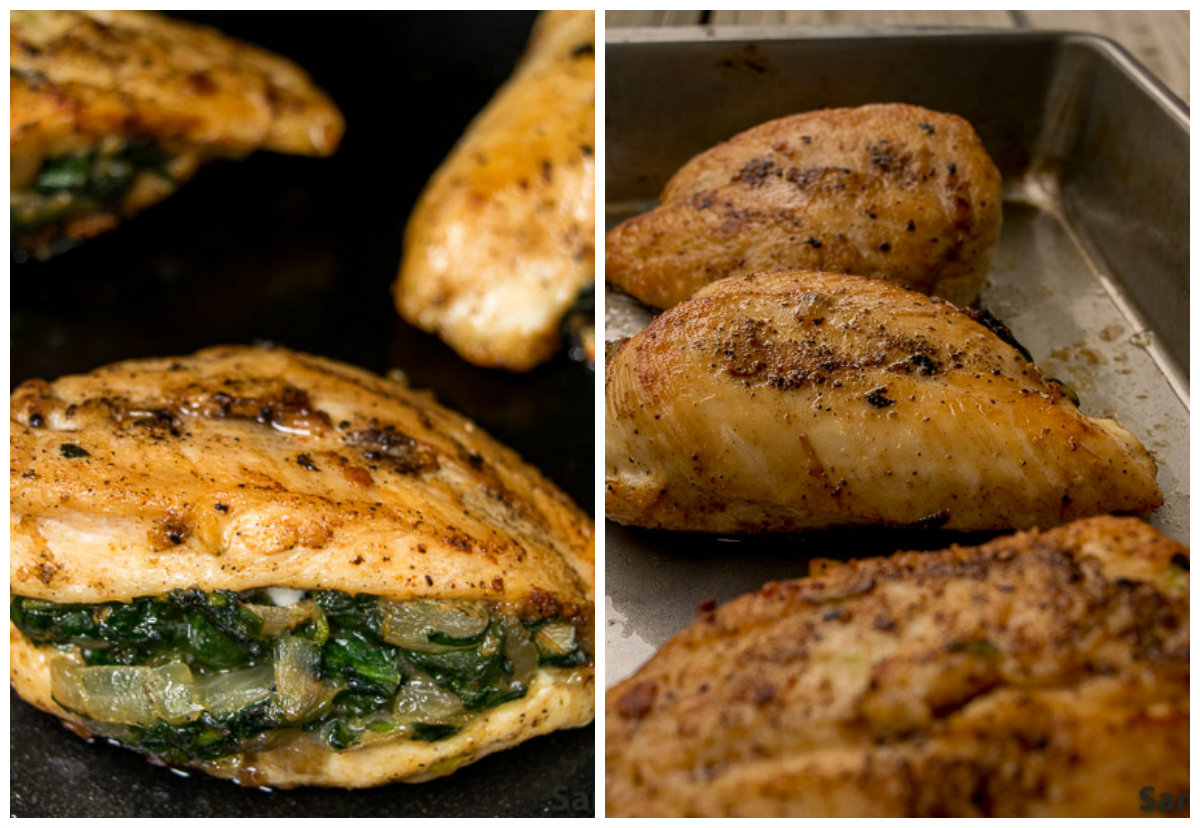 Rest the cooked chicken for about 5 minutes before cutting to make sure it stays moist.
Seeing the perfectly cooked chicken wifey and I couldn't wait and dove in instantly. If y'all are not as impatient as us then y'all can make a simple sauce for it and make it extra flavorful.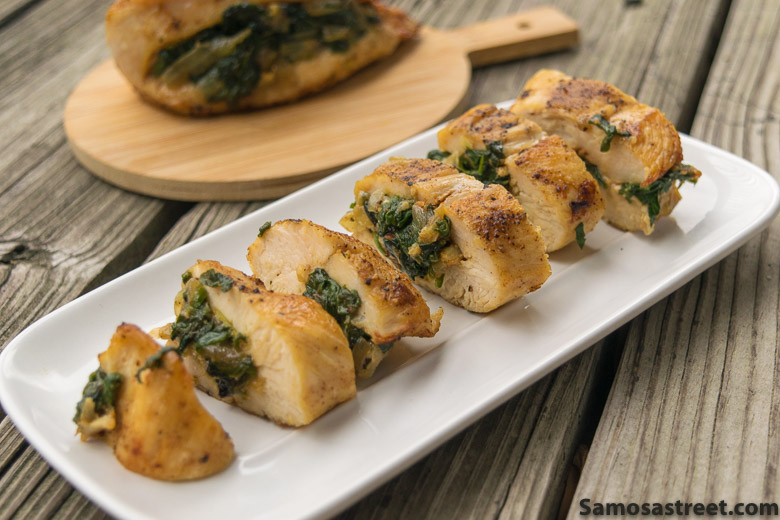 Other Chicken Recipes you may Enjoy !!
If you are on Facebook I would love it if you Like my 
FACEBOOK
page. If you like this recipe don't forget to Pin it and follow us on
PINTEREST.
Did you make this recipe? Share a photo on 
INSTAGRAM
at #samosastreet.
Stuffed Chicken with Spinach and Cheese
Spiced & Marinated Chicken Breasts stuffed with the classic combination of Spinach and Mozzarella Cheese.
Ingredients
Marination (per chicken breast)
3 Chicken Breasts (Boneless, skinless)
½ tsp Ginger Garlic paste
½ tsp Chicken masala
¾ tsp Red Chili Powder
½ tsp Black Pepper Powder
1 tsp Lemon Juice
Salt
Stuffing
4 cups Spinach
½ Medium Onion (sliced)
Salt
Cheese of choice
Instructions
Marination
Dry the chicken on all sides with a paper towel. Place the smooth side on a cutting board. Carefully create a pocket in the chicken breast with the tip of a sharp knife.
Rub ginger garlic paste, lemon juice, red chili powder, chicken masala, salt and pepper inside the pocket.
Sprinkle salt and pepper on the top of chicken breast. Rest in the refrigerator for an hour.
Filling
Heat oil in a pan. Add onions and cook till translucent.
Add chopped spinach and let it wilt. Season with salt and pepper.
Assembly
Preheat the oven at 400 F. Grease a baking dish with oil.
Spoon the spinach filling inside the pockets. Place cheese and close the pocket.
Carefully place the chicken on a hot cast iron skillet and cook for 7 minutes on each side, until the skin turns golden.
Finish cooking in a preheated 400F oven for 10 minutes.
Rest the cooked chicken for 5 minutes before serving.
Please follow and like us: