I could go on and on about the reasons that haven't allowed me to post for more than a month. But that would just bore everyone to death which is why I will keep my mouth shut and get right down to the point i.e. today's recipe. A quick and easy to make Spinach and Cheese Rolls. All that needs to be done is to stuff a premade pastry sheet with spinach, cheese and a couple of spices of your choice. Bake and in 20 minutes you start wolfing down on flaky and delicious Spinach and Cheese Rolls.
In my time off life's been quiet a whirlwind especially with wifey dear being off to India for a month. But one interesting thing that happened was me getting somewhat obsessed with baking. I will openly admit that so far baking is something that I have been somewhat scared of. On the other hand, it is a useful to have in your arsenal if you want to expand your repertoire of recipes. That was precisely my inspiration for starting to bake.
For a complete rookie like me it made no sense to go for any sort of complicated recipe like a fancy dessert. What did make sense was buying a premade crust stuffing it with something delectably simple and then baking it and that is exactly what I did. As far as the stuffing goes, I decided to not look too far and went for a classic combination of spinach and cheese. For the cheese it is important to have a melty cheese which is going to ooze out once you take a bite (I went for mozzarella).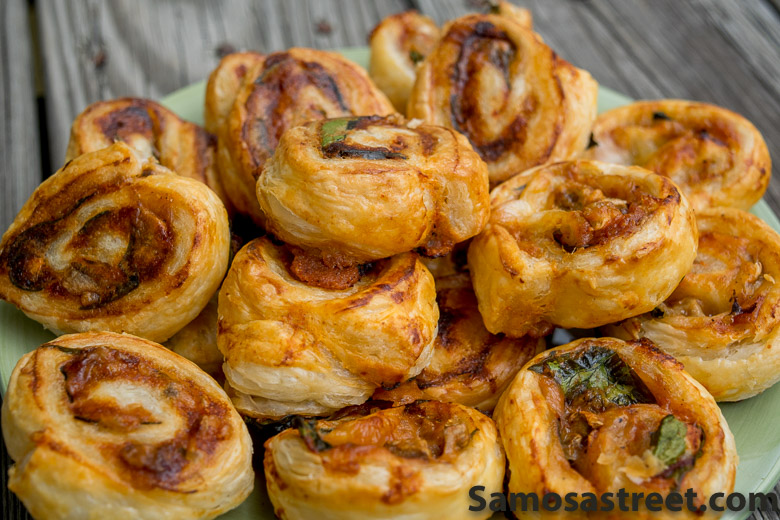 Also, it is imperative to have everything prepped and ready to go. Once the pastry sheet comes out of the fridge you need to work as fast as you can otherwise it can get sticky once it comes to room temp. Some thing else that I did differently was to season the tomato paste with salt, chili powder and garam masala.
Once I got my mise-en-place done (I so wanted to use that.. LAUGHS!!!) it was time to get cooking. I simply layered the pastry sheet with the sauce followed by chopped spinach, mushrooms and heaping helpings of cheese. Then roll it up and cut it into equal pieces. Don't forget to egg wash the rolls to get a shiny luster. Bake them according to the instructions on the packet and dig in.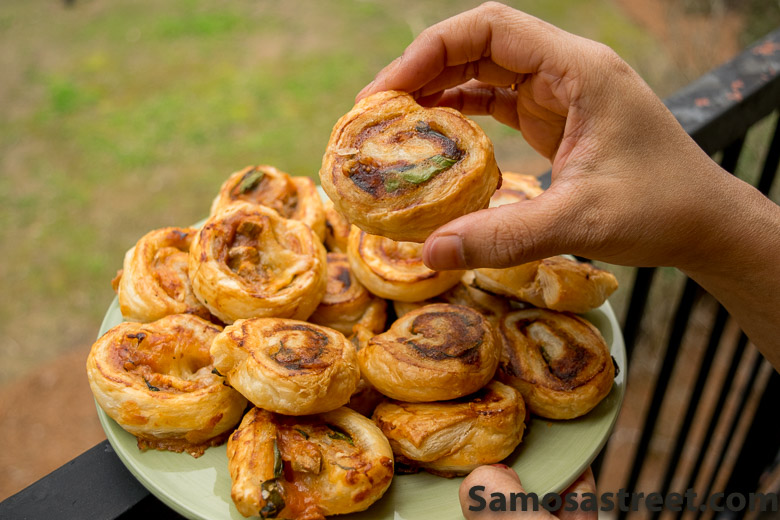 If you like this recipe here are few more similar recipes for you to try spinach dip, spinach mac & cheese
If you are on Facebook I would love it if you Like my FACEBOOK page.
Did you make this recipe? Share a photo on INSTAGRAM at #samosastreet
Spinach and Cheese Rolls
Ingredients
2

cup

Spinach

1

cup

Tomato Puree

¾

cup

Mushroom

roughly chopped

½

tsp

Red Chilli Powder

1

tsp

Garam Masala

Black pepper

Salt

Puff pastry

Any shredded melty cheese

1

egg
Instructions
Heat the oven to 375 degree.

Beat the egg and water in a small bowl with a whisk and set aside

In a bowl mix tomato puree, red chili powder, garam masala and salt

Unfold the pastry sheet on a parchment paper. Spread tomato puree. Top with spinach, mushroom and cheese. Sprinkle black pepper. (Leave about an inch free of tomato puree and toppings). Apply egg white to the corner

Carefully roll the pastry sheet. Using a sharp knife cut into ½ inch slices.

Lay the slices flat on a baking sheet. Brush the top of pinwheels with the egg wash.

Bake for 15 minute or until the pastries are golden brown.

Remove from the oven, let it cool for 10 minutes and Njoi !!
Notes
Bake them according to the instructions on the packet and dig in.

   
Please follow and like us: