The wildly popular Mattar-Paneer stuffed in a spinach tortilla. The perfect Indo-Mexican fusion dish…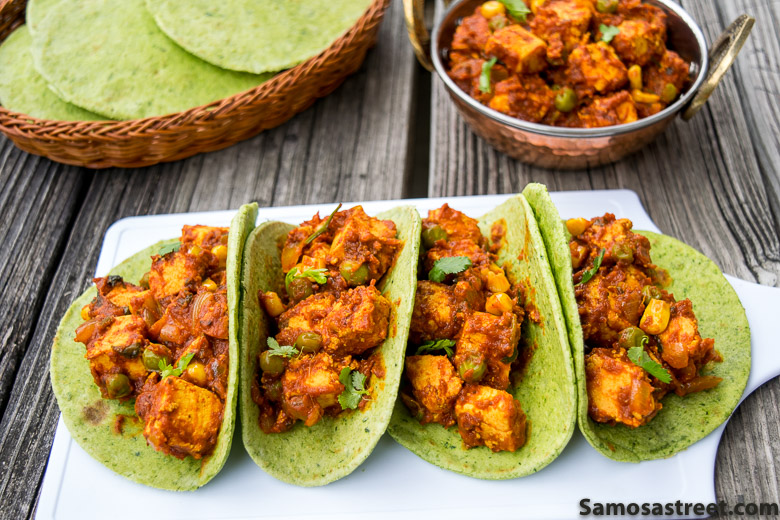 Ahh!!! Finally the eagerly awaited looong weekend is here. It is time to put my tired and most importantly OLD muscles up for some good old-fashioned R & R. No amount of rest and relaxation is going to be fully complete without some truly delectable food. So the plan on this really beautiful weekend was to make some thing, which is truly beloved in this part of the world and that is the TACO. But the taco is definitely a blank canvas so I decided to paint a unique picture with these Mattar-Paneer Tacos in a Spinach Tortillas.
The past couple of weeks have been extremely tough for me at work in the sense that a quiet a few major experiments needed to be done at the same time. It was one of those times of intense pressure and I was extremely fortunate to come out of it with all my limbs intact (LAUGHS!!!). So I must say that this weekend for me was certainly going to be a well-deserved mini vacation for me. And I for one was going to make full use of it starting with a concert by country music star Sam Hunt. I know what y'all are thinking right now!! Is it possible for an Indian guy to listen to country music??? And the answer is a resounding YESS.. Especially when the very same guy has lived in Nashville for close to 6 years.
After a rollicking Friday night I woke up to a picture perfect Saturday morning and the plan was to cook up something nice and lay down on the couch and watch football (opening week of college football) all day along. It was game day and the food definitely had to match the theme so to speak (CHUCKLES!!). I was mentally running through a list of gameday snacks in my head and I just couldn't move past two recipes i.e. Burgers & Tacos. Eventually I settled on tacos just because we are not eating any meat at this time when the Ganesh Festival is in full swing.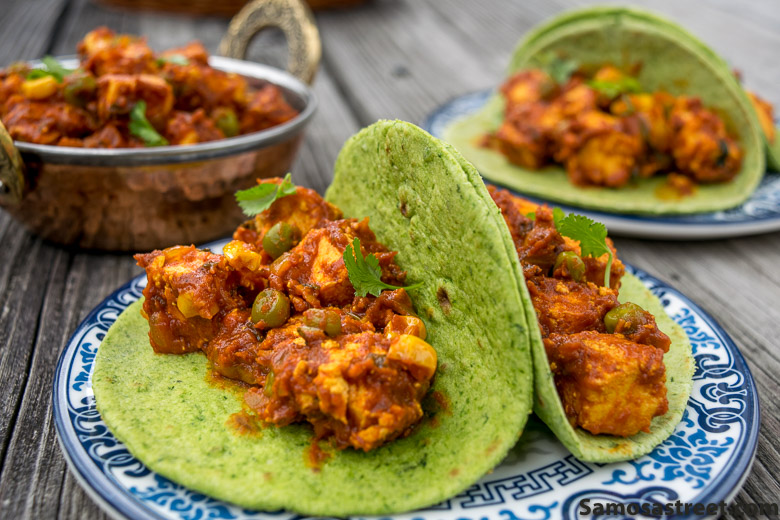 Here I was making something, which is well loved in the country I currently live in. So it was but natural that I was going to stuff it with a filling that is extremely popular in my country of birth i.e. the very well known and highly appreciated Mattar-Paneer (Peas-Cottage Cheese). Trust me y'all when I say this there are cuisines which just seem like a match made in heaven when they are put together and Indian Mexican cuisines are two of them.
The filling by itself will have so many different layers of flavors that there is absolutely no need to add any other topping on the taco except maybe a little cilantro for garnish. To begin this recipe I am going to start by making a spice blend of coriander and cumin seeds along with some cloves but not before individually roasting them first.
Now it was time to whip up this lusciously delectable filling and it begins with roasting the onions first till they are golden brown followed by adding the ginger garlic paste and continuing to sauté till the raw smell vanishes. Next ingredient to go in is the tomato puree followed by all the dry spice powders. Once everything comes together you have an absolutely delicious pool of divine goodness. What is left is for the veggies and the paneer to dive into the pool. So please do so without further delay (LAUGHS!!!).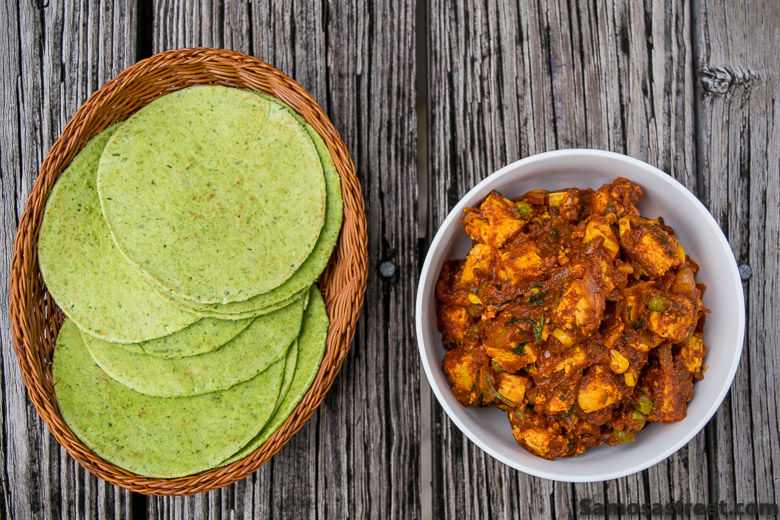 Now I was just going to make simple tortillas for the tacos. But at the last second I remembered that there is still leftover spinach in the fridge from what certainly felt like a 20lb bag that I got from Costco (LAUGHS!!!). Funny thing is spinach goes perfectly well with the pea-cottage cheese filling so the spinach was blanched and in it went in the tortilla dough for a fun little twist on the taco.
With the hard work seemingly done I could now sit in front of the TV and watch America's and definitely my favorite pastime, which is football. The only problem was I was finding it difficult to focus on the game because the sumptuous bites of food going in my stomach were transporting me into a whole different dimension altogether.. (LAUGHS!!!)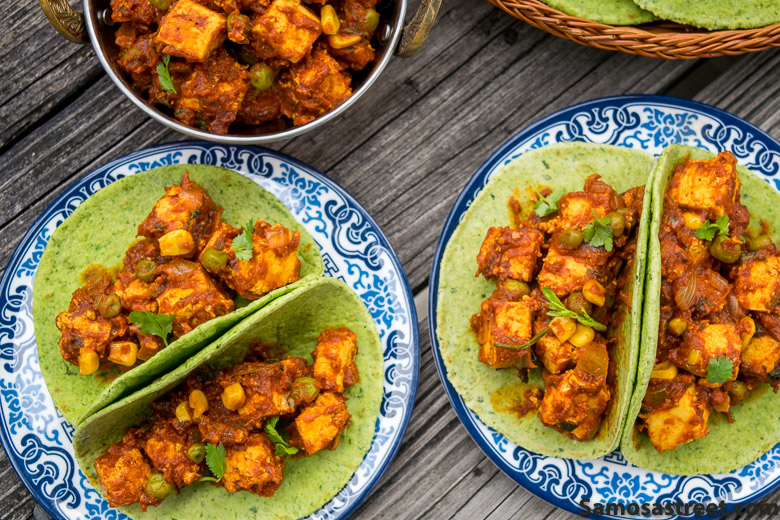 If you are on Facebook I would love it if you like my FACEBOOK page.
Mattar Paneer Taco in a Spinach Tortilla
The wildly popular Mattar-Paneer stuffed in a spinach tortilla. The perfect Indo-Mexican fusion dish...
Ingredients
Tortilla
1 ½ cup All purpose flour
½ tsp Baking powder
¼ cup Butter
¼ cup Spinach Puree
Salt
Filling
250 gm Paneer (Cubed)
1 small Onion (diced)
¾ cup Tomato Puree
¼ cup Frozen Green Peas
¼ cup Frozen Corn
2 tsp Ginger Garlic Paste
1½ tsp Red Chilli Powder
1 tsp Coriander Powder
1 tsp Garam Masala
¾ tsp Turmeric Power
1 tsp Fenugreek Leaves
¼ tsp Coriander seeds
¼ tsp Cumin Seeds
3 Cloves
Salt as per taste
Coriander (garnish)
Instructions
Tortilla
Blanch spinach leaves in boiling water for 2 minutes. Strain the leaves and put the leaves into cold water. Squeeze out the water and puree in a food processor until smooth.
In a large bowl, combine the flour, salt and baking powder uniformly. Incorporate butter into the flour till the mixture looks like breadcrumbs.
Add spinach puree little at a time knead slowly to form soft dough.
Transfer the dough to a well-floured surface; knead with the heel of your palm. The dough should feel supple and smooth.
Divide the dough into 10 equal portions. On a floured surface, roll out each portion into thin round.
Heat a non-stick griddle and cook the tortilla on a low fame till pale golden brown spot appears on both the side.
Remove from pan and keep in a covered container.
Filling
Dry roast coriander seeds, cumin seeds, and clove in a pan individually till fragrant. Cool the roasted spices and grind in a coffee grinder to a fine powder. Keep the spice blend aside
Heat oil in a pan and add garlic, ginger and saute till raw smell goes away. Add onion and saute till translucent.
Mix in tomato puree along with turmeric powder, red chili powder, fenugreek leaves and spice blend and stir well till the spices gets cooked.
Add paneer and cook for 2-3 minutes.Add green peas, corn and season with salt. Garnish with coriander.
Assemble
Fill each tortilla with paneer mixture.
Dive into it immediately.
Please follow and like us: