How about turning a popular Indian snack into a classic American dish??? Isn't that a tantalizing proposition??? I don't know about y'all but to me the answer to that question is a resounding yes.. I will admit that I definitely did not start off with any intention of doing something like that.. It was one delicious coincidence which resulted in me turning a delectable chaat recipe from my hometown into these savory "Mashed Potato Waffles". This to me is a delightfully appetizing dish with the flavors of Mumbai street food packed in a waffle.
On a personal level its been an absolutely crazy and tiresome week for me. As if all the work I had in the lab wasn't enough I decided to take on a whole another project. On one hand I have something of my own to work on but on the other hand it will require me to put on longer hours at work. That will automatically mean less time to look for new and interesting recipes. Usually wifey dear comes with recipe ideas to make my job easier. When I am in the mood I sometimes put in  my two cents (CHUCKLES!!) and come up with crazy recipes out of everyday ingredients.
That is exactly how this recipe was born..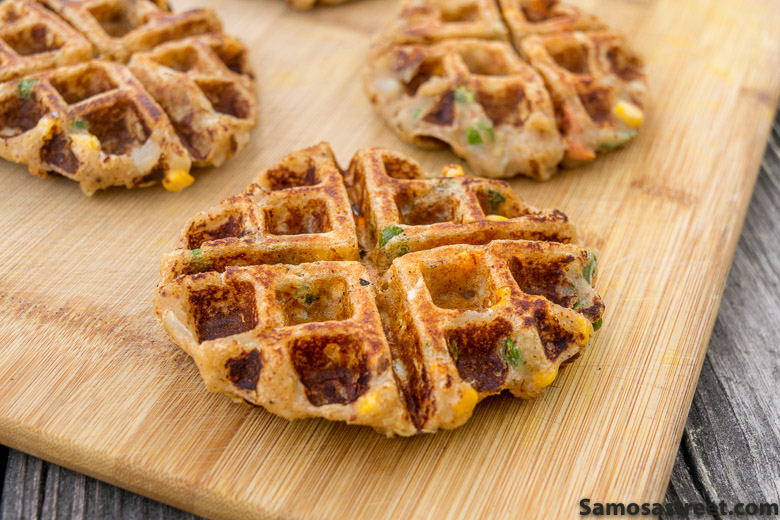 On Thursday wifey dear went on a cooking frenzy of sorts for reasons that I still haven't been able to fathom. She made two lentil curries, idli (lentil pancake) and the inspiration for this dish which was the Aloo Pattice (spiced potato burger). Her plan was to make Ragda Pattice which involves smothering the potato burgers with the lentil curries. But that plan never came to fruition. Wifey wanted to make the burgers at the end but I think she just got tired from all the cooking she was doing (LAUGHS!!!).
The next night I was looking for potato recipes for a whole different reason and that was the fact that I had bought a 15lb bag of potatoes from Costco. It was during this search that I came across the idea of a Mashed Potato Waffle. From then on it was simply a matter of putting two and two together.. By that mean taking the ingredients of the above mentioned aloo pattice and making a waffle instead.
It was one of those Eureka moments which make you feel extremely proud of yourselves (LAUGHS!!!)..
As for the recipe itself there is not much to it.. Simply mash the potatoes, add a few spices to the mixture and voila the batter is ready. Cook the batter in the waffle iron  and then dig in.. END OF STORY.. RIGHT!!! Y'all have the recipe idea so I think I will stop writing… Just Kidding!!!!
Here goes the actual recipe.. After the potatoes are boiled and mashed I added some onions and ginger-garlic paste to it.. FYI these two were cooked till the raw smell of the garlic had vanished and the onions were roasted to a golden brown color.
The next step to flavor this mixture was the addition of lemon juice and some Pav Bhaji masala which is a premade spice blend available in any Indian Store. This blend can also be substituted with any garam masala or chat masala available. At the very end I decided to add a cup of frozen mixed veggies for some color as well as some crunch.
Then add in the AP Flour and thoroughly mix all the ingredients together. Scoop about a 1/3 rd cup of the mixture in the centre of a hot waffle iron and let it cook for 3-5 minutes until golden brown.
Finally stack all the waffles onto a plate, sit on your patio and enjoy the nice weather this spring.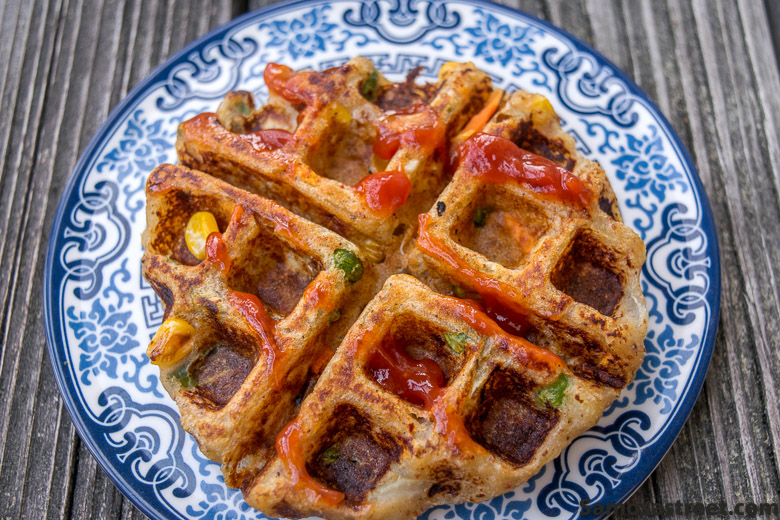 If you are on Facebook I would love it if you like my FACEBOOK page.

Mashed Potato Waffles
Who would have thought Pav-bhaji Masala in a waffle is going to taste so funkaliciously good!!!!
Ingredients
4 Potatoes (Boiled & Mashed)
2 tsp Ginger-Garlic Paste
1 small Onion
2 tsp Pav-Bhaji Masala
3 tsp Lemon Juice
4 tbsp All Purpose Flour
1 cup Frozen Mixed Vegetables
Salt
Pepper
Instructions
Peel and cut the potatoes into chunks and boil them in a saucepan on high heat. Cool, mash the potatoes and keep them aside.
Roast the ginger-garlic in another pan along with the onions till the onions turn golden brown in color.
Mix together the onion-ginger-garlic mixture and the potatoes together with the pavbhaji masala, lemon juice and the frozen vegetables.
Add in the AP flour and make sure all the ingredients are well-mixed and thoroughly incorporated together.
Scoop about a ⅓rd cup of the mixture onto the center of the waffle iron and let it cook for about 3-5 minutes on a high setting till golden brown on the outside..
Once cooked let the waffles sit for a couple of minutes and then enjoy.
Please follow and like us: