Happy Cinco de Mayo y'all!!! I know it's a little late to be saying that but what the heck I am such a big lover of Mexican food that everyday is Cinco de Mayo for me. Living in the middle of Alabama we can't exactly celebrate as we did in Texas with a Mariachi band and all. But we could go to a Mexican restaurant and have a Margarita. RIGHT Y'all!!! One slight problem the restaurant had a two hour wait time. So, I went for the second-best option. I came home and whipped up these delectably sumptuous "CHICKEN ENCHILADAS" with goat cheese and homemade tortillas to boot. They turned out to be such a treat that wifey and I were extremely glad for the long wait at the restaurant (LAUGHS!!!).
Ever since I started school, I have gotten busy and haven't been able to devote much time to the blog. Thankfully the semester came to an end and the timing couldn't be any better because cinco de mayo was just around the corner. The weekend before we had a couple of friends over for dinner who in a weird coincidence recommended a Mexican restaurant for us to try out. They were head over in heels in love with that restaurant, so we knew we had to go take a look. The restaurant is in one of the prominent malls in the city so wifey and I decided to look around the mall in the evening and then go for dinner… BIG MISTAKE!!!!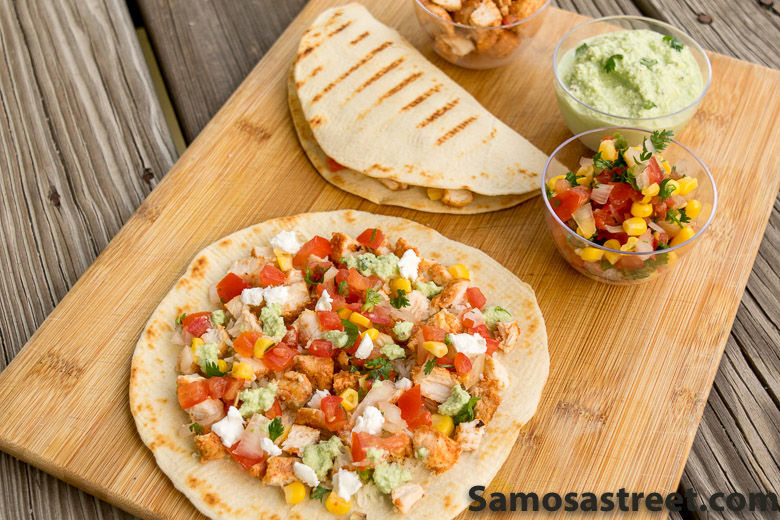 We thought 8 in the evening was a good time to enter the restaurant but the first words to come out of the host's mouth was the 2 hour wait time. We realized then and there that the people roaming around the mall were smarter since they had made reservations and then started shopping (LAUGHS!!!). We headed home dejected, but I was determined to not let this little setback dampen our mood and decided to celebrate just a day later. The lunch recipe for next day was already taking shape in my mind. Skillet roasted chicken with salsa, goat cheese and homemade tortillas. Whether it was going to be a burrito, taco, enchilada or quesadilla was going to be up to wifey dear. When she picked quesadillas, I was in business (LAUGHS!!!)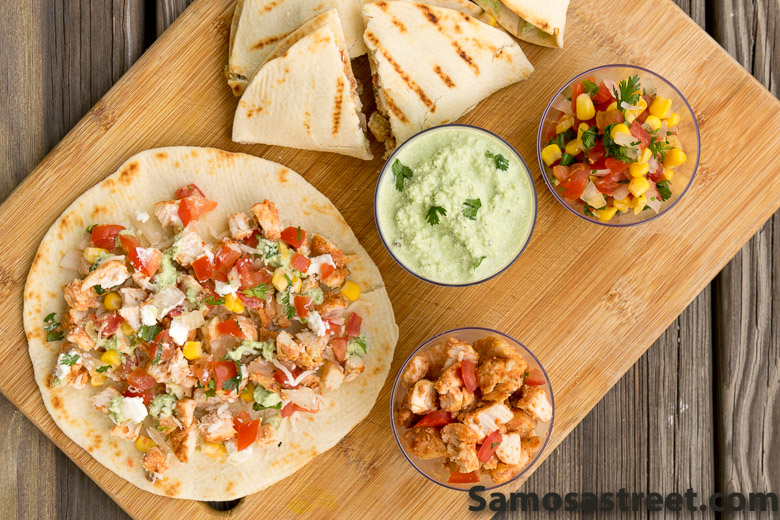 I was going to keep things easy-peezy which meant minimum effort and maximum flavor. So, I marinated the chicken in yogurt, chili powder, coriander, cumin and the special malvani masala from India. If y'all don't have that masala simple sub in any store bought chicken masala. The salsa I had already made the night before with chopped tomatoes, onions, jalapenos, corn and a little lemon juice.
I then cooked the marinated chicken in the cast-iron skillet till the color changed. In the meantime, wifey dear had already begun working on the tortillas. Once they were ready, we were ready, forget about assembly we were ready to start eating right then and there. It was difficult but we held off for just a little while and started assembling them. Other than the chicken and salsa we added goat cheese for the extra zing in some while creamy coconut chutney went in some others.
It was at this point where I was ready to eat them but then wifey made me grill them for that extra crunch and I am so glad that she did because that was the cherry on top. The moment was finally upon me. I had the stuffed enchilada in my hand and the first bite I took made me completely forget the dejection of the prior day and sent me into food heaven.
If you are on Facebook I would love it if you like my FACEBOOK page.
Chicken Quesadilla
Bursting with flavors, loaded with sumptuous chicken and oozing with melted cheese, these quesadilla is mouthwateringly delicious.
Ingredients
Tortilla
1 ½

cup

All purpose flour

½

tsp

Baking powder

¼

cup

Butter

⅓

cup

Water

Salt
Marination
1

lbs

Chicken

boneless skinless thighs

1

cup

Yogurt

¾

tsp

Coriander Powder

1

tsp

Red Chili Powder

½

tsp

Cumin Powder

1

tsp

Malvani Masala

optional

Salt as per taste
Salsa
1

Tomato

diced

½

Small Onion

diced

½

Jalapeno

chopped

½

cup

Corn

3

tbsp

Lemon Juice

Salt

Cilantro

garnish
Coconut Chutney
2

cup

Grated Coconut

1½

cup

Yogurt

½

cup

Coriander

1

Jalapeno

½

tsp

Cumin Seeds

½

tsp

Mustard Seeds

Salt to taste
Instructions
Marination
Whisk together yogurt, coriander powder, cumin powder, red chili powder, malvani masala and lemon juice in a bowl. Cut the chicken thighs into small pieces and add to the above mixture. Cover and let it marinate in the fridge overnight.
Tortilla
In a large bowl, combine the flour, salt and baking powder uniformly. Incorporate butter into the flour till the mixture looks like breadcrumbs.

Add water & knead slowly to form a soft dough.

The dough should feel supple and smooth. Divide the dough into 6 equal portions.

Preheat a non-stick pan over medium heat.

On a floured surface, roll out each portion into thin circle using rolling pin. Cook till pale golden brown spots appears on both the sides.

Remove from pan and keep in a covered container.
Roasted Chicken
Heat a skillet over medium heat. When it's hot, drizzle oil.

Before cooking drain the excess marinade from the chicken pieces. Then cook the chicken in batches till each side golden brown and cooked through.
Salsa
Mix all the ingredients for salsa and refrigerate overnight.
Chutney
In a grinder add coconut, coriander, jalapeno, garlic and yogurt. Grind to make a smooth paste.Remove the mixture in a bowl.

Dry roast cumin seeds and mustard seeds in a small pan.

Add the tempering to the above chutney and season with salt.
Assembly
Preheat the griddle over medium heat.

Spread the coconut chutney on the bottom half of the tortilla. Layer roasted chicken and salsa. Sprinkle any cheese of your choice, I used goat cheese. Fold the other half over the filling and press down to close.

Spray cooking oil on the griddle. Grill the quesadilla on both sides until grill marks appear and cheese has melted.

Cut each quesadilla and serve.
Please follow and like us: