A healthier alternative to pasta with creamy yogurt sauce.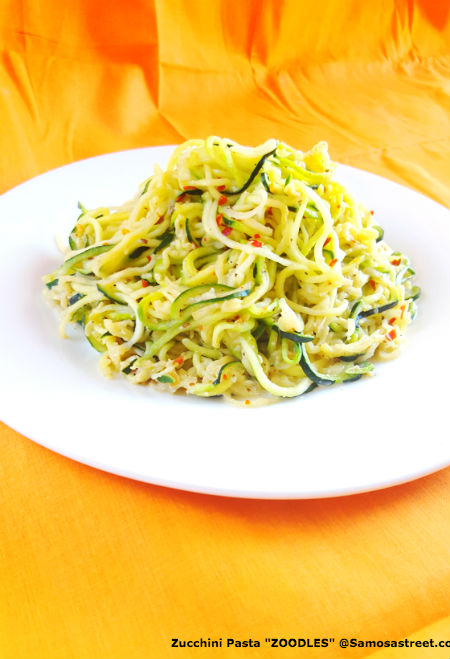 This week the theme for me was "Out with the old and in with the new". This was true especially for our kitchen. So out went the old appliances and in came a new fryer and (DRUMROLLS PLEASE!!!!!) a new SPIRALIZER. Having this fancy gadget meant that I could finally make (Ohh you do not know how long I waited to say this word) "ZOODLES". These zoodles are drenched in a creamy yogurt sauce with chilli flakes added for just a touch of spice.
This week one of my big wishes came true. I had come across many recipes, which made use of a Spiralizer to do a bunch of cool things so I was dying to be able to do the same. The spiralizer was delivered to my apartment on Wednesday when I was at work. I came home that day and the moment I saw the package it was like my one foot was out side my apartment door and the other foot was inside the nearest supermarket. (LAUGHS!!!) Seriously that's how excited I was to put my cool, new gizmo to use.
Even Maddy made it known to me that I got back home with the zucchinis in record time…(CHUCKLES!!!!) Now I was finally ready to spin my first zoodle. After the zucchini was in, I cranked up the device and out came the first zucchini strands. I just wanted to savor this special moment so I asked Maddy to keep winding the machine. This allowed me to enjoy this momentous occasion till the very end and I wish I had a picture of my happy face to show Y'ALL. (LAUGHS!!!!)
The zucchini pasta is now ready and right now I just need a couple of minutes alone with them before I tell y'all about the sauce. (LAUGHS HYSTERICALLY!!!)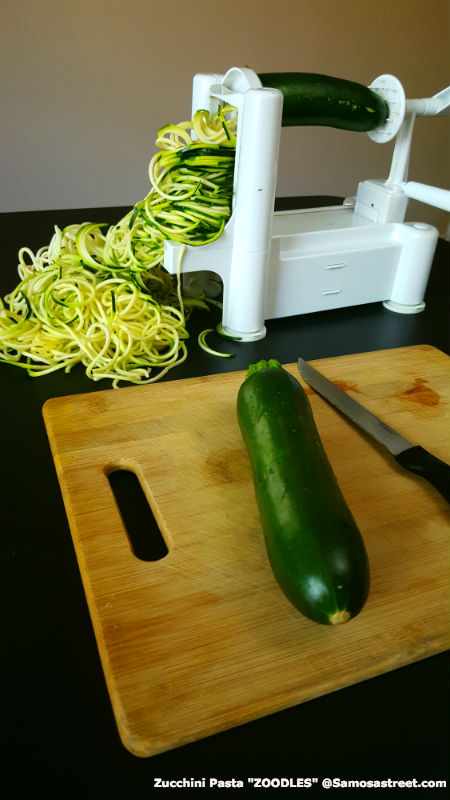 Okk I am ready.. So where was I?? Ahh the sauce!!! RIGHT.. My plan for the sauce is that I had no plan. In all my craziness on getting the spiralizer I forgot all about the sauce… I needed a swift kick in the rear end and I think I finally got one. I came into the real world and started thinking.
The first thing that came to mind is a creamy Indian salad made of cucumber and yogurt (also called as "KOSHIMBIR" locally). I decided to base my sauce on this salad to give it an INDIAN twist.
Melt the butter in a heavy large skillet over medium heat. Add cumin seeds when they splutter, add garlic and cook until fragrant. Sprinkle in fennel powder, black pepper powder and nutmeg and sauté for few minutes.
Toss zucchini with a pair of tongs for 2 minutes (do not overcook. Keep the pasta a little crunchy). Remove from heat. Add greek yogurt and toss.
Season with salt, peanut and red chili flakes. The peanuts give an unusual nutty taste to the dish. It is an optional ingredient which can be easily left off.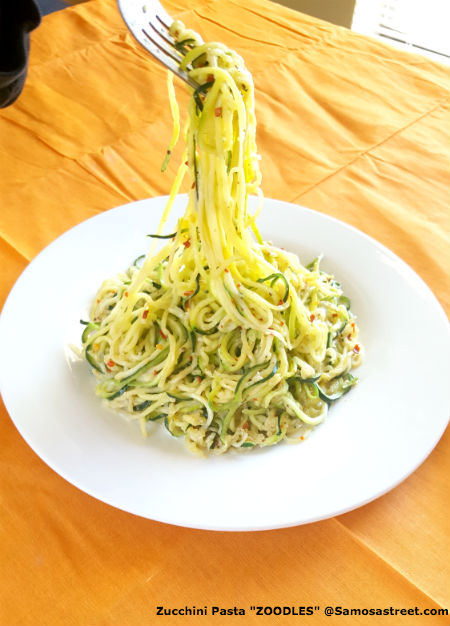 This spicy, creamy, nutty, crunchy pasta is a healthy and tasty substitute to the traditional pasta. I think I should eat more of this, for nothing else then to stop with all the crazy behavior I have exhibited so far.. (LAUGHS!!!)
If you are eager for even more pasta ideas to serve your family and friends. I've got you covered!!!!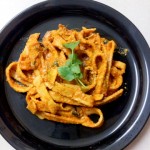 If you are on Facebook I would love it if you Like my FACEBOOK page.
Zucchini Pasta with Creamy Yogurt Sauce
A healthier alternative to pasta with creamy yogurt sauce
Ingredients
4 Zucchini
2 tbsp Butter
1 tbsp Garlic (minced)
25 Black Pepper (crushed)
2 tsp Fennel Powder
1½ tsp Cumin Seeds
½ cup Greek Yogurt
¼ cup Roasted Peanuts (crushed)
Chili flake as per heat
Pinch of Nutmeg
Salt as per taste
Instructions
Using a spiral vegetable slicer, spiralize zucchini
Melt the butter in a heavy large skillet over medium heat. Add cumin seeds when they splutter, add garlic and cook until fragrant. Add fennel powder, black pepper powder and nutmeg sauté for few minutes.
Toss zucchini with a pair of tongs for 2 minutes (do not overcook) remove from heat and add greek yogurt, toss until combine.
Season with salt, peanut and red chili flakes
Please follow and like us: