Whole wheat pasta with rich creamy tomato and butter sauce.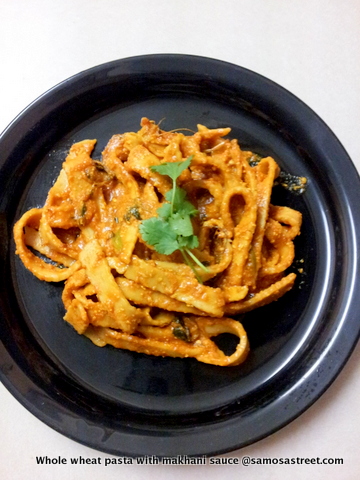 Italian cuisine is mouthwateringly delicious and flavorful and yet is amazingly simple to prepare. On the contrary people are intimidated by Indian cooking where the sauces are seemingly made up of a variety of different spices. It may seem like an unlikely pairing but the marriage of these two cuisines can give rise to some amazing dishes.
People all over the world absolutely love the two P's of Italian cuisine i.e. Pizza & Pasta.  It is next to impossible to count the number of variations of these two dishes that seemingly show up on a daily basis. This is because both of them are basically blank canvasses on which any color (flavor) will look beautiful. You just have to let your imagination run wild.
I didn't have to let my wander too much and simply paired the pasta with one of the more popular sauces in Indian cuisine i.e. the makhani sauce. Makhani is tomato based sauce made with the addition of butter, cream and a host of other spices. It is omnipresent in restaurant menus as part of a variety of different dishes (the name murgh makhani or butter chicken instantly puts your taste buds on high alert!!!!). Also being a bit of a health nut myself I tweaked things up by using whole wheat to make my pasta as well as replacing the cream in the sauce with yogurt.
The combination of home made pasta and the rich, creamy makhani sauce works beautifully.
And no need to worry. Making pasta from scratch isn't as difficult as it sounds. Its a simple process using simple equipment (your hands as well as knife/pizza cutter).
Mix the whole wheat flour and salt into a plate/mixing bowl. Then create a well in the middle of the mixture and break an egg in the center of the well. Use your hand to combine the ingredients. Knead the dough with water only if required and make it smoother. Cover it with a kitchen towel to not let the dough dry out.
Gently sprinkle flour on a flat surface (i used my cutting board). Roll the dough with rolling pin to desired thickness. Use a knife or a pizza cutter to cut it into long, thin stripes.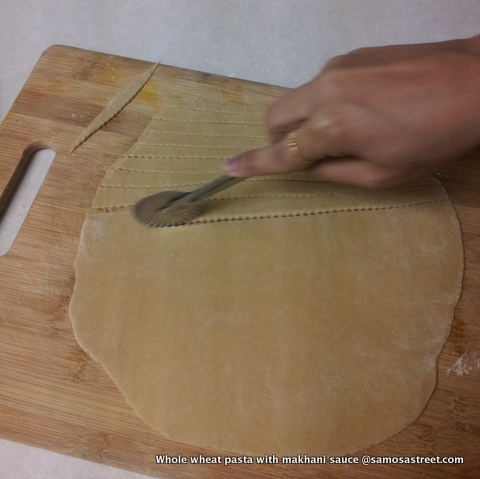 In boiling water add the pasta and boil it for 10 minutes. It will float on the top when cooked. Drain the water, and sprinkle some oil on it to prevent it from sticking.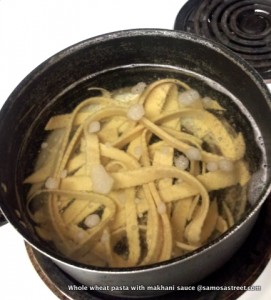 In a flat bottom pan melt butter. Add ginger-garlic paste, cumin powder, coriander powder, turmeric, red chili powder, kasuri methi (fenugreek leaves,optional) and saute them for 3 mins. Then add yogurt and tomato puree and bring to a boil. Add salt to taste.
Once the sauce is thick enough mix in the pasta and allow the flavors to come together. Garnish it with some chopped cilantro.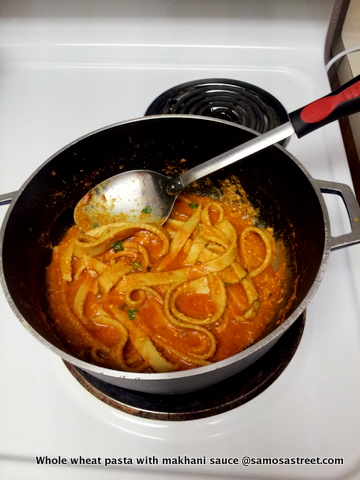 Gently rolling the pasta around the fork and gather the pasta and as much of the sauce as you can. Now that is what you call a perfect bite. I would love to hear about other types traditional indian curries that can go well with pasta. Let me know in the comments section.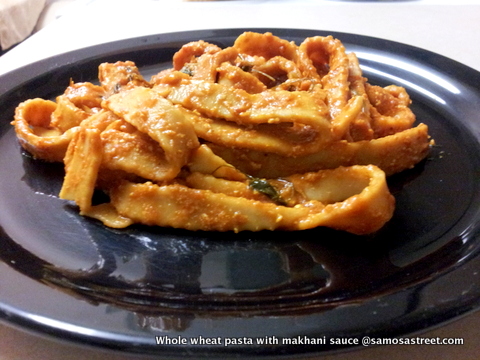 Click here to like us on FACEBOOK.
Whole Wheat Pasta with Makhani Sauce
Whole wheat pasta with rich creamy tomato and butter sauce.
Ingredients
PASTA DOUGH
1 cup Wheat Flour
1 Egg
2 tbsp Water
Salt
SAUCE
2 tbsp Butter
1 tsp Ginger-Garlic Paste
1 cup Yogurt
1 cup Tomato Puree
½ tsp Cumin Powder
½ tsp Coriander Powder
½ tsp Turmeric
½ tsp Red Chilli Powder
½ tsp Kasuri Methi / Fenugreek Leaves (optional)
Salt as per taste
Coriander for garnishing
Instructions
PASTA DOUGH
Mix the flour, egg, salt and water uniformly and knead slowly to form soft dough.
On a floured surface hand roll the dough into a circle to desired thickness.
With knife/pizza cutter cut in to long stripes.
Boil the water and add the pasta to boiling water, boil it for 10 minutes.
Drain the water.
SAUCE
Melt the butter in a flat bottom pan add ginger-garlic paste, cumin powder, coriander powder, turmeric, kasuri methi and sauté them for 3 mins.
Then add yogurt and tomato puree and bring to a boil.
Add red chilli powder and salt.
Add linguine pasta.
Garnish with cilantro.
Please follow and like us: