With my MBA classes in full swing and a day job going bonkers I knew it was time to take a teeny-tiny break which was hopefully going to recharge my batteries for the stretch run till the end of the semester. So wifey and I packed up our bags and ended up in our favorite city i.e. Nashville and a totally unexpected stop in Lynchburg, TN (home of Jack Daniels) on our way back home. It was no surprise that I had a bottle of Jack Daniels whiskey tucked in safely when we came home. What was a surprise was that the whiskey ended up in one of my favorite desserts of all time and a boozy dessert was born called the "Whiskey Gulab Jamun".
I am coming up to the end of my MBA which automatically means you must pull up your big boy pants and take the higher-level courses. I am currently in the midst of one such Finance course which I am struggling mightily with. I found it so confusing that it has me seeing stars during the daytime. With my midterms coming up I decided the best thing for me was to take a break, get refreshed and then attack my finance course with a different mindset.
But the max I could do was to leave for the weekend. Luckily an old friend of mine from Nashville where I lived for close to 5 years had just moved back to town. Acting like a knight in shining armor she came to my rescue and invited me for the weekend. Just like that my weekend was made. While driving on the interstate there was one particular exit that caught my eye. It said Lynchburg "the home of Jack Daniels" and it was too good of an opportunity to pass up.
So after taking in all that Nashville had to offer we left very early on a Sunday morning and took a detour to beautiful Lynchburg. As we got near we realized that it was going to be one of those quaint little towns where everybody knows everybody. It turned out to be exactly that with the Jack Daniels distillery smack dab in the middle of town next to downtown which was exactly………. A block (CHUCKLES))
Fun Fact. The entire supply of Jack Daniels whisky is made in this tiny little town. We were told that there is something in the water here which gives the whisky its distinctive taste.
After a very informative tour of the distillery and getting a little more updated about the whisky making process I came back home with a bottle of whisky in tow. I had taken an extra day off so the following Monday being in the vacation mood still I decided to make my favorite sweet in the whole world which is the "Gulab Jamun" i.e. deep-fried dough balls dipped in sugar syrup.
I wanted to make them quick, so I busted out a store-bought packet of the dough and quickly deep fried them. While making the syrup wifey dear came up with the idea of adding a little whisky to the dessert and my immediate reaction was "WHY NOT"!!! and that is how this boozy, alcoholic dessert came to be!!!!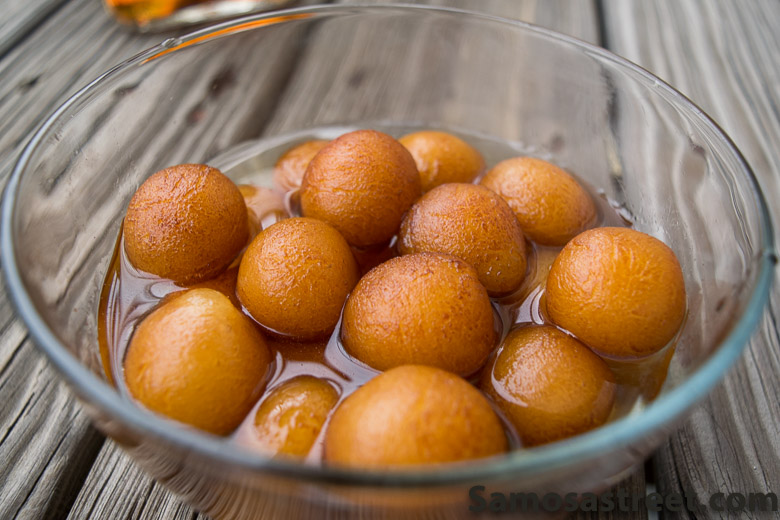 If you are on Facebook I would love it if you like my FACEBOOK page.
Whiskey Gulab Jamun
A boozy version of an Indian favorite which is sure to get your taste buds tingling.
Ingredients
Gits packet

1½

cup

Water

2

cup

Sugar

¼

Cup

Whiskey
Instructions
Prepare the syrup first. Take a medium sized pot and add sugar and water. Boil and continue to stir it till the mixture turns sticky. Once done, turn off the heat and allow it to cool down. Then add the whiskey and keep it aside.

Take the gits gulab jamun ready mix and prepare the gulab jamun as per the instructions. Once ready let them cool.

Heat up the syrup mildly and pour over the balls. Allow them to rest for an hour.

Indulge your sweet tooth with whisky infused gulab jamuns.
Please follow and like us: