A delectably tempting and ohh so satisfying breakfast/brunch to kick-start your day with a bang!!!
It's been only two weeks since I last posted but it does feel a lot longer than that. I was so freakishly busy that these two weeks felt like eternity. I had to work this weekend too so I was resigned to the fact that I wouldn't be able to post again. But then it was a combination of grocery shopping at Costco and some quick thinking that came to my rescue like a knight in shining armor (LAUGHS!!!). The end result was a delightfully enticing "Veggie Frittata" recipe ready in under 30 minutes. Never before have the words quick and easy recipe sounded like sweet music to my ears.
Doing cancer research you tend to go through a lot of ebbs and flows on the job. There are times when the job feels like a 9 to 5 job and then there are days when the job turns atypical because of the need to work long hours including weekends. Unfortunately for me the last 2-3 weeks have been anything but typical. It was because I began doing a very important month long experiment which requires working on the weekends too (wish y'all could see my sad face!!!).
But I just can't give up on the blog for the duration of this experiment now.. CAN I?? The answer to that question is an emphatic NO.. Here is the moment when I wish that dramatic music hits and I start telling y'all that I will fight through this adversity and come out on top.. NAH!!! JUST KIDDING.
The answer is actually pretty simple. Quick and easy recipes made in double quick time. My job was made a lot more easier because we shop for groceries at Costco where you tend to find everything in large quantities. So I was going to simply look for an ingredient which I had an excess of..
The choice boiled down to potatoes (a 10lb packet!!! I know that's a lot..) and a couple of dozen eggs. The winner was the eggs and it was an easy choice simply because my previous recipe was a POTATO WAFFLE. The original plan was that of some kind of an omelette but that felt too simple to my twisted mind (LAUGHS!!!). So I moved on to plan B which was going to be either a quiche or a frittata. I settled on the frittata because it was simply going to be faster to make.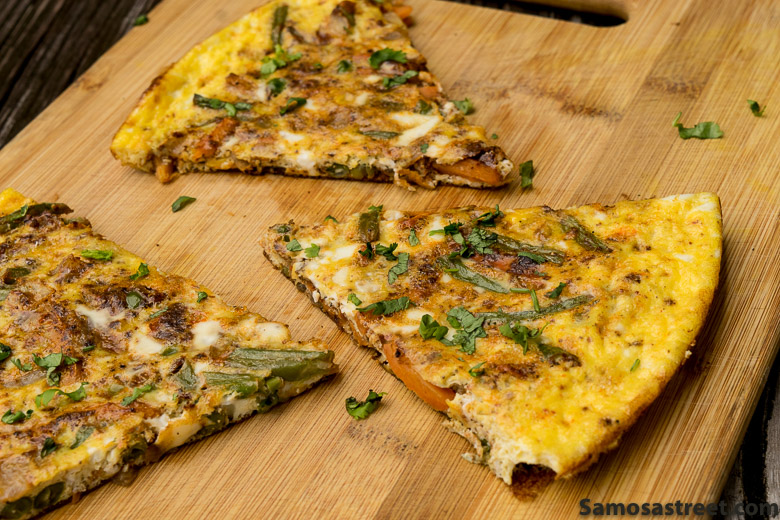 This was where grocery shopping at Costco helped me out again because we had just bought a 5 lb bag of frozen veggies which was just perfect for this recipe. Basically all I did was to saute the very same veggies and some onions in a cast iron skillet and then added some dry spice powders to it for a trip to flavor town. I used Pav Bhaji masala in this recipe which is a spice blend used for a very popular snack on the streets of Mumbai. This blend can be substituted with any store bought Garam Masala and it will still taste good.
All that is left now is to pour the egg mixture on top and set it in the oven to cook. After 10 minutes having had a very nutritious and satisfying breakfast/brunch I was ready to get to work on a SATURDAY!!!
I just can't believe I said that. I hope my boss doesn't read this post and sees me griping about work. If that happens then y'all will know because it just might be a long time before I post again (LAUGHS!!!!).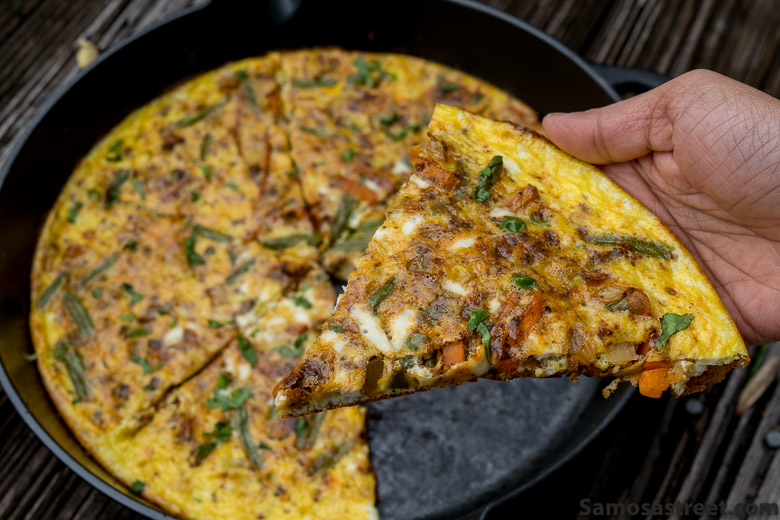 If you are on Facebook I would love it if you like my FACEBOOK page.
Veggie Frittata
A delectably tempting and ohh so satisfying breakfast/brunch to kick-start your day with a bang!!!
Ingredients
6 Eggs
¼ cup Milk
2 cups Frozen Vegetables
1 small Onion
1 ½ tsp Coriander Powder
1 tsp Red Chili Powder
1 ½ tsp Amchur Powder
1 ½ tsp Pav Bhaji Masala
Salt
Pepper
Instructions
Whisk the eggs, milk and salt together in a bowl and set aside.
Preheat the oven to 400 F.
Saute the onions in a cast iron skillet on medium high heat till they are translucent.
Add the frozen vegetables to the skillet and cook for about 2-3 minutes.
Mix in all the dry spices together and continue cooking for another 2 minutes till the flavors come together.
Finally pour the egg mixture into the pan and make sure the egg mixture settles in evenly. Cook for a minute or till the eggs at the edge of the pan begin to set.
Put the skillet in the oven and bake for 8-10 minutes or until the eggs are set.
If you desire a crispy top then broil the eggs for a minute.
Once the eggs are done rest them for 5 minutes and then serve.
Please follow and like us: