Crispy paneer tossed in a sweet and sour honey-vinegar sauce. It is tasty, flavorsome and definitely better than any take-out!!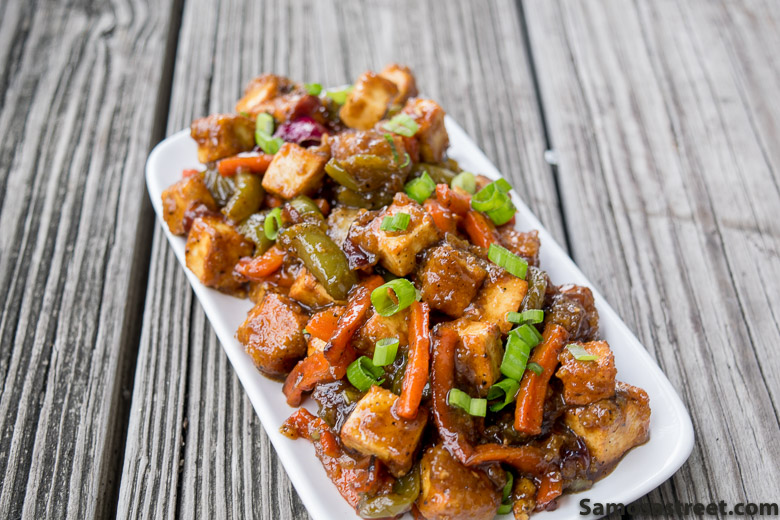 Indo-Chinese fusion food has been an absolute staple in India for a really long time now. I am not wrong in saying that Maddy and I have loved this fusion growing up as kids. So it was a bit of a surprise to find out that I haven't posted a single recipe of this fantastic fusion on my blog. But as the old cliché goes "Its better late than never". So here is the recipe for a delectably sumptuous "SWEET & SOUR PANEER". It's sweet, sticky, and tangy and most importantly will leave you wanting for more after it is all said and done…
It's been a crazy busy week for me since I have begun a couple of experiments, which are a big part of my project. By the end of the week I was so freaking tired that I just wanted to sleep through the weekend. As awesome as that plan was there was always going to be this one little problem, i.e. I love food way too much to skip any of my meals.  More importantly the craving that I have been having of Chinese food was back again and gnawing at my stomach once again. I took Maddy out for chinese food last weekend and let's just say the food turned out to be a complete disaster.
So this time I took it upon myself to satisfy my cravings and decided to cook it at home. But I wasn't going to make just chinese food!!! I was going to make something, which was a favorite of mine in my teenage years, i.e. Indo-Chinese fusion food. Ooh I still fondly remember the good ol days eating steaming hot fried rice and noodles from the roadside vendors with a bunch of friends. In addition this is the kind of food, which requires very few ingredients and is extremely easy to make. In short it is just perfect for a tired old man like me.. (CHUCKLES!!). I mean that is exactly how I was feeling (LAUGHS!!!).
Fortunately for me I had all the ingredients to make the perfect fusion recipe right where I wanted them, i.e. my fridge. The core ingredient was going to be cottage cheese OR Paneer as it is locally called which is very versatile and pairs perfectly well with a variety of Chinese sauces. I wanted the paneer to be crispy so I dipped the paneer pieces in a batter of cornflour, salt and pepper and simply deep-fried it.
The most important characteristic of this fusion is the variety of sensations; sweet, salty, sour, spicy doing a merry dance on your palate. I would say that it is the sauce, which plays an integral part in getting this balance just right. For my sauce all I did was mix together vinegar and honey to get somewhat of a sweet and sour flavor profile. I also added a touch of soy sauce for some saltiness. Then comes the fun part; deciding on the veggies to add. This is like deciding on the toppings on your pizza RIGHT!!!. JUST KIDDING. This tired old man just had the strength to cut the bell peppers and carrots so they were the only ones going in the recipe.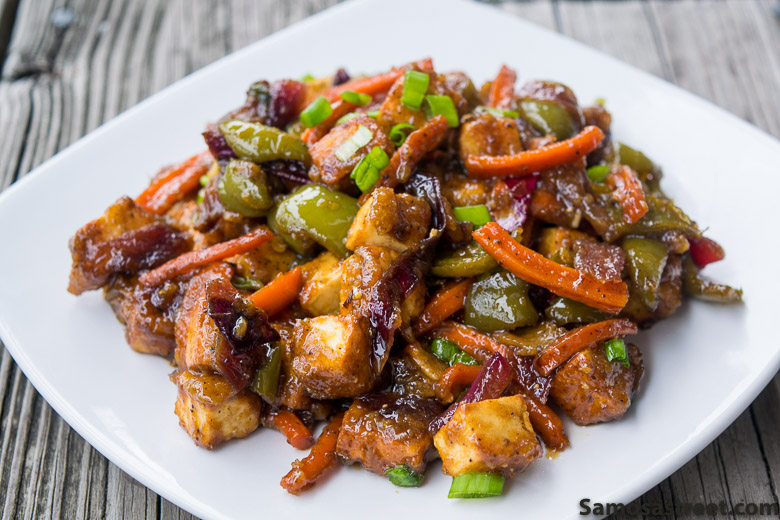 To start with simply get the veggies and onions sautéing in a hot wok. Then add the sauce and reduce it down for a few minutes. Finally add the fried paneer pieces and the cornflour slurry to thicken the sauce to where it is beautifully coating the veggies and the paneer. Y'all might be surprised but that is pretty much the end of the recipe. I for one am glad that it didn't take much time and more than satisfied my cravings OR else my inner beast might have been unleashed (LAUGHS HARD!!!).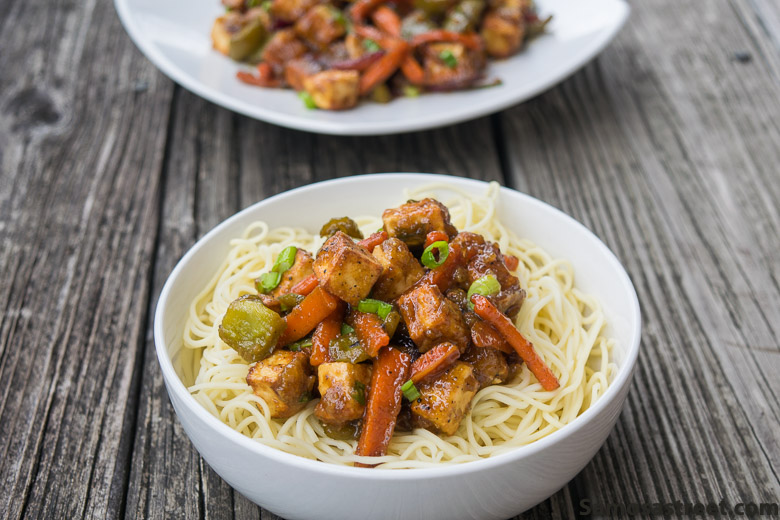 This Sweet & Sour Paneer was everything that I could have hoped for and much much more!!! Next time I have cravings for any food maybe just maybe I will try to make it myself…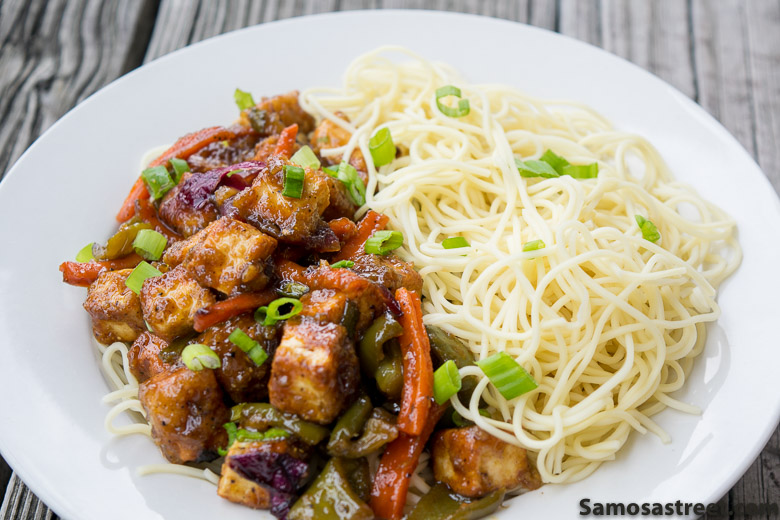 If you are on Facebook I would love it if you like my FACEBOOK page.
Sweet & Sour Paneer
Crispy paneer tossed in a sweet and sour honey-vinegar sauce. It is tasty, flavorsome and definitely better than any take-out!!
Ingredients
200 gram Paneer (cubed)
½ Green Bell Pepper (cut into strips)
½ Onion (cut into strips)
2 Carrot (cut into strips)
¼ cup Cornflour
2 Garlic Clove (finely chopped)
Salt
Pepper
Spring Onion (garnish)
Oil for frying
Sauce
½ cup Honey
¼ cup Vinegar
2 tbsp Soy Sauce
Instructions
Whisk together corn flour, salt, pepper and water to form a smooth, thick batter. Roll the paneer in the batter and deep fry until golden brown and crisp on all sides. Drain on absorbent paper and keep aside. Reserve the remaining corn flour batter
In a bowl whisk together honey, vinegar, soy sauce and keep aside
Heat oil in a wok on a medium high heat. Add garlic, onions and saute. Mix in the carrots and bell peppers and continue cooking for 3-4 minutes.
Pour the sweet and sour sauce and bring to a boil.
Toss in the fried paneer, pour the remaining corn flour batter and stir. Season with salt. Simmer gently until the sauce thickens.
Garnish with spring onions and serve hot with rice or noodles.
Please follow and like us: