This New Year's weekend couldn't have been setup any better. I have four long days to relax and chill out i.e. sit on my couch and do nothing (LAUGHS!!). If you add a whole bunch of football games to the list, then it is just perfect. However, days like this are incomplete without food or to be more specific game day food. For me chips and dip are the first things that come to mind when it comes to gameday. Accordingly, here is a simple recipe for a delectable Spinach Dip. It requires minimum effort and gives maximum flavor.
I know what y'all might be thinking. Out of everything that he could have made like chicken wings, burgers, sliders etc. he decides to make a simple DIP!!! Bit of an anticlimax ISN'T IT?? If I were to answer the question honestly then I agree with y'all totally. In my defense there are times when after a week of hard work, you just don't feel like taking the easy way out on your day off. That is pretty much what I did. Come on people don't blame for that (CHUCKLES!!!)
Besides when there are four football games back to back on a Saturday who the hell is going to spend time in the kitchen cooking???? LAUGHS!!!.. The games were beginning exactly at noon. Which means I was in a race against time to make the recipe and take pictures by then. The most difficult part was going to be waking up a bit earlier on a Saturday nonetheless which I can proudly say I did successfully (LAUGHS!!!).
After that all I had to do was to wilt as much spinach as I could. To be honest it had to last me just enough time for my pizza to be delivered. Once that was done, I mixed in the yogurt along with some chili-garlic paste, mint powder for a little freshness and black salt for a little tang. Season that with salt and pepper and voila the dip is ready.
All in all, I managed to get things done and get my rear end on the couch with minutes to spare before the game began. I have a bag of chips as well as a delicious and healthy spinach dip in front of me and life couldn't get any better. I wish everyday was like this!!!!.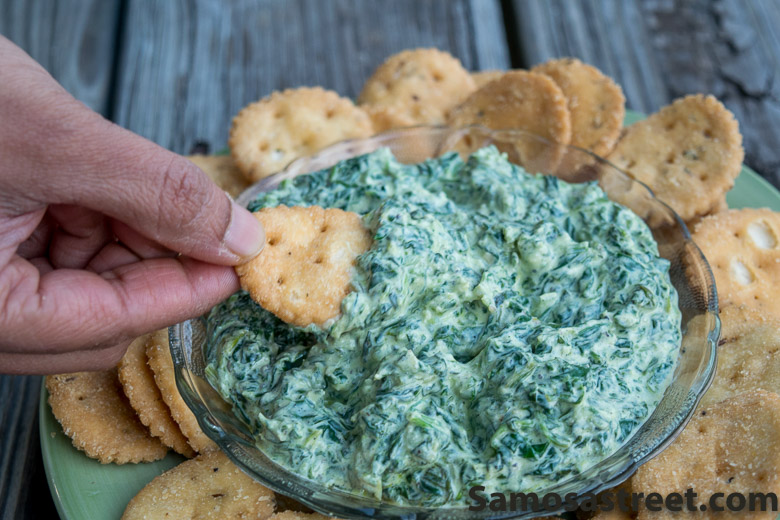 If you are on Facebook I would love it if you like my FACEBOOK page.
Spinach yogurt dip is easy to make and perfect party menu
Ingredients
5

cup

Spinach Leaves

chopped

2

tsp

Garlic & Green Chili paste

½

tsp

Mint Powder

¾

cup

Yogurt

1

tbsp

Lemon Juice

Black Salt as per taste

Crushed Pepper
Instructions
Heat oil in a pan add garlic & chili paste and fry till raw smell goes away. Add spinach and cook until wilted. Allow it to cool

In a bowl mix in the spinach, yogurt, lemon juice, and mint powder. Season with salt & pepper.

Serve with choice of chips.
Please follow and like us: