This dish is spicy, salty, tangy, crunchy and is the perfect orchestra creating an absolutely beautiful symphony of flavors in your mouth.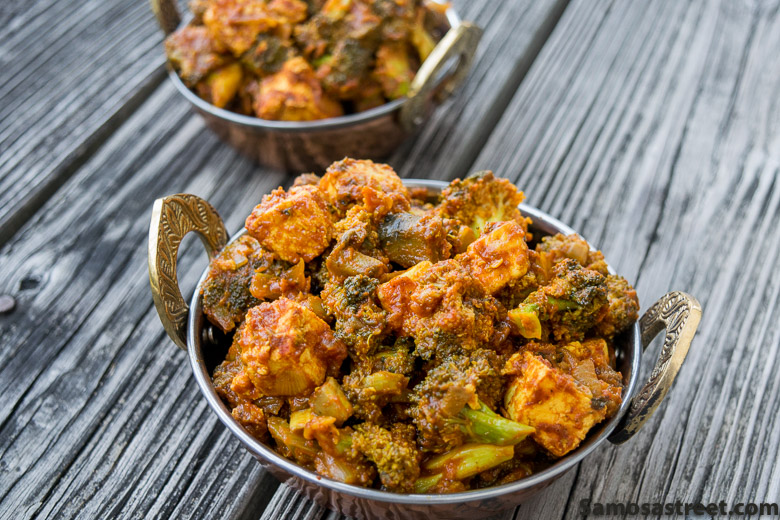 Ever since I started my blog I feel that my love of food has grown by leaps and bounds. Now it is at the point where pretty much everything I do eventually leads me to a recipe idea (LAUGHS!!!) Case in point; hot weather leads wifey and I to the mall where we find a good deal on a skillet. With a shiny new toy in hand y'all know I am going to want to instantly play with it. That ultimately lead me to this quick and easy mouthwateringly delectable one pan meal i.e. Skillet Broccoli Paneer.
This month has been an extremely hot one here in the city. The temperatures have been constantly hovering in the 90s pretty much every single day. As if that was not enough the humidity tends to make things even worse. So all in all the weather forcibly makes us stay indoors every weekend. We finally got fed up of constantly staying indoors and made up our minds to venture out this weekend.
The moment we stepped out of our apartment the scorching hot temperatures hit us instantly. But wifey and I were not going to be deterred this time. Our resolve wasn't broken but I must say that it was definitely shaken. That meant we were not going to the park as we originally planned but were going to go some place where we could spend some time indoors (GROANS!!!!). Well the closest place that matches that description for us was the mall (GROANS AGAIN!!!).
I was constantly groaning because I had absolutely no intentions of shopping but I went anyways because wifey wanted to window shop. Wifey dear is rolling her eyes as I say this because every time we go shopping it is me who gets attracted and eventually buys something especially kitchen equipment (LAUGHS!!!!). So y'all are not going to be surprised when I tell y'all that is exactly what happened. The kitchen equipment in question this time was a cast iron skillet which I bought for just 12 bucks.
With a skillet in hand the next stop was obviously going to be the grocery store because the itch to instantly cook in the pan was way too strong for me (LAUGHS!!!). We had our minds made up that broccoli was going to be the star of our next recipe. After we bought the broccoli and a couple of other essential items we came back home and immediately had the framework of our recipe already made up. It wasn't too difficult since we were simply going to make a one-pan meal i.e. Skillet Broccoli Paneer. The only question was how to construct the recipe.
I decided to keep things very simple and started things off by sautéing the onions in the skillet till they were slightly brown. Next I added two of wifey dear's favorite ingredients in the form of a ginger-garlic-green chili paste. Once the raw smell of the ginger and garlic vanished it was time for the star of the show to enter the fray i.e. BROCCOLI. Then I patiently waited for the broccoli to cook. I actually left it slightly crunchy because I was going to add the soft cottage cheese in the end.
I tend to favor recipes which have a coating gravy on the meat or the veggies. Hence I add the tomato puree next along with the dry spices. Y'all can skip the puree and make this a stir fry instead. For the finish touches add the paneer, mushrooms and kasuri methi (Fenugreek leaves) which will give this dish a unique taste.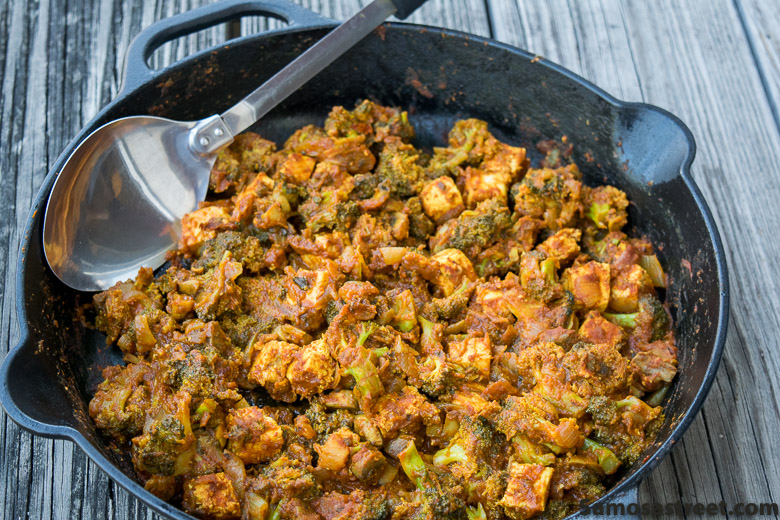 It is not always that anything I do for the first time actually comes out good. But to my surprise that is exactly what I happened.The slightly crunchy broccoli, the tangy tomato, the salty cheese and the dry spice powders all come together to form a heavenly meal fit for a king.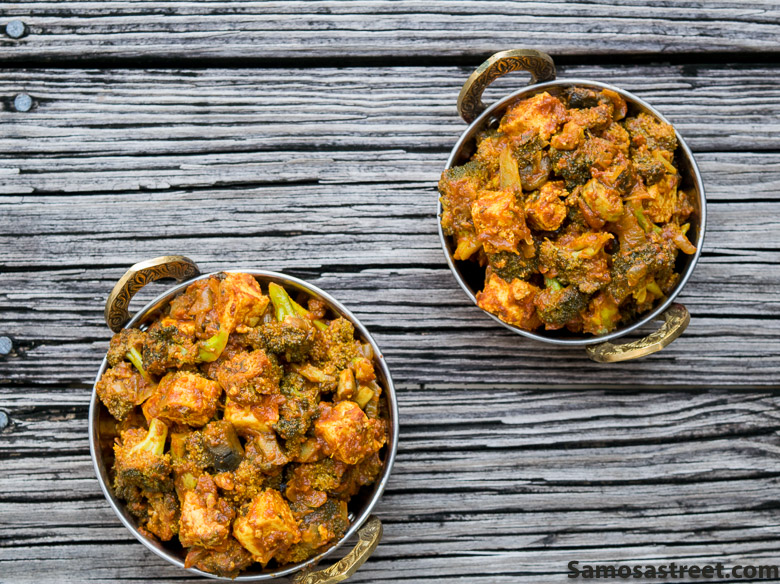 If you are on Facebook I would love it if you like my FACEBOOK page.
Skillet Broccoli Paneer
This dish is spicy, salty, tangy, crunchy and is the perfect orchestra creating an absolutely beautiful symphony of flavors in your mouth.
Ingredients
3 Broccoli heads (separated into small florets)
100 gm Paneer (cubed)
1 cup Mushrooms
1 Onion (finely chopped)
1 tbsp Ginger Garlic Green Chili Paste
1 cup Tomato Puree
1½ tsp Red Chili Powder
2 tsp Coriander Powder
1 tsp Turmeric
1½ tsp Pav Bhaji Masala/Garam Masala
1 tsp Kasuri Methi/Fenugreek Leaves
Salt to taste
Oil
Instructions
Heat oil in a skillet over a medium heat. Add onions and cook until lightly browned.
Then add ginger garlic chili paste and saute for a minute until the raw smell vanishes
Add the broccoli florets and cook for about 5-7 minutes until slightly crunchy.
Mix in the tomato puree along with coriander powder, red chili powder, turmeric, pav bhaji masala, kasuri methi and stir well till the spices gets cooked.
Add mushroom, paneer and cook for 2-3 minutes.
Season with salt.
Please follow and like us: