Deliciously Mouthwatering Oven Baked Shrimp Biryani cooked in a flavorful Coconut Curry.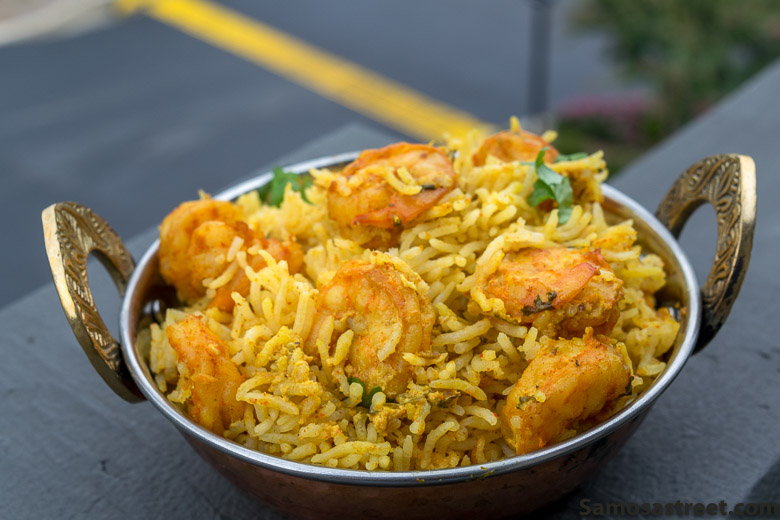 The day of reckoning is finally here for wifey dear. It's the last weekend before the holy month of Shravan begins which means the final chance for her to eat meat for the better part of two months. So we basically have a meat feast planned for the whole day. That means a sumptuous homemade SHRIMP BIRYANI jam packed with flavors for lunch and a delicious barbecue dinner at the city's favorite barbecue restaurant for dinner. I have to make sure wifey bids this temporary farewell to meat with fond memories. (CHUCKLES!!!!)
We woke up to a perfect Saturday morning; the sun was shining and there was absolutely no hint of rain. After stuffing ourselves with a delicious breakfast of parathas wifey and I were off to the fish market for what else; FRESH FISH. I will be just stating the obvious when I say that nothing beats the feeling of buying fish in the morning and cooking it the very same day for lunch. At the market it felt like wifey had her mind absolutely made up. She zoomed in the shrimp like an eagle swooping in on his prey (LAUGHS!!) without even considering anything else.
Well that trip didn't take long.. Now that we were home it was time for me to get to work. Initially the plan was to make a coconut based shrimp curry which was something wifey has been eating since she was a kid. The plan was to give her a taste of home right here in good ol US of A. So I made a simple marinade for the shrimp which included ginger-garlic paste, turmeric, chili powder and malvani masala which she got back from her recent trip to India.
TIP: This malvani masala is a local spice blend and may not be available every where. So y'all can replace it with garam masala.
Once the shrimp was soaking in all the delicious flavors of the marinade in the fridge it was time to make the curry. One thing I like to do when making curries is to roast the onions before hand and then blend it into a fine paste. I feel roasting gives a unique flavor to the curries. This is exactly what I did here. The only difference being the fact that I added dry red chillies and coriander seeds to the onions. Once the mixture cools down blend it into a fine paste.
Another important feature of this recipe is the use of Kokam as a souring agent. This is a fruit bearing tree in the mangosteen family and is local to where both wifey and I grew up. It is a great alternative to tomatoes/ tamarind in making curries. If y'all don't have it simply replace it with the afore-mentioned ingredients.
Now that the mise-en-place (Finally I got to use that word) is ready lets get the curry going. Once the oil is hot in the saucepan add the ginger garlic paste and the above mentioned onion paste and cook till the raw smell vanishes. Then mix in the coconut milk and all the dry masala powders. For the cherry on top add in the kokam water and get the mixture simmering merrily. Finally add in the shrimp and cook 3-4 minutes. The curry was ready, the delicious smells were wafting through our whole apartment and wifey was ready to jump in right then and there.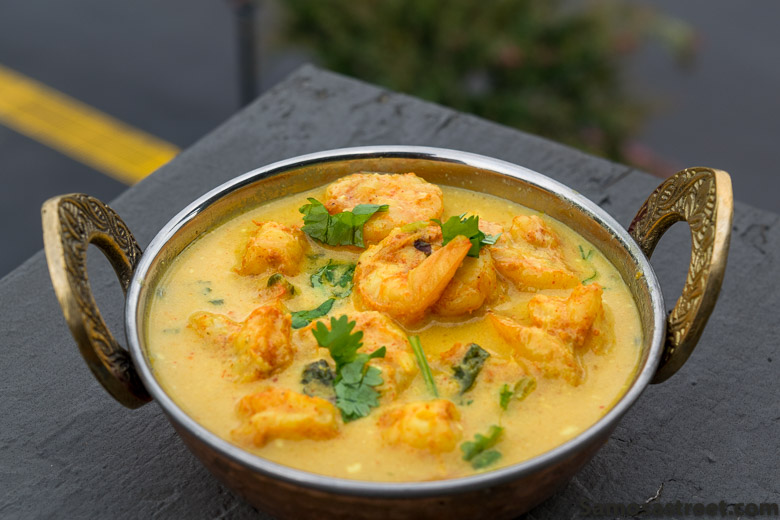 Her enthusiasm was such that I wasn't going to break her heart and tell her to wait a little more. But that is exactly what I did since I had stumbled upon something a little better i.e. Shrimp Biryani. The only difference is instead of layering it elaborately I baked it. Needless to say wifey was overjoyed since she got double the fun for the price of one. She was expecting a curry and got the biryani as a fun surprise. The barbecue dinner capped off an absolutely perfect day for her and she walked off into the sunset a happy camper (LAUGHS!!!!)..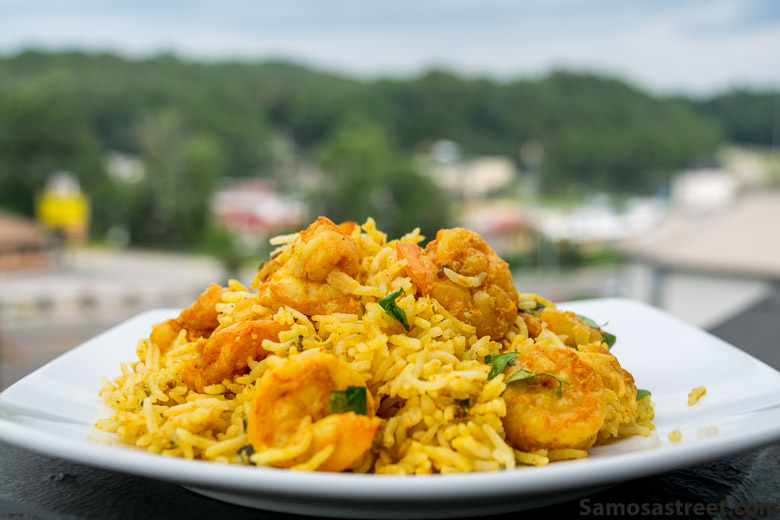 If you are on Facebook I would love it if you like my FACEBOOK page.

Shrimp Biryani
Deliciously Mouthwatering Oven Baked Shrimp Biryani cooked in a flavorful Coconut Curry.
Ingredients
FOR MARINATION:
1 lbs Shrimp
¼ tsp Turmeric Powder
¼ tsp Red Chilli Powder
1 tsp Ginger-Garlic Paste
¼ tsp Malvani Masala (OR Garam Masala)
Salt to taste
TO GRIND TO A PASTE
1 Onion (coarsely chopped)
2 tsp Coriander Seeds
8 Dry Red Chilies
FOR CURRY
1½ cup Coconut Milk
1½ tsp Ginger-Garlic Paste
½ tsp Cumin Powder
¾ tsp Turmeric Powder
1½ tsp Malvani Masala
1 tsp Red Chili Powder
1 cup Kokum Syrup (soak the kokum in water for about 30 minutes)
Salt to taste
Cilantro for garnish
ADDITIONAL INGREDIENTS
Instructions
Marinate the shrimp with all the ingredients mentioned above under marination for 45 minutes-1 hour.
Add a little oil to a pan and then roast the coriander seeds, dry red chili and onions till translucent. Keep aside to cool. Once cool blend the mixture into a fine paste using a little water.
Heat oil in a saucepan on medium heat. Once the oil is hot, add the ginger-garlic paste and cook till the raw smell vanishes.
Then add the paste from step 2 and saute for 2-3 minutes. Mix in the coconut milk and bring a boil.
Mix in the red chili powder, turmeric, cumin powder and Malvani Masala. Cover and cook for 7-8 minutes. Add 1 cup water, kokum syrup and simmer.
Finally add the marinated shrimp and cook for 3-4 minutes.
Season with salt. Garnish with cilantro.
BIRYANI
Wash and soak the rice in water and set aside for 30 minutes.
Preheat oven at 350 F.
Drain the rice and discard the water
Grease a baking tray with oil. Spread the rice and top it with 2 cups shrimp curry. Cover tightly with aluminum foil and bake for 45 minutes.
Serve hot with raita or any side.
Please follow and like us: