I am not ashamed to say that in my visits to India I go with the expectation that I will be a little pampered (especially regarding food). But the unintended consequences of me becoming a food blogger is that expectation being thrown out of the window (LAUGHS!!!). Now I am on the other side of the table so to speak because people expect me to cook which is exactly what happened. Not only that I was somewhat restricted in what I could cook (more on that later!!!). So I came up with this funky Shrikhand Golgappa recipe which turned out to be the perfect one-bite dessert…
It will come as no surprise y'all when I say that I really miss mom's cooking now that I am living what seem to me a million miles away from home. This is why my main goal on my visits to India is to eat as much mom-made (sometimes relative made) food as I can (CHUCKLES!!!) Hence the pampering comment I made earlier.. But with me blogging for the past couple of years the tables have been well and truly been turned on me. I was indeed hearing from friends and family about cooking for them on my next trip to India but I never expected that to turn into reality so soon (LAUGHS!!!).
This all began when my mom's friends made the decision to hold their monthly kitty party at our place back in Mumbai. At that time they had no idea that I was going to be home that day. Once they found out it didn't take long for them to start needling me about cooking a dish for the party. Initially I was pretty gung-ho about it and gladly agreed to do so.. Big MISTAKE…
I should have listened completely to what they wanted to say because what came next was a big list of ingredients that they were not going to be eating just for that day. It seems that on the day of the party there was a religious event of Lord Ganesh so the dietary rules were supposed to be very strict.
In such a situation the only thing that made sense was dessert. But which one?? After putting some thought into it there was only one which kept comping to mind and that is SHRIKHAND which is a dessert made with strained yogurt.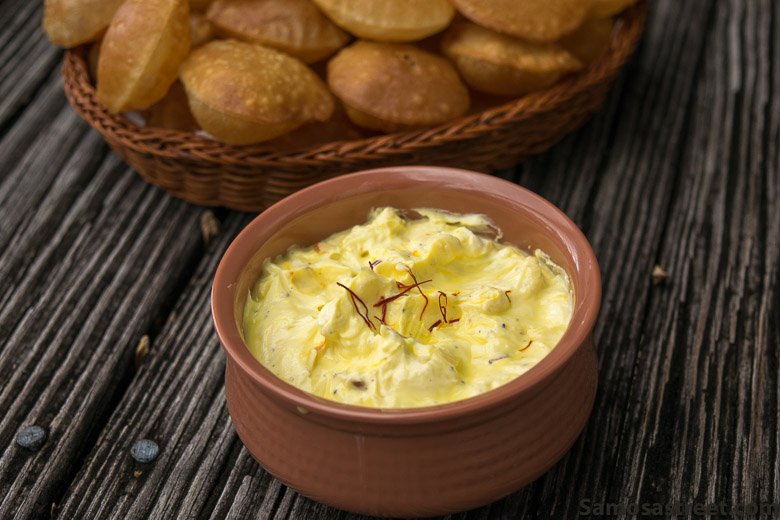 So I quickly bought greek yogurt (less water content) and hung it out in a muslin cloth to take out any excess water that was in the yogurt.
After that it was just a question of whip up the yogurt into a nice semi-solid consistency and then flavoring it with a little saffron and cardamom and sugar. However my twisted mind wasn't in the mood to leave it at that (LAUGHS!!!). Taking inspiration from my Mexican Golagappe recipe I decided to serve them in crispy puris and this weirdly delicious Shrikhand Puri Recipe was born.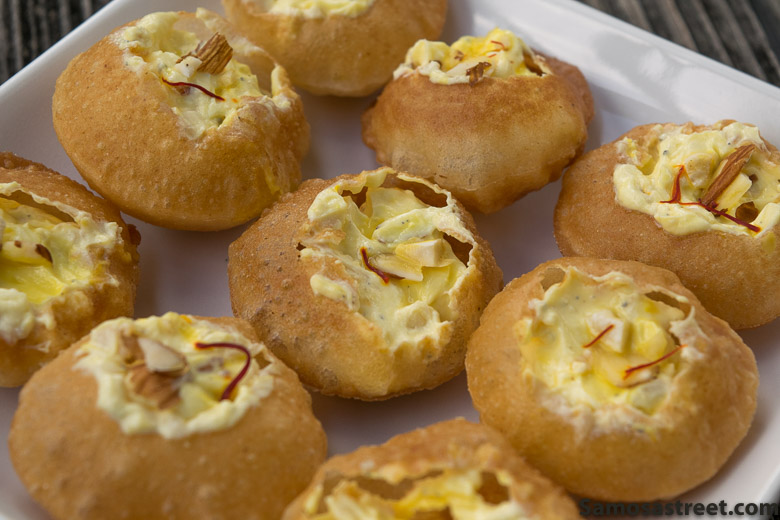 P.S; Y'all can buy pre-made puris from the store or make them at home by following the recipe here.
To my surprise these stuffed puris disappeared rather quickly with some of mom's friends even saying that they were going to steal the recipe for their next party (LAUGHS!!!). So sharing this recipe on the blog was an absolute no-brainer to me.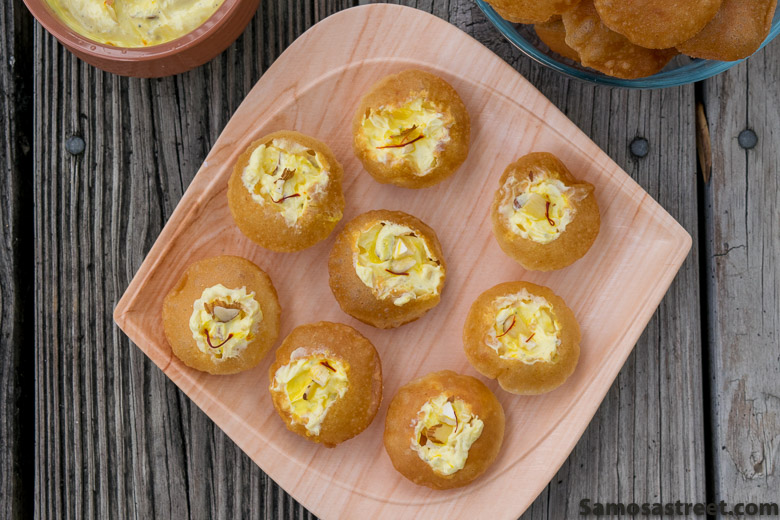 If you are on Facebook I would love it if you like my FACEBOOK page.
Instead of Kesar Shrikhand you may also stuff Apple Shrikhand

Shrikhand Golgappe
Lusciously rich & finger-lickingly yummylicious Kesar Shrikhand stuffed inside a crispy puri.
Ingredients
Shrikhand
900 gm Greek Yogurt
1 ½ cup Sugar
2 tbsp Milk
2 Generous Pinches of Saffron
10 Pods of Green Cardamom (open up the pods and crush the seeds to a fine powder)
Blanched almonds for garnishing (Optional)
Puri
¼ cup Rice Flour
¼ cup Whole Wheat Flour
¼ cup All purpose flour
5 tbsp Water
Salt
Oil for deep frying
Instructions
Take a muslin cloth/handkerchief and spread it on a bowl. Pour greek yogurt onto the cloth. Bring edges of cloth together, tie it with a string. Hang the cloth and place a bowl below it to drain the excess whey overnight.
Add the saffron to the milk and keep aside.
Transfer the yogurt to a deep bowl. Add sugar, cardamon powder as well as the saffron milk and whisk well until sugar is dissolved and yogurt becomes smooth and creamy.
Garnish with almonds or any other nuts of your choice. Chill for an hour before serving.
Puri
Combine rice flour, wheat flour, all purpose flour and salt. Add water little at a time and mix. Knead slowly to form a semi stiff dough. Divide the dough in equal parts.
On a floured surface roll the dough in a thin circle with a rolling pin.
With a cutter, cut out circles in the dough. Remove the extra dough and add it to the unused dough.
Gently slide 3 to 4 puris into the hot oil in a frying pan and fry till golden brown on both sides.
Drain on absorbent paper.
Repeat with the remaining dough.
Assembly
Lightly tap the top of puri with tip of spoon or index finger to make a small hole.
Spoon some shrikhand inside.
Pop in your mouth immediately.
Please follow and like us: