It's been a quiet a while since I last posted, and the reason is simple. The last month or so has been extremely hectic. From changing apartments to presentations to final exams in my MBA class it has been an absolute whirlwind of activity. Now that the dust has finally settled its time to get back to what I love i.e. COOK. I am just going to continue from where I left off which is Mexican food. So, ladies and gentlemen I give to you these delectable "ROSEMARY CHICKEN TACOS".
This craziness began the week of my last post. First up on our to-do list was moving and settling into our new apartment. Unfortunately for us we happened to pick up the coldest day of the week to do so.. On the flip side our friends were there to help make the move easier. After the apartment was set it was time for me to move on to my class presentation.
It was a team presentation and I am proud to say that my team followed the mantra of great minds think alike which is to say we didn't worry about the presentation till the last minute i.e. the day before the talk (CHUCKLES!!!!). After getting past the talk I decided it was time to pamper myself a bit. That meant putting my feet up and relaxing on the white sandy beaches of Destin, Florida. Wifey and I were doubly happy because our vacation was nicely complimented by the delectable seafood that we got to taste.
Ahh I think I have digressed a little too much. I apologize profusely and will get back to doing what y'all what me to do which is to make good food. The inspiration for this recipe was pretty much a spur of the moment thing. One thing led to another and the next thing you know wifey and I are wolfing down delicious rosemary flavored tacos.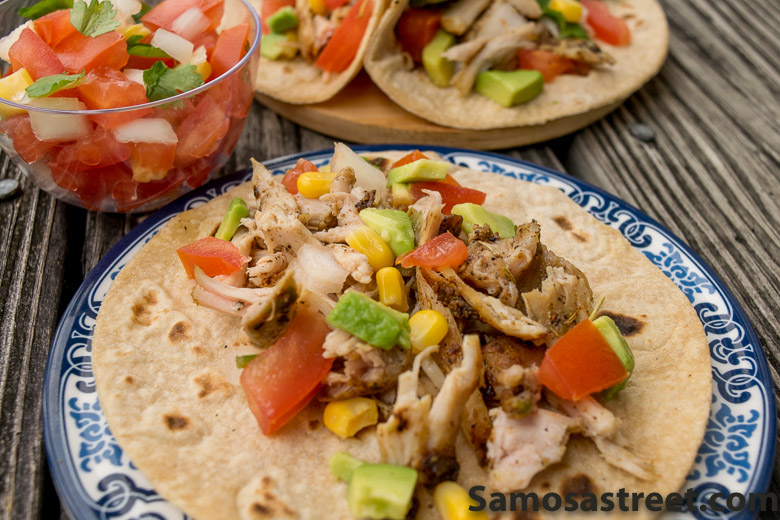 I saw rosemary in my spice rack and decided to make this the star of my dish. So I whipped up a quick marinade of rosemary along with a little garlic-green chili paste along with vinegar, onion salt and cumin powder, added it to the chicken and left it overnight in the fridge. Then I simply sautéed it on the skillet till it was perfectly golden brown. Instead of spending time on making the tortillas I simply asked the roti master aka wifey dear to whip up rotis in about 20 mins and I had the perfect substitute to use.. AINT that easy-peasy.
Within no time my Rosemary Chicken Tacos were ready. Ohh how I wish everything in life was so simple..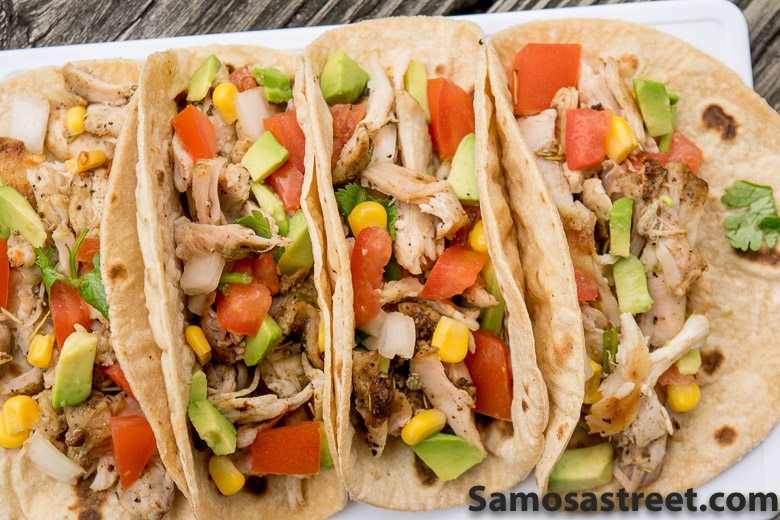 If you are on Facebook I would love it if you like my FACEBOOK page.
Rosemary Chicken Tacos
Ingredients
Chicken
1

pound

Ground Chicken

1

tbsp

Vinegar

1

tsp

Garlic Green Chili Paste

¾

tsp

Rosemary

1

tsp

Onion Salt

¾

tsp

Cumin Powder

Salt

Pepper
Topping
Boiled Red beans

Tomato cubed

Boiled Corn

Avocado
Instructions
Roti
In a plate knead the wheat flour with water little at a time to form soft dough.

Preheat a non-stick pan over medium heat.

Divide the dough into equal portions. Roll out each portion on a floured surface into a thin circle using rolling pin. Always roll on one side of the dough, do not turn the roti.

Be careful while putting the roti on the pan, dusted side should be at upper side of the pan and fry one side till you see bubbles.

Flip and cook the other side till you see brown spots. Turn and press with a spatula from all the sides till it puffs up.

As soon as it puffs up, take off from the heat.
Chicken
Marinate the chicken in the above mentioned ingredients for 4 hours in the refrigerator.

Saute the chicken in a cast iron skillet over medium heat till golden brown on all sides.
Assembly
Fill each roti with chicken mixture.

Top with boiled red beans, corn, avocado, coriander. Dive into it immediately.
Please follow and like us: