Happy Halloween Y'all!!! It is that time of the year to remember the dead and all the faithful who have left us. It is the time to scare people, get scared ourselves and have a lot of fun doing so. A celebration of this magnitude is going to be incomplete without the food, especially something made of everyone's favorite ingredient; the mighty PUMPKIN. Not to be left behind I decided to get in on the fun with these light, fluffy and deliciously sweet PUMPKIN FRITTERS.
First Diwali and now Halloween!! The last couple of weeks are turning out to be quite a lot of fun. Don't y'all agree?? The fact that the two festivals are at the opposite ends of the spectrum makes absolutely no difference. On Diwali you dress up all pretty and proper and look the best you can and halloween costumes are all about getting the look which will scare the living daylights out of people. Either way its all about enjoying the festivals, having fun and for a glutton like me, eating a lot of food.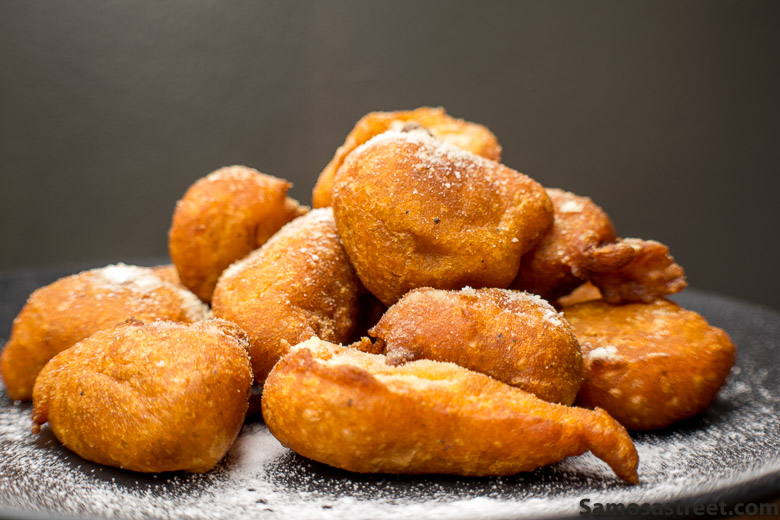 Talking of food, for people like me who are not well-versed in halloween recipes there is only one ingredient which instantly comes to mind and that is PUMPKIN. Regarding the pumpkin yours truly wasn't going to bring the pumpkin and actually spend time cleaning it. I am just too lazy for that (Laughs!!!). So I took the easy way out and that is Pumpkin Puree (CHUCKLES!!!!). But I still had to do the hard part and come up with a recipe. The original idea was to make a popular Indian dessert called the Barfi which is a like just like a bark with a softer consistency. Repeated attempts to make that were thwarted by the same problem i.e. crumbly texture.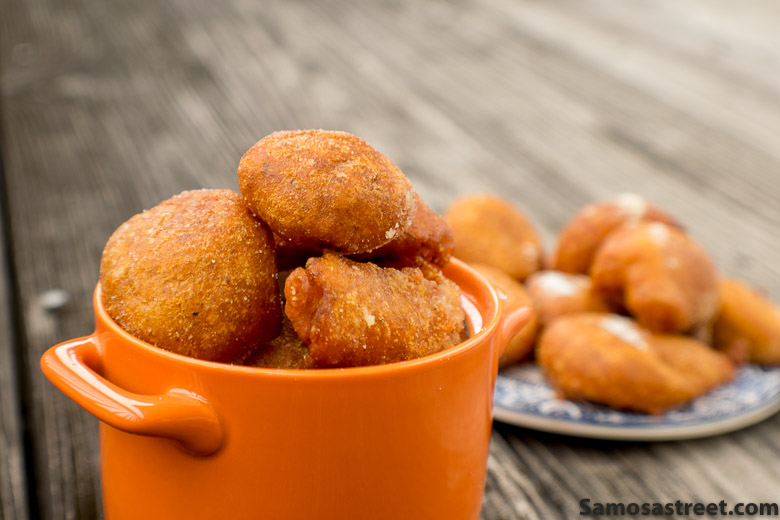 That led to understandably a lot frustration. But there are times when you just throw things together in sheer desperation and they just click in place and work to perfection. The basic idea was to make a fritter so pretty much all I did was to mix together AP flour and pumpkin puree together in a bowl to get a batter with the right consistency. What I was looking for was for the batter to be a bit on the thicker side but still pourable. The problem was even after adding equal amounts of flour and puree the batter was still too thick. So I used a little milk to thin out the batter slightly.
Now all that was left was to add some flavor to the batter. Even here I took the easy way out by adding just two ingredients i.e. sugar and cardamom (LAUGHS!!!). With the batter ready, fry spoonfuls of it into bite-sized goodie bags of deliciousness. They turned out to be surprisingly light and fluffy almost like donuts which made me think twice about the name but I stuck to the original anyways. Y'all can sprinkle powdered sugar on top and then start munching on them or simply dip them in something like chocolate syrup. To me y'all just can't lose with either option (LAUGHS!!!).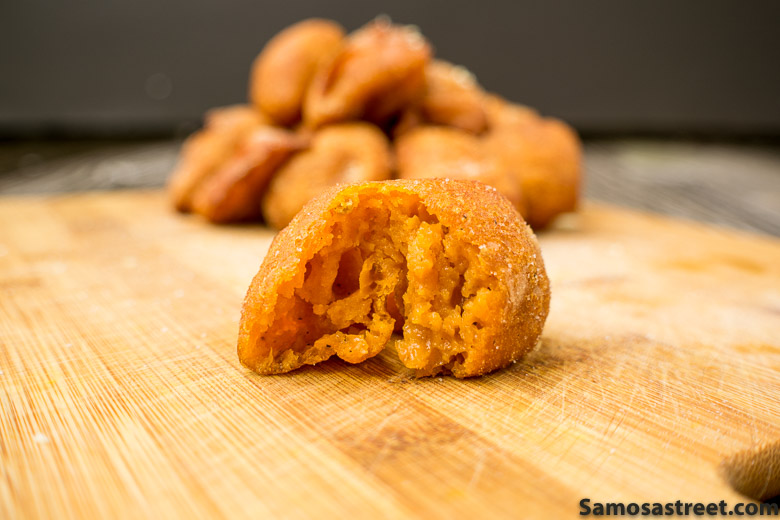 If you are on Facebook I would love it if you like my FACEBOOK page.

Pumpkin Fritters
Crazy easy to make, light and fluffy Pumpkin Fritters. A gentle dusting of powdered sugar on top and you are in pumpkin heaven.
Ingredients
1 cup Pumpkin Puree
1 cup All Purpose Flour
½ cup Milk
4 tbsp Sugar as per taste
1 tbsp Cardamon Powder
Pinch of Salt
Powdered Sugar for garnishing
Oil for frying
Instructions
Combine all the ingredients i.e pumpkin puree, flour, sugar, milk, cardamon powder and salt in a large bowl. Mix well until you have a smooth batter.
Heat oil over high heat. When hot carefully drop a spoonful of the batter, taking care not to over crowd the pan. Fry till until golden brown.
Remove from oil and drain on absorbent paper. Repeat with remaining batter.
Dust with powdered sugar on top. Serve immediately.
Please follow and like us: