The weather has finally changed!!!! Spring is just a little late but at least it is finally here. Time to get the shorts and flip flops out and enjoy. A long hike in the lap of mother nature does sound just right.. Isn't it?? Or maybe a day out at a local fair with good friends isn't bad either. As if the day wasn't good enough on its own then that very outing gave me the inspiration for this tantalizingly inviting Potato Pancake recipe. It is ready in a matter of minutes and to top it off it is ohh so satisfying!!!!
I always thought that spring typically began some time in March. But it seems this year was a little different because the weather Gods seemed to be mad at us. So as punishment there was quiet a bit of chill in the air in April too. But finally it seems as if the Gods relented and the weather began warming up in the last couple of weeks. Which meant the cat was out of the bag!!! i.e. wifey dear and I went hiking to a beautiful state park just 20 miles outside the city last weekend.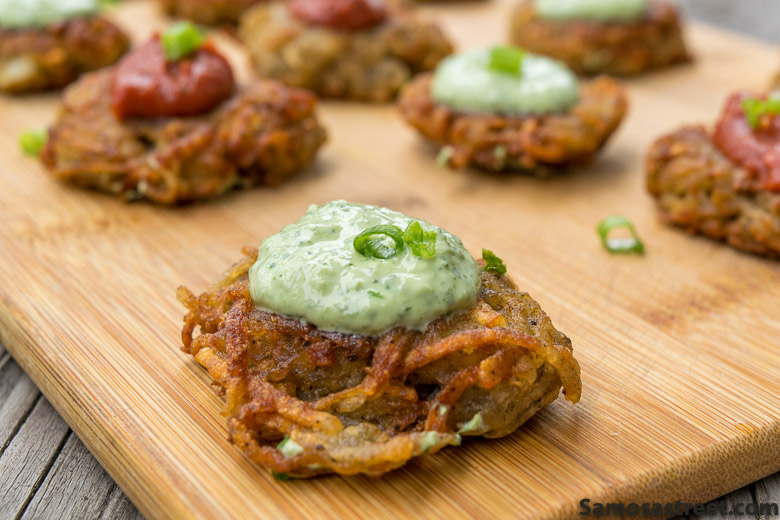 This weekend a couple of our good friends got discounted tickets to the local state fair so they invited us to go too. So off we went for a day of fun and frolicking. It was pretty much the standard stuff at the fare with the rides, petting zoo etc etc… But it is the company of good friends that made it special. All of us being ardent foodies quite a bit of conversation between us tend to obviously be food-centric and this day was no exception.
After the inevitable conversation about Indian food the chatter turned to a type of cuisine which they are intimately familiar with i.e. classic Jewish recipes. Wifey and I on the other hand had no clue about it so it was definitely a learning experience for us getting to know about the uniquely different matzoh ball soup to the beautifully braided challah bread and not to forget the lusciously rich shakshuka.
It felt like a million ideas for the next blog post were swimming in my head. So I simply took the easiest recipe they mentioned during the conversation and decided to run with it. The recipe I am talking about is the divinely tempting Potato Latkes better known as Potato Pancakes.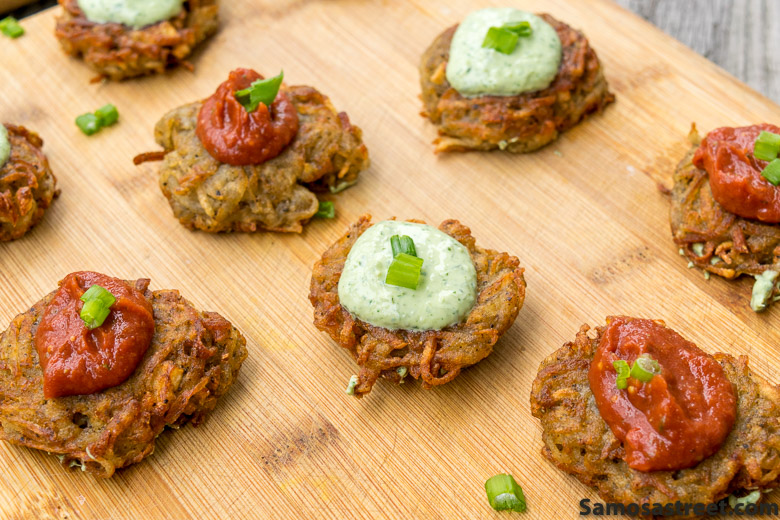 The recipe is as simple as shredding the potatoes, adding seasonings to it, binding it with flour and eggs and shallow frying spoonfuls of the mixture to crunchy perfection. The end result  is a snack which in my mind can be completely satisfying breakfast or the perfect snack to munch on while sitting on the patio reading your favorite book.
As for the seasonings then I would say these pancakes are somewhat of a blank canvas so the options are plentiful. I decided to incorporate the flavors of Mumbai street food in this recipe. So I added amchur powder for a little tang, mint powder for a hint of freshness and for the piece de resistance a sprinkling of the chaat masala.
Once these mini flavor packed pancakes are ready then y'all can enjoy them by itself or with any dipping sauce. My choice was a creamy cilantro-yogurt chutney which went perfectly well with these pancakes.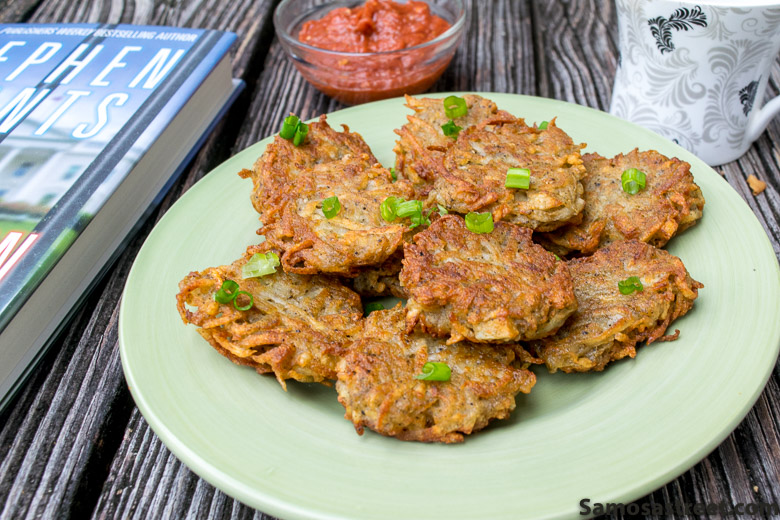 If you are on Facebook I would love it if you like my FACEBOOK page.

Potato Pancakes
These crispy on the outside, soft on the inside Potato Pancakes are the perfect bite-sized snack.
Ingredients
2 Potatoes
1½ tsp Ginger-Garlic- Chili Paste
1 tsp Chaat Masala
½ tsp Mint Powder
¾ tsp Amchur Powder/ Dry Mango Powder
2 tbsp All Purpose Flour
1 Egg
Salt
Pepper
Scallions to garnish
Instructions
In a food processor shred the potatoes. Take a muslin cloth/handkerchief and spread it on a bowl. Transfer the potatoes onto the cloth. Bring edges of cloth together and squeeze firmly to drain the excess liquid.
In a bowl add drained potatoes, ginger-garlic-chili paste, chaat masala, mint powder, dry mango powder, all purpose flour, eggs, salt, freshly ground pepper and toss to combine.
Heat ¼ inch of oil until hot. Once hot, drop heaping spoonfuls of potato mixture and flatten slightly. Cook until crisp and golden brown on both the sides
Serve hot with choice of sauce.
Please follow and like us: