Never in my wildest dreams would I have ever imagined that a time will come when I would have my own food blog. When I began, I did so with little hope but a lot of encouragement from my dear wife. The expectations were modest; i.e. do it for 6 months to a year, see what happens and then take it from there. But then one recipe led to another and the next thing I know is that the blog is turning 2 this week. A birthday won't be complete without a cake so I present to you this mouthwateringly divine PEAR-BLUEBERRY CREAM CHEESE CAKE.
This has been a relatively short journey of 2 years through the food world but its one where I have made a lot of new friends and created a host of memories to last me for a life time. I could ramble on and on about these experiences like the time when someone in Texas made one of my recipes and messaged me back on Facebook telling me how much she and her kids liked it. OR the time when someone from the other side of the world i.e. Melbourne wrote to me saying that I have a fan down under (that's how Australia is referred to). One of the memorable incidences was when I started talking to a British girl living in Germany about Indian food. Now that's a story for some other time.. (CHUCKLES!!)
It is amazing how a shared love of food has the power to connect you to people in different parts of the world. There is however one thing that I have consciously avoided doing in the past 2 years and that is BAKING. To me this birthday was going to be as good as any to conquer my fears and actually BAKE. There was absolutely no way I was going to come up with my own recipe. So in stepped Angela; a coworker and most importantly a good friend of mine with the perfect cake recipe for a baking amateur like me. One bite of this sublimely delicious pear-blueberry cream cheese cake and wifey and I were in food heaven.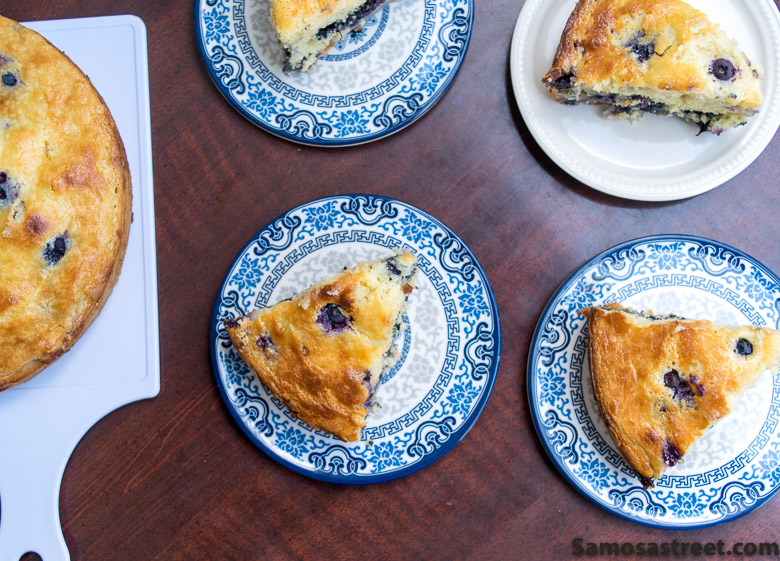 Usually if I am making a recipe for the first time I tend to mess it up more often than not. But this was one of those rare occurrences when my first attempt turned out to be way more delicious than expected (LAUGHS!!!). Angela also deserves a huge portion of the credit for this because of the clear, precise way she wrote the recipe. I think I am hearing a few angry murmurs because I haven't yet started talking about actually making this cake. So here's how to make the cake.
The cake batter will be made in 3 simple steps.
First let us mix in all the dry ingredients i.e flour, baking powder, baking soda and salt. Then come the wet ingredients i.e. butter and eggs with sugar. Now simply add in the dry mixture to the wet mixture and mix it thoroughly till the batter is smooth. Then pour the batter in a baking pan which has been sprayed with cooking oil and lined with the delicious fruit.
Finally it was time for the icing on the cake and I mean that literally (CHUCKLES). I mixed the cream cheese, sugar and eggs and simply poured it over the batter. So it was like a baked in icing so to speak but y'all can pour it in dollops if y'all wish. Then I had to wait 30-35 agonizing minutes for the cake to cook which I must say felt like 60-70 minutes because the prize was the sumptuous cake coming out of the oven.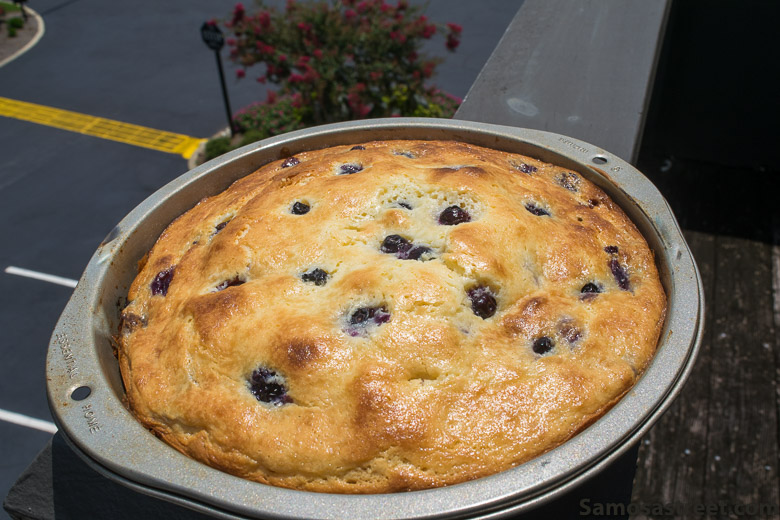 As the cake cooks the blueberries break down and the juices start oozing into the batter and the pears too. It is these purple colored patches all over the cake which for me make the cake look so beautiful.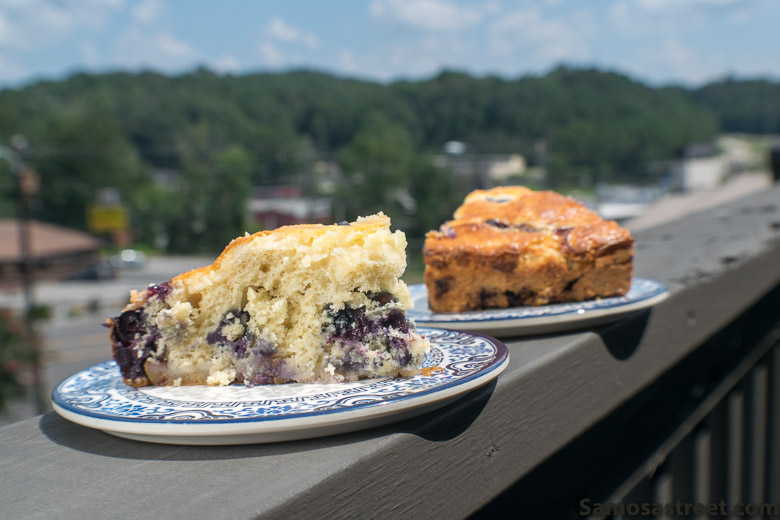 So all I can say is thank you Angela for providing the cake for the birthday party (giving me the recipe). It turned out to be the perfect gift and might just inspire me to start baking and come up with recipes of my own. If I actually come up with a good one then you are going to be the one who gets the first piece…..
If you are on Facebook I would love it if you like my FACEBOOK page.

Pear-Blueberry Cream Cheese Cake
Who would have thought pears and blueberries make up such a drool worthy combination. Try this sumptuous cake recipe and it will take one bite for y'all to agree!!!!
Ingredients
1 Pear
1 cup Blueberries
1 ¼ cup AP Flour
1 ¼ tsp Baking Powder
¼ tsp Baking Soda
¾ cup Sugar
2 Eggs
3 tbsp Softened Butter
½ Cup Milk
4oz Cream Cheese
Salt
Instructions
Coat medium baking dish with oil or cooking spray.
Place the pear and blueberries into the dish.
Combine flour, baking powder, baking soda and salt into medium bowl.
In second medium bowl beat ¼ cup sugar and butter. Then add 1 egg and beat on low for 1 min. Add the flour mixture from #3 and milk, alternating between the two, beating until just combined. Pour into baking dish over the fruits.
In a separate bowl beat to combine cream cheese and ½ cup sugar. Stir in one beaten egg. Pour over batter and place a couple blueberries on top.
Bake at 375 degrees for 30-35 minutes or until toothpick comes out clean.
Please follow and like us: