Soft cubes of Paneer cooked in a rich, velvety and a sinfully indulgent Cashew Almond and Walnut Sauce.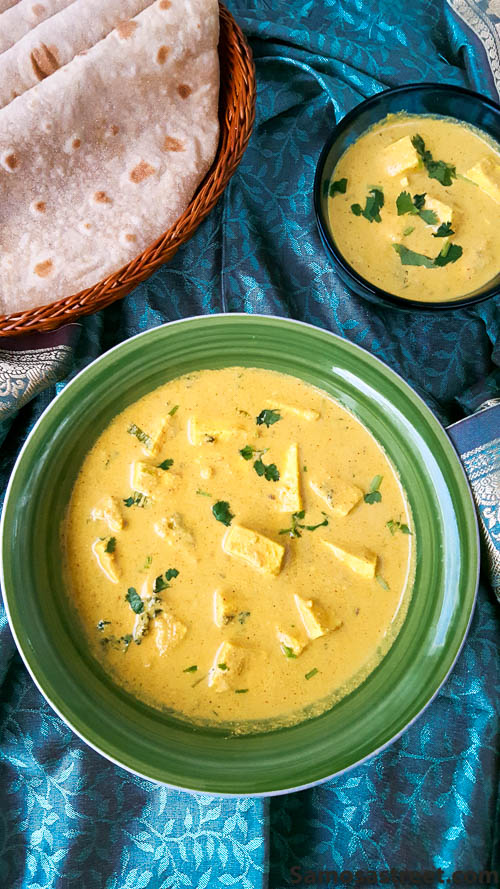 I just can't wait for this week to end. Now I am saying that in the best possible way since I am taking a much needed vacation next week. Before I do so I have a whole lot of work to finish up which is why it feels that this week has basically slowed down to a crawl. Not only that my lab welcomed a new member who just happens to be from India. In such a situation yours truly had to invite her for lunch.. RIGHT!!!! (LAUGHS). And the main course was Paneer in Cashew Almond sauce which was inspired by a popular dish in the northern part of India "SHAHI PANEER".
The month of November is proving to be an incredibly exciting month for me. It began with the Diwali festival and receiving home made treats from mom. Y'all are going to ooh and aah and then pretty much say here he goes again (LAUGHS!!!). But I just can't help myself. This time it feels as if my mom outdid even herself with the wide variety of things that she sent over. Y'all will agree when I say that no amount of praise is enough when it comes to what our mom's do for us.
Once Diwali was over my wife's sister is going to come over with WAIT FOR IT!!!… More goodies.. This time courtesy of my mother in law. So I am in a little bit of hurry to use up my mom's treats before my mother in law's show up (CHUCKLES!!!). I already used up some of the snacks in my previous recipe. Now it was time to pay attention to the packet of dry fruits i.e. cashews, almonds and walnuts. When I can't think of anything I like to follow the KISS principle which means Keep It Simple Stupid!!!. So all I did was blend the dry fruits, add a few spices to it and VOILA I had the makings of a unique sauce in my hands. Before blending do soak the cashews, almonds and walnuts in water for 4 hours to soften them up a bit.
Now to add a bit more flavor let us roast some onions for good measure until golden brown. Set aside to cool and blend the roasted onions with ginger and garlic in a food processor using little water to make a smooth paste.
The only thing left was to add a few pieces of paneer, a few spices and suddenly you get a delicious curry in which the paneer is cooked in a sumptuously rich sauce which has a unique nutty flavor.
Heat oil in a pan on medium flame. When the oil becomes hot add onion paste and saute for a 3-4 minutes. Add garam masala, paprika, turmeric, red chilli powder and mix together. Ladle in  2 cups of water and bring the mixture to a boil. Stir in the cashew paste and saute. Add 1 cup of water and keep simmering. Once the sauce is of desired consistency add paneer cubes, salt, coriander leaves and mix gently to coat. Cook for 5 minutes. Remove from heat.
Ladle hot curry in a bowl. Serve with choice of bread. I prefer my curries hot and spicy so I have never been a fan of creamy, nutty curries. After eating this curry lets just say that maybe its time for me to give these curries a shot. (LAUGHS!!!).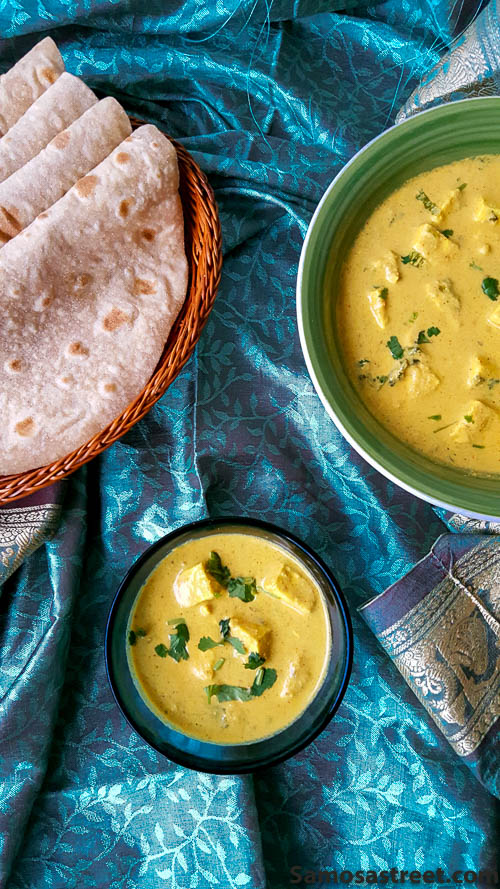 If you are on Facebook I would love it if you Like my FACEBOOK page.
Paneer in Cashew Almond Sauce
Soft cubes of Paneer cooked in a rich, velvety and a sinfully indulgent cashew, almond and walnut sauce.
Ingredients
170 gm Paneer (cubed)
2 inch Ginger
6 Garlic cloves
1 Onion chopped
1 ½ cup Cashew, Almond Walnut (equal proportions)
1 tsp Turmeric
1 ½ tsp Paprika
1 tsp Red Chili Powder
1 tsp Garam Masala
¾ tsp Coriander Powder
3 cups Water
Cilantro
Salt as per taste
Instructions
Soak Cashews, Almonds and Walnuts in water for 4 hours. Drain and blend them in a food processor with a little water until smooth.
Heat oil in a pan on medium heat. Add chopped onions and saute until soft and golden brown. Cool and blend the onions with ginger and garlic in a food processor into a smooth paste.Use a little water if needed.
Heat oil in a pan on medium flame. Add onion paste and saute for 3-4 minutes. Add garam masala, paprika, turmeric, red chilli powder and mix.
Add 2 cups of water and bring the mixture to a boil. Stir in the cashew paste and saute. Add 1 cup of water and keep simmering.
Once the sauce is of desired consistency add paneer cubes, salt, coriander leaves and mix gently to coat. Cook for 5 minutes.
Remove from heat. Ladle hot curry in a bowl. Serve with choice of bread
Please follow and like us: