Busy schedule plus potluck at work usually equals somewhat of a problem. The most obvious solution to a problem like this is to just go to a supermarket and buy something precooked. This is where being a food blogger turns out to be a curse instead of a boon because taking the easy way out just doesn't cut it (CHUCKLES!!). People are never going to stop giving you a hard time about it. Fortunately for me my knight in shining armor i.e. WIFEY dear came to my rescue with the idea for this fantastically easy "PALAK PANEER NAAN BITES" recipe.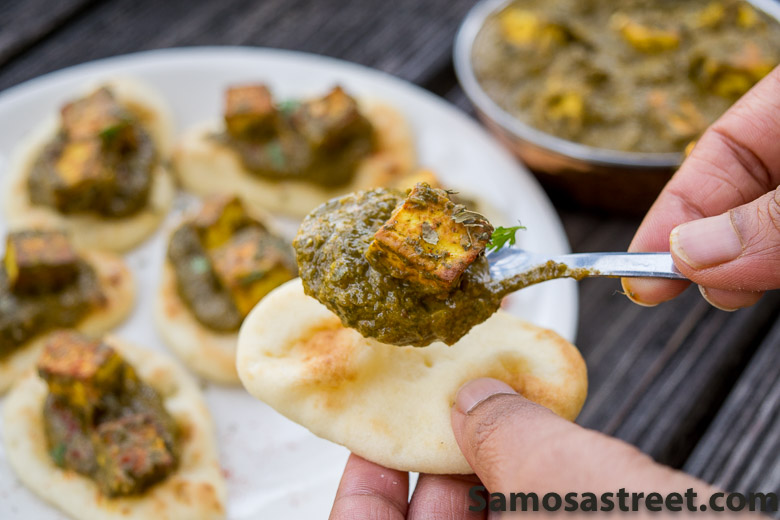 Having taken on an extra project, things are getting extremely chaotic at work. Not only that for the past month or so I have had to work weekends too. All this is naturally going to mean less time for the blog. No time for looking up recipes to put up recipes to put a crazy twist on (SIGHS!!!). But fear not people because wifey dear is constantly coming up with brilliant moments of inspiration every week. All I have to do is to execute them properly. Ohh what would I do if she  wasn't around to bail me out!!!!!
This recipe was another one of those instances of her rescuing me from a precarious position. I worked 12 hour days all week which meant all I wanted to do over the weekend was to put my feet up and relax. The only time I was going to move my rear end off the couch was to goto Costco and get some food.. (LAUGH!!!). Unfortunately for me there was a potluck planned at my workplace for the week after.
To be honest I was so tired over the weekend that I was in no mood to cook anything for the event. My mind was totally set on taking something precooked from Costco. But in the back of my mind there was always this fear that I was never going to hear the end of the ribbing for getting a readymade meal for the potluck.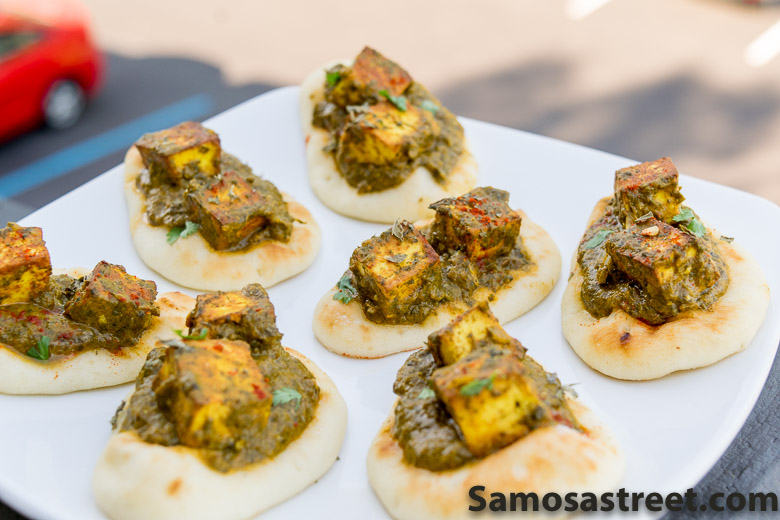 So off I went to Costco with wifey for our weekend grocery shopping already resigned and ready for the hard time I was going to get next week. What I had not counted on was my dear wife having a EUREKA moment when she saw the box of Naan Dippers on one of the shelves at Costco. We already had Paneer/Cottage cheese at home from our trip to the Indian Store. So she simply put two and two together and asked me to top the naan with some sort of paneer mixture.
Seeing the spinach in the vegetable section soon after helped me solidify the idea for the recipe. All I was going to do was to puree the spinach and then cook the paneer in this puree along with a few herbs and spices and that is exactly what I did.
I took the naan and the paneer mixture separately to the lab and simply spooned the mixture onto the naan just before lunch and all I am going to say about it is that the recipe was a big hit. It turned out to be a perfectly delicious bite of food to share with a good group of friends. Not only that I think it can also be a good recipe for game day parties too.. Try it out and let me know!!!!!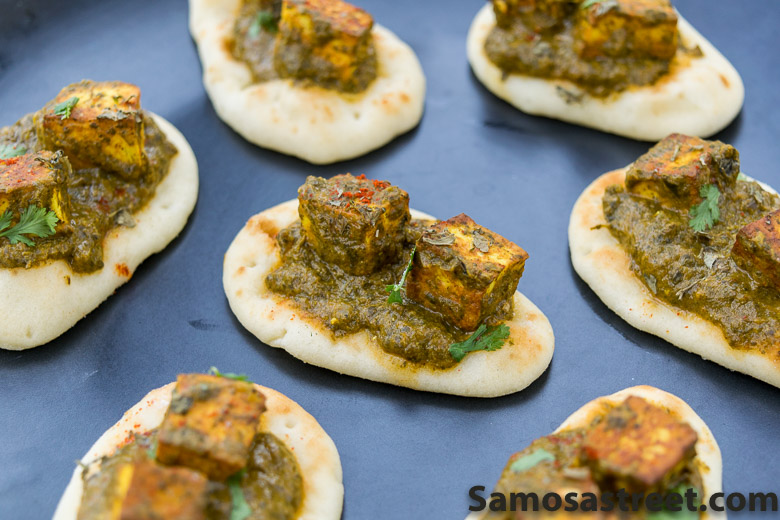 If you are on Facebook I would love it if you like my FACEBOOK page.

Palak Paneer Naan Bites
A delicately spiced Spinach and paneer mixture served on toasted naan is the perfect bite-sized appetizer.
Ingredients
5 cups Spinach Leaves
200 gm Cottage Cheese/Paneer (Cubed)
½ medium Onion (chopped)
¾ cup Tomato Puree
3 Garlic Cloves (crushed)
1½ tsp Fenugreek Leaves
¾ tsp Turmeric
1 tsp Red Chili Powder
1 tsp Garam Masala
2 tbsp Yogurt
Salt as per taste
1 packet Naan Dippers (Store bought)
Instructions
Blanch spinach leaves in a boiling water for 2 minutes. Transfer the leaves into ice cold water to stop the cooking process. Squeeze out the water and puree in a food processor until smooth. Add little water if required.
Place a nonstick pan over medium heat. Add the paneer and fry each piece until browned on all sides.
Heat oil in a pan over medium heat. Saute onions until translucent. Add garlic and fry till raw smell goes away.
Add tomato puree, turmeric, red chili powder, garam masala, fenugreek leaves and mix.
Mix in the spinach puree and stir well. Cover and simmer on low heat until it bubbles.
Remove the pan from the heat, add yogurt and mix well.
Put the pan back on heat and stir in paneer gently and simmer till soft. Season with salt.
Assembly
Heat the naan breads as per the instruction – just to warm through.
Spoon the palak paneer mixture onto warm piece of Naan. Serve hot
Please follow and like us: