Happy Thanksgiving Y'all!!! Hope y'all had a fun time with family and friends. The last 3 days for Maddy and I included everything from a traditional thanksgiving meal to a potluck to lots and lots of shopping. That's a packed schedule right there which doesn't leave too much time to think of a recipe. So I decided to take the easy route and kill two birds with one stone. I made this delectably simple Medu Vada (Lentil fritters) for the potluck and decided to post the same on the blog as well.
It just seemed to me that tor the past 3 years Maddy and I haven't been able to settle down in one city let alone in an apartment complex. We have always been on the move for one reason or the other. So when we signed a lease renewal at our current apartment it was definitely a happy surprise for us. Once you start putting your roots down in a place one thing that naturally starts to happen is that you start getting to know people and making more friends.
That is what exactly has begun to happen to us lately. One such couple whom we met recently at a party invited us over for a thanksgiving potluck and we didn't think too much before accepting the invite. The only question was about the recipe since I wanted to use it as a blog post too. My options got narrowed down once the hosts asked us to get snacks and/or appetizers for the party. Now it was just a question of coming up with a quick and easy recipe to make and I settled in on these savory black gram fritters also known as Medu Vada in the local dialect.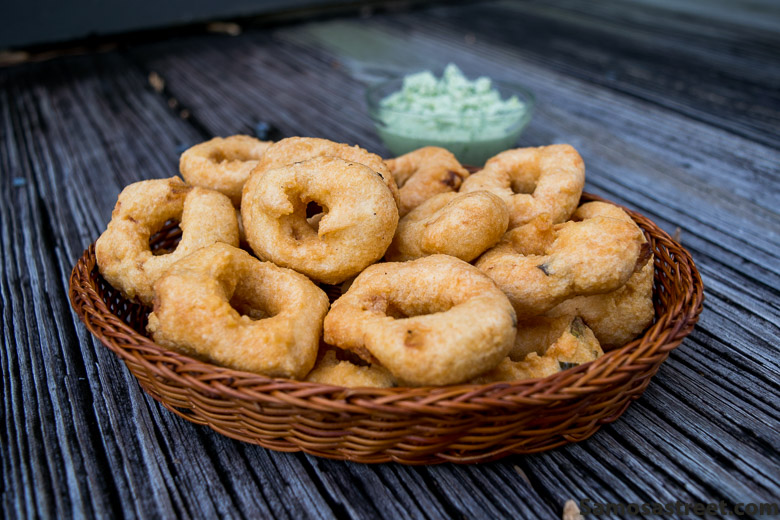 This yummlicious snack is a staple of the street food scene especially in the southern part of India but also in my home city of Mumbai. It is rare to find a street food vendor who doesn't have this bad boy on his menu. Not only do these fritters taste divine but they are surprisingly easy to make.
The first step involves soaking the lentils in enough water for a couple of hours just to tenderize them so they are soft enough to be blended. After a couple of hours drain the water and blend the lentils into a coarse paster by adding little water as possible. I added about a tablespoon and a half of water to get my batter to the right consistency. The batter shouldn't be too thick but should be ever so slightly runny. This step is extremely important to get fritters which are crispy on the inside and light and fluffy on the inside.
Then I added chillies, ginger paste and some onions in the batter for a bit of extra crunch. At this stage the batter is ready to fry or y'all can set it aside for 30 mins and then fry. I chose option 2 because I was told that the extra resting time allows for crispier fritters. These babies have been traditionally made in the shape of doughnuts so I did not deviate from the script.
Also these fritters are a bit on the drier side so they are usually served with a sambar (lentil curry) or with a chutney of some sort. I went for the easier option of making the chutney since it just involves blending the ingredients involved and finally tempering it with roasted mustard seeds which gives the chutney a uniquely different taste. There is a merry dance of flavors going on your palate when y'all take a bite of these fritters which are smothered in coconut chutney…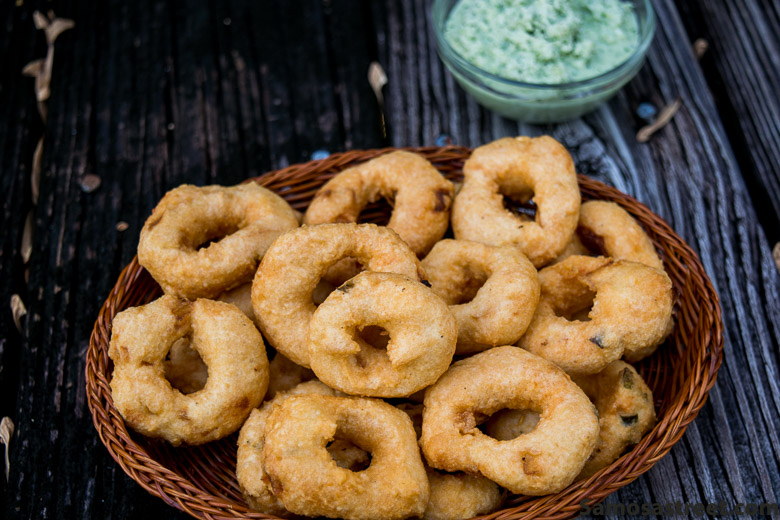 If you are on Facebook I would love it if you like my FACEBOOK page.

Medu Vada
Delectably, crispy lentil fritters dipped in cool coconut chutney is an absolute treat to eat..
Ingredients
1 cup Black gram/ Whole urad dal
3 Green Chilies (finely chopped)
½ inch Ginger
½ small Onion (finely chopped)
Salt to taste
Water as required
Oil
Chutney
2 cups Grated coconut
1½ cup Yogurt
½ cup Cilantro
3 Green Chillies
½ tsp Cumin seeds
½ tsp Mustard seeds
5 Curry leaves
Salt to taste
Instructions
Rinse and soak the urad dal in enough water for 2 hours.
Drain the water and blend to coarse paste using very little water (I used one tbsp)
Add onions, green chilies and ginger. Leave the batter to ferment for 30 minutes in a warm place.
Add salt and mix gently.
Heat oil over medium heat
Wet your fingers, take some batter and make a hole in the centre using your thumb.
Drop the vadas gently into the hot oil and deep-fry on a medium flame till it turns golden brown. Drain on absorbent paper.
Repeat with the remaining batter.
Serve immediately with coconut chutney, and sambhar.
Chutney
In a grinder add coconut, cilantro, green chilies, garlic and yogurt. Grind to make a smooth paste. Do not add water. If required add yogurt. Remove the mixture in a bowl.
In a small pan dry roast cumin seeds, mustard seeds and curry leaves.
Add the tempering to the chutney. Add salt and mix well.
Please follow and like us: