Over the past two weeks the flu bug had completely taken over the lives of me and my coworkers in the lab. I was one of the worst affected and pretty much under house arrest most of the time. The only thing I could possibly do was to eat, sleep and watch shows of my favorite chef Gordon Ramsay on youtube (CHUCKLES!!!). Since my brain wasn't working at full capacity because of my sickness I simply took inspiration from one of Gordon Ramsay's recipes to make these deliciously savory 'Masala Pancakes".
One of the ironies of life is the fact that the first time in many years I take the flu shot and within 10 days I am bed-ridden with flu-like symptoms (LAUGHS!!!). I have never ever bothered to take flu shots before and have always been rewarded with a flu-free life so to speak (LAUGHS!!!). The only positive to come out of this situation was that my coworkers were equally miserable so I had a lot of shoulders to lean on.. Y'all can imagine what a crazy work environment we must have had with someone sneezing every 30 seconds..
I tried going to work the first couple of days but eventually realized that staying home to rest might be the better option. Even at home the mundane things required extra effort so the times when I wasn't sleeping I was lying on the bed watching reruns of Gordon Ramsay shows on YouTube. There definitely are a lot of people in the world for whom his personality might be a huge turnoff but I absolutely love him and as a result I am a huge fan of his.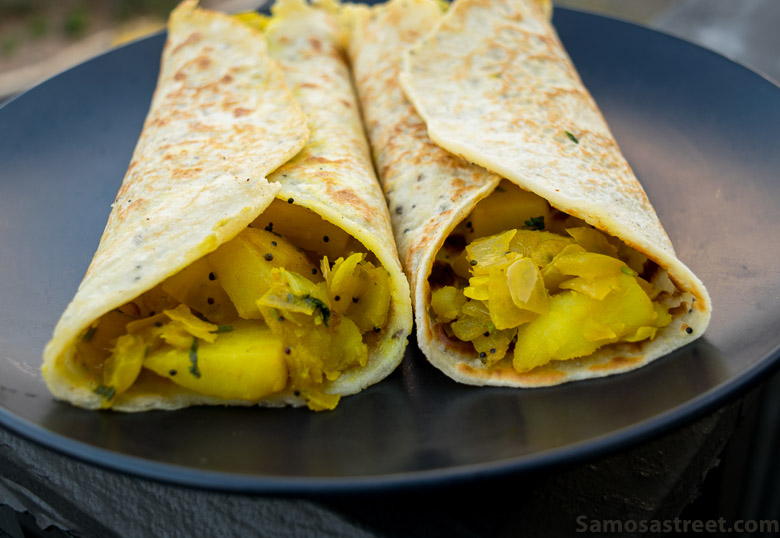 In one such show he made these delectably fascinating savory pancakes which were stuffed with a mildly spiced potato filling. The ingenuity of this idea instantly appealed to me since he gave the pancakes an Indian touch in multiple ways. Firstly he thinned out the batter considerably and turned it into a dosa (crepe) which he stuffed with a typical dosa filling of onions and potatoes. The recipe I am sharing here is basically his recipe with a couple of minor tweaks. I just didn't want to make too many changes since I was highly impressed with the original version in the first place.
Lets start off by making the pancake butter. Roast the cumin seeds, mustard seeds and the garlic cloves in a little oil and then add them to the AP Flour. Mix in the beaten egg and add in the milk needed to make the batter. Now this is where I changed things a bit because I did not make the batter as thin as the original recipe called for. Long story short Chef Ramsay made dosas I made something between a dosa and a pancake (LAUGHS!!!).
For the filling I kept it pretty simple by simply sautéing the potatoes with some onion turmeric, cumin and mustard seeds as well as dried red chillies for a little spice. I also added a little asafetida to give it a uniquely rustic taste. This dish is not going to be complete without the cherry on top which is a dipping sauce/chutney. So I blended a concoction with yogurt and cilantro and tempered it with roasted cumin seeds and mustard seeds.
All that is left is to stuff the pancakes with the potato filling and stuff it into my stomach which is exactly what I plan to do on this beautiful Sunday Morning!!!!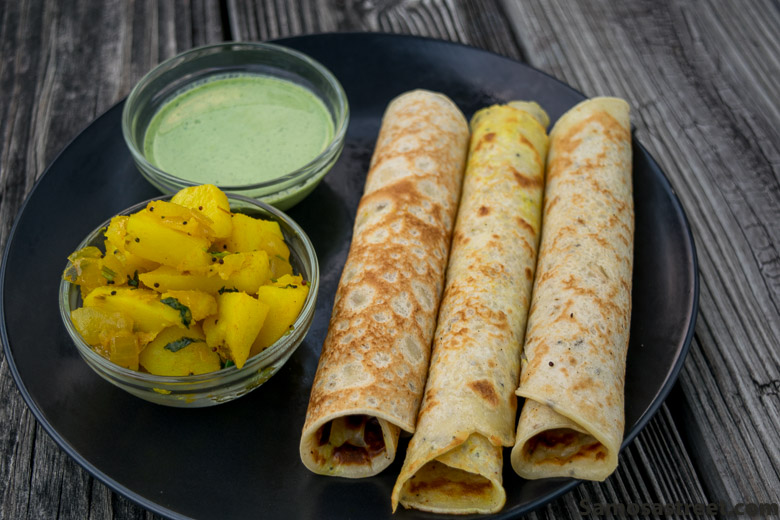 If you are on Facebook I would love it if you like my FACEBOOK page.

Masala Pancake
Garlic infused savory Pancakes stuffed with a mildly spiced Potato Filling.. The perfect beginning to a beautiful Sunday morning!!!
Ingredients
Pancake
1½ cup All-Purpose Flour
1 Egg
1¼ cup Milk
3 Garlic Clove (finely chopped)
¾ tsp Cumin Seeds
½ tsp Mustard Seed
Salt
Potato Filling
3 Potatoes (peeled, cubed & boiled)
½ Large Onion (chopped)
½ tsp Mustard Seed
Pinch Asafoetida
4 Dry Red Chili
1 tsp Turmeric powder
Coriander Leaves (chopped for garnish)
Salt
Chutney
½ cup Coriander
1½ tbsp Yogurt
¼ tsp Cumin Seeds
¼ tsp Mustard Seeds
Salt to taste
Instructions
Pancake
Heat oil in a pan and add cumin seeds and mustard seeds to it. Once they sizzle add chopped garlic and saute until light brown. Add it to a bowl which has AP flour and mix well.
Add the beaten egg and milk in batches which will prevent the formation of lumps. Season with salt.
Heat a cast iron skillet over medium-heat. Brush it with oil.
Pour a ladle-full of batter onto the cast iron skillet, spreading it thin in a circular motion using the back of the ladle. Fry until golden brown on both sides.
Filling
Heat oil in a pan and add mustard seeds to it. Once they splutter add asafoetida and red chilies and roast for a minute.
Add onions and saute till soft and translucent. Add turmeric powder and potatoes. Stir to coat.
Season with salt and garnish with coriander leaves.
Chutney
In a grinder add coriander and yogurt. Grind to make a smooth paste.Remove the mixture in a bowl.
Dry roast cumin seeds and mustard seeds in a small pan.
Add the tempering to the above chutney and season with salt.
Please follow and like us: