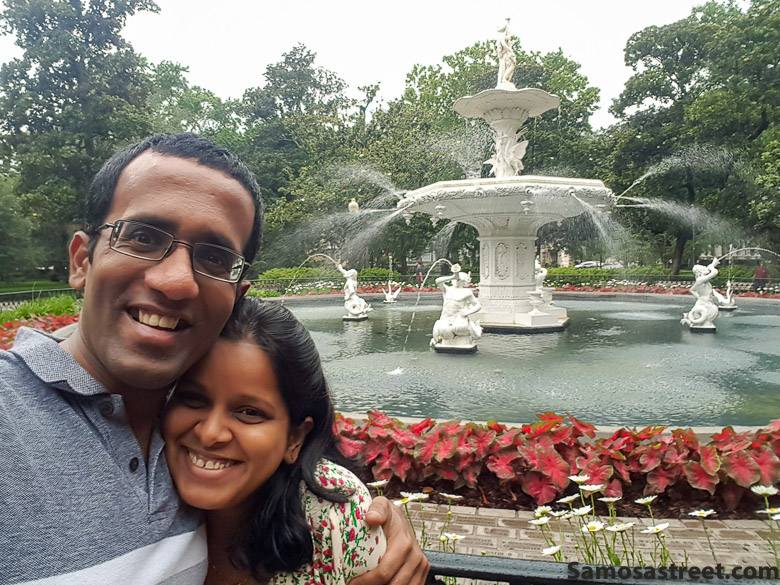 A Happy Wife Equals Happy Life is an age old adage that is going to ring true for all eternity. To be honest it took me a while to learn this lesson after getting married (CHUCKLES!!!). But now that I have learnt it I am going to adhere to it for the rest of my life. So one must do thing in my life is going to be to make our anniversary very special for wifey dear and create memories on this day to last a lifetime. Which is why I must this was turning out to be one of our most eagerly awaited vacations since maybe our last wedding anniversary (LAUGHS!!!)
One thing is absolutely undeniable about Birmingham, Alabama the city that we moved into 6 months. The city and its surroundings are stunningly beautiful. Plus it is very close to places in Georgia and Florida also. So picking out a spot to spend our big day was going to be a challenge since there were a wealth of options. After an extensive search the choice finally came down to two cities; Asheville, NC and Savannah, GA. What tilted the scales in favor of Savannah was the multitude of options it offered; the charming city, the southern hospitality as well as the ability to go to one of the beautiful islands which weren't too far from the city.
So finally the big day arrived and we set off on the 5 hour drive to Savannah. Initially it was all smiles and the weather was just perfect. But the weather changed drastically as we approached our destination which threatened to put a dampener on the rest of our day. We had planned to spend our first day exploring the famous downtown in the city which is replete with cobblestone streets, parks and a bunch of notable historic buildings. However it seemed to us that the dark clouds hovering over the city had other plans for us.
Fortunately for us the weather gods smiled on us and held off the rain just enough to allow us to get a feel of this unique city.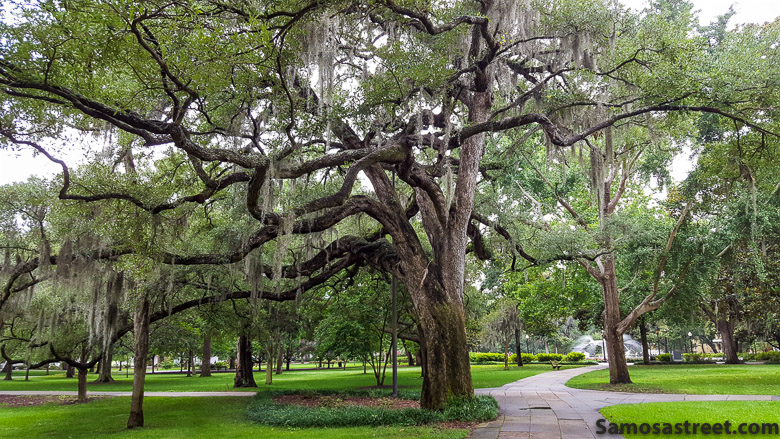 This is a city which is known for its Southern charm and is appropriately named the "Hostess City of the South". It took us mere minutes to experience the famous Southern hospitality. We bought a map of the city from the visitor center and were initially struggling to read it. It was at that moment that multiple locals asked us if need any help in figuring things out. We just felt as if the locals put in every effort to maintain the above moniker.
The down town area which includes the historic district has a unique feature and that is its 22 parklike squares which vary in size as well as character.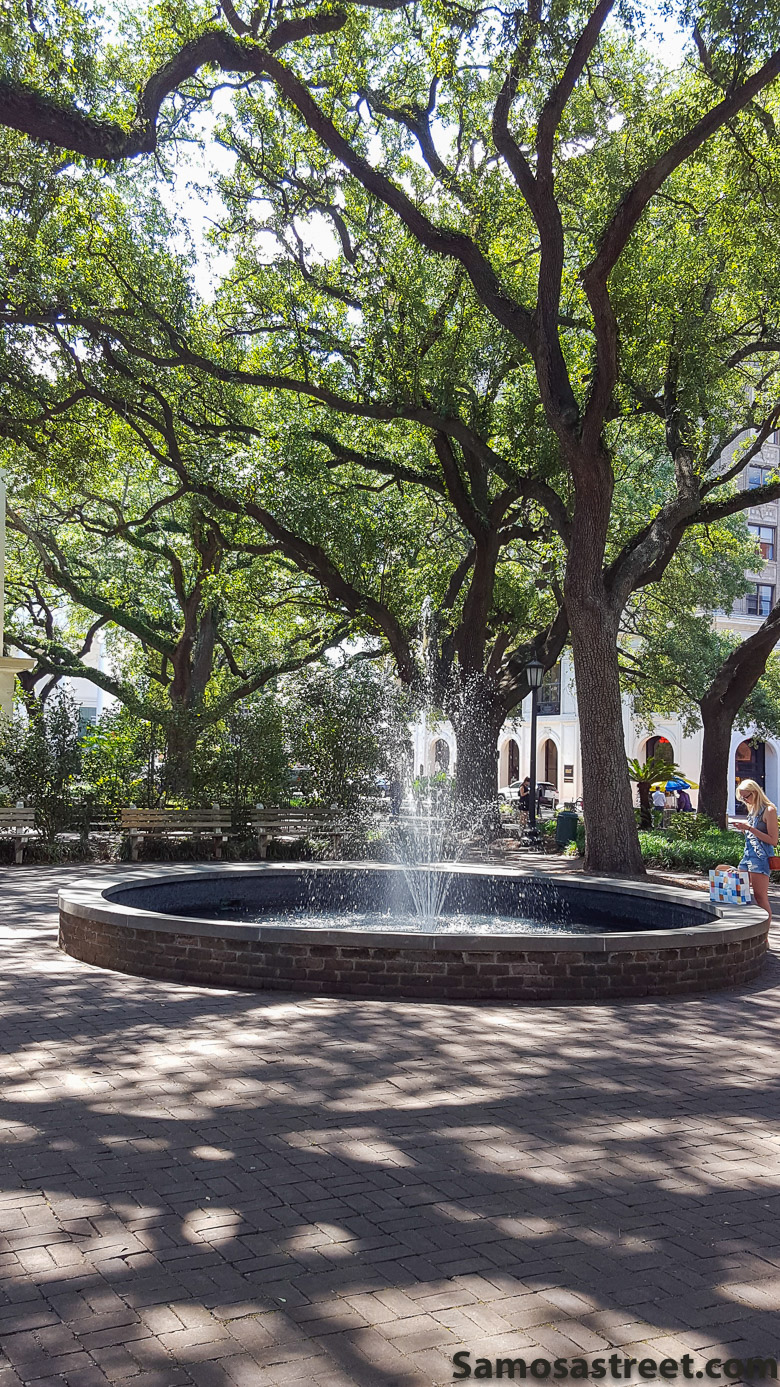 I would say these squares are nothing but picturesque gardens located in the middle of the city. They felt like spots to go and relax in case you are having a bad day. How lucky the residents must be to have places like these a stone's throw away from their work and houses. The rain which had been threatening to come down anytime finally did do so once we got in our car to head over to our hotel. That's when we had an inkling that our vacation was going to be a good one. After a good night's rest we were finally ready for our big day.
We had decided to spend our anniversary on Tybee Island which is just 20 minutes outside the city. On the drive to the island it is astonishing to see the change from the hustle and bustle of the city to the laid back island lifestyle occurring before our very eyes. We got a piece of bad news immediately on reaching the island when our planned dolphin tour got rescheduled for much later that evening. But one look at the pristine beach made us quickly forget it.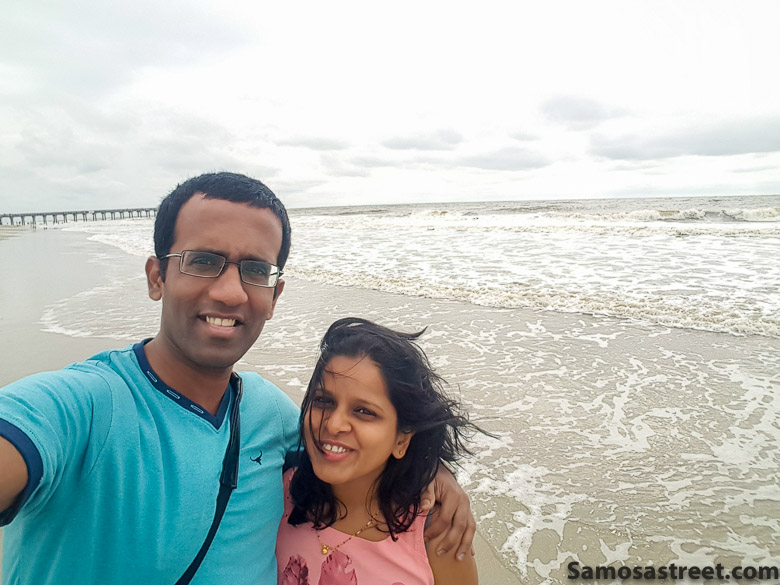 We were just walking on the beach holding hands and the next thing you know our tummies began incessantly growling. It was lunch time and we had the perfect place scouted out for lunch.
It was called The Crab Shack and as the name suggests it was indeed serving fresh seafood caught next door (the ocean right there).. Thanks Captain Obvious. What we did not know that we would be eating right next to a gator pond. Now that was something to remember!!!. But once the blue crab and the peel and eat shrimp came in those gators were soon forgotten.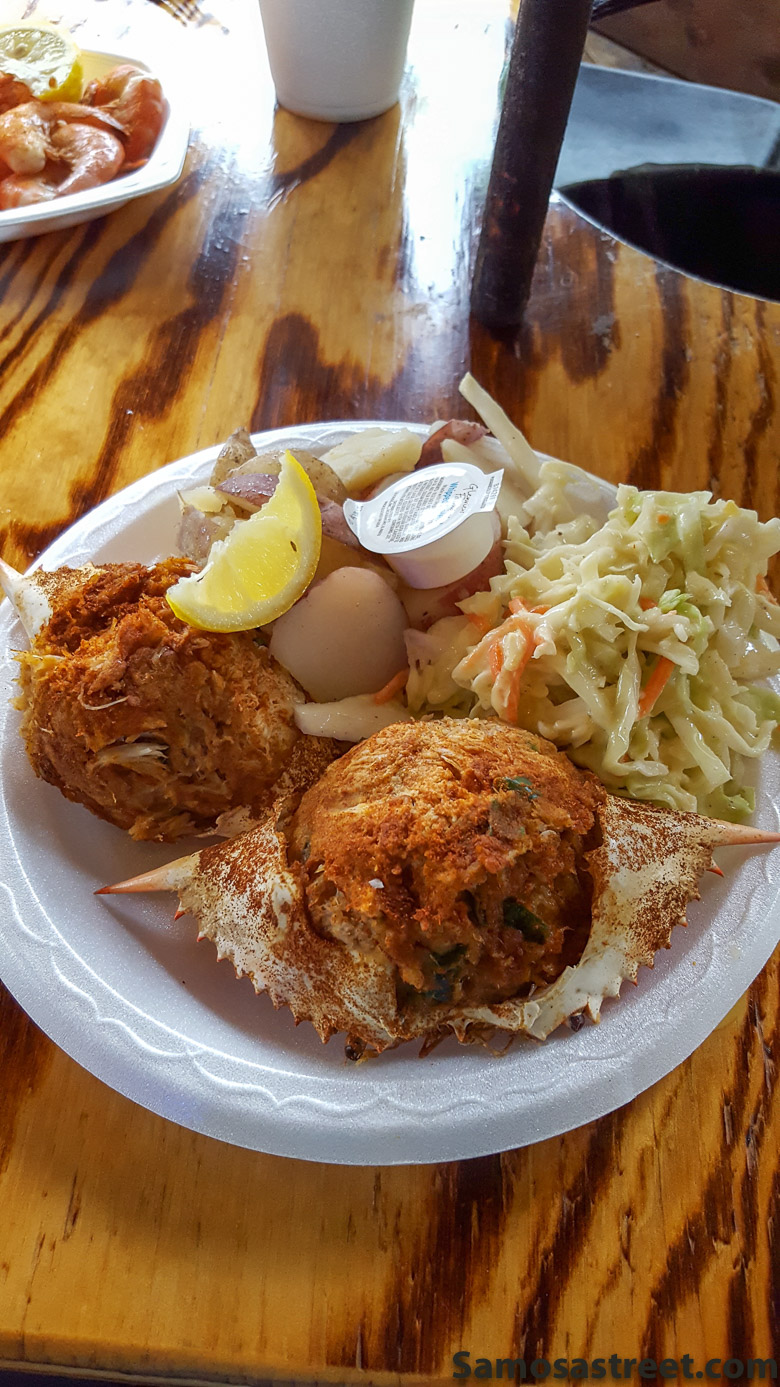 Our tummies were satisfied and we moved on to our next destination on the island; the light house which is said to be the first of its kind on the southern Atlantic coast. All I know is that the view from up top of the lighthouse is simply stunning.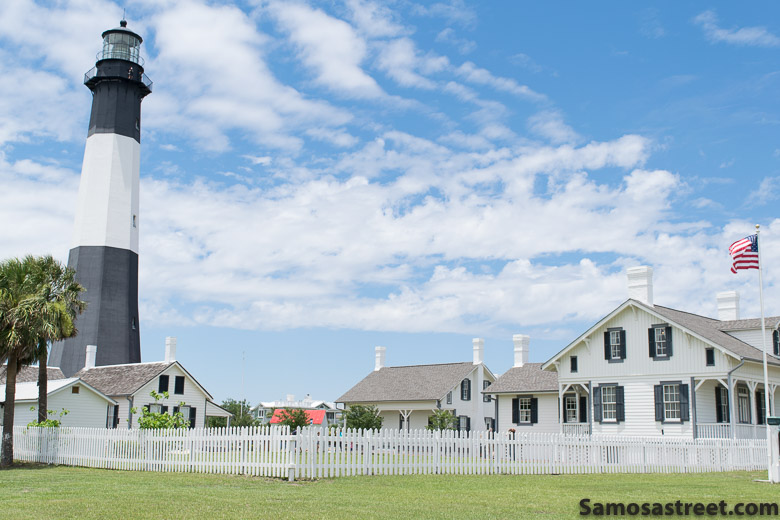 By the time we came down it was time for the piece de resistance; a boat ride out in the ocean to view the dolphins. What surprised me the most that we did not have to go too far from the coast to see them.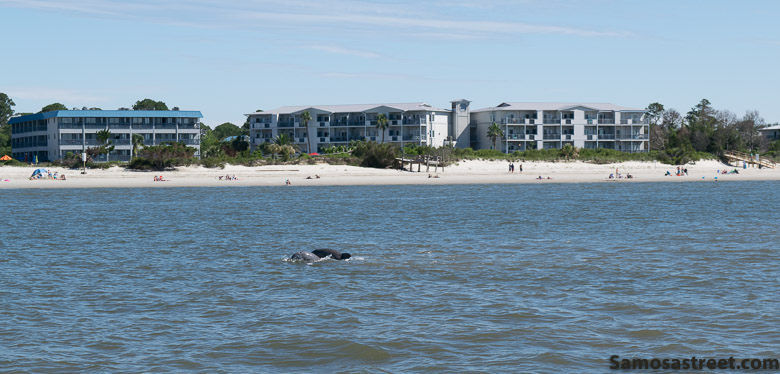 It felt as if these amazing creatures actually wanted to come close to the beach so they could play with the humans. Within minutes we could see dolphins all around our boat. We just wished as if this boat ride would never end. We were so enamored by the island that we simply went back to the beach and just sat there till sunset. A sumptuous dinner at one of the restaurants overlooking capped off an absolutely memorable day.
The next day we got to view one of the marvels of nature; the oak avenue at the Wormsloe Historic site. I have no words to describe it so I will simply let the picture do the talking.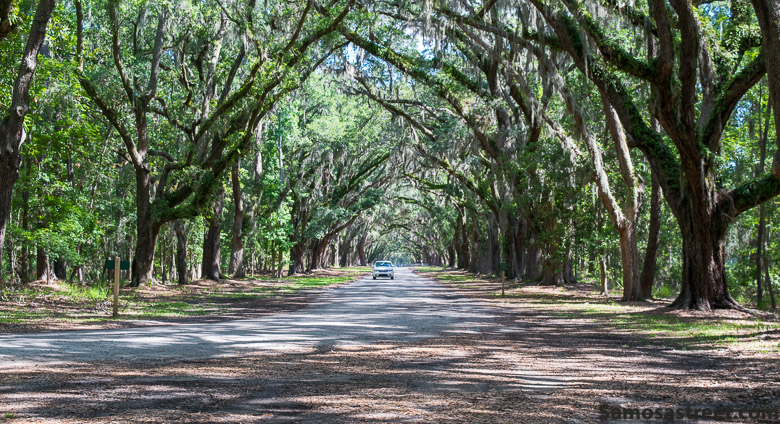 Then it was time for another highlight of our trip; a traditional lunch at "Lady and Sons" the place owned by the queen of Southern Cooking Paula Deen. And what a treat it was.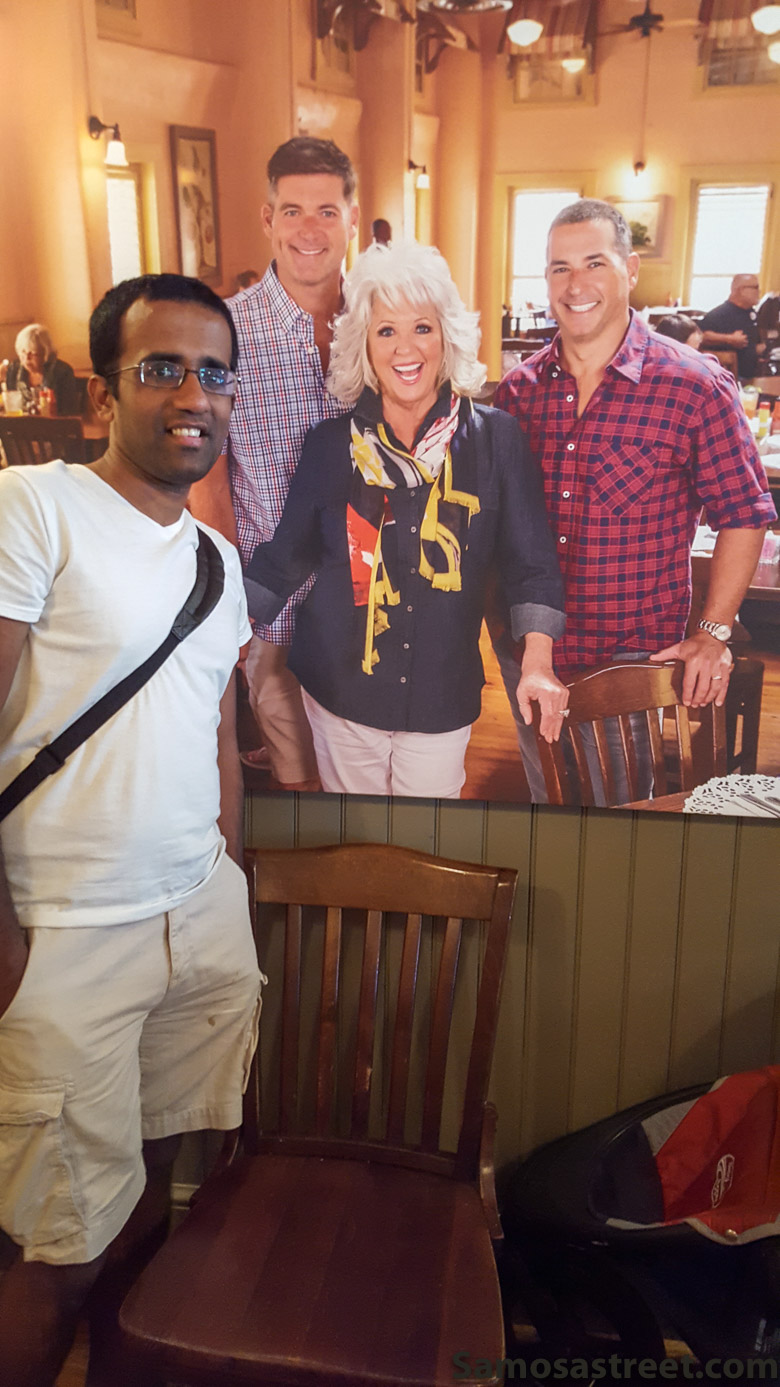 We were stuffed by the time we got out and spent the rest of the day shopping. Hey I had to keep wifey dear happy. Besides I found a candy store and ended up buying a bag full of candies myself. So there is no room for me to complain.. RIGHT??? Finally it was time to head back home but there was one last surprise waiting for us i.e. More shopping since we found an outlet mall on the drive back. More happiness for wifey dear and I was happy to indulge. This was indeed a vacation to remember for us..
Please follow and like us: