Sun dried shrimp and aromatic spices makes this dish a hearty meal.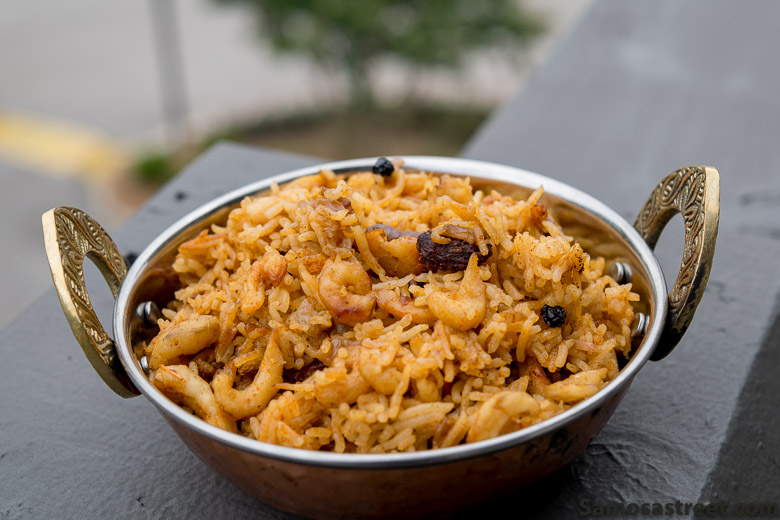 It has been a good 3 weeks since wifey dear came back from India bringing with her plenty of goodies for me to enjoy and I must say that I still haven't had enough of them. So far all I have done is cook and eat a lot of food that I loved eating as I was growing up. What makes it even more special is that a couple of the recipes I made were with ingredients that are local to the small town where my family has been living for generations. Like this "DRY SHRIMP PULAV"; a mouthwateringly delicious preparation that is almost a staple not only in my hometown but also along the western coast of my home state.
I do not think anybody is ever going to be surprised when I say that a person who lives 6000 miles away from home is going to miss it terribly and I for one am no different. So it is quiet a momentous occasion when either me or someone close to me (especially wifey dear) gets the chance to go back home for a visit. Not only that we make it a point to bring back a whole lot of fun stuff to eat; especially things that are going to be difficult to find here in the US of A. This time there was a huge surprise for me when wifey dear opened up her bags. It was a bag of dried shrimp (SODE as the locals call it) which brought back a lot of childhood memories.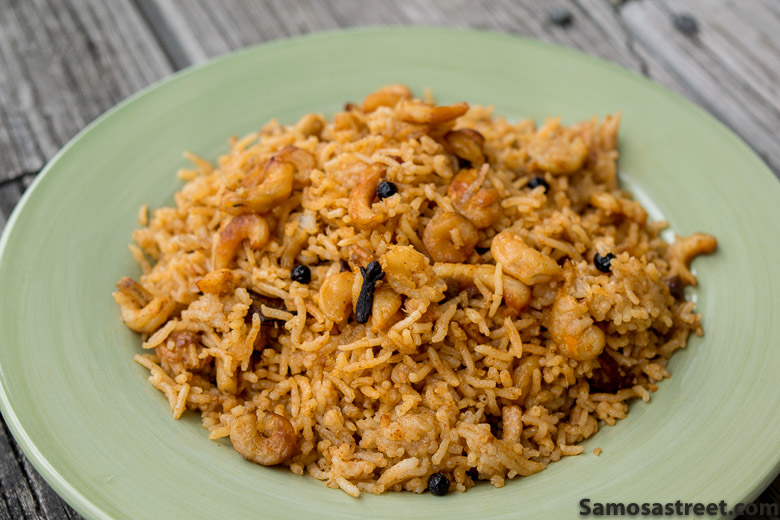 One look at it instantly transported me to our ancestral house in a small town on the western coast of India. Every summer vacation all of us cousins used to go there and to put it simply have the time of our lives. Unlike today's generations who love nothing more than their laptops and cell phones we did not want to spend even one minute inside the house. The only time we came home was to eat which is why our aunts had to always be ready to whip up a quick meal. When that meal turns out to be a Dry Shrimp Pulav (SODE BHAT as it is locally known) the army of kids was satisfied and the aunts basked in the glow of a job well done..
This is a dish which I myself haven't had in more than 5 years. So y'all can understand how excited I was due to the simple fact that I was going to be able to eat it in the next couple of hours. To begin with the shrimp needs to soak in water so that it softens up and rehydrates a bit.
Since this is a quick and easy recipe the most important part of it is the combination of different spices which gives the recipe a unique flavor. Roasting the different spices like cinnamon, peppercorns, cloves etc in hot oil for a couple of minutes allows the oil to get infused with the essential oils from these spices and adds an extra layer of flavor to the dish.
Next I added the onions and the ginger garlic paste to the infused oil and sautéed them till the onions were golden brown. Finally it was time for one of the two secret ingredients of this dish: i.e. the malwani masala along with the cumin and coriander powders. Stir these powders for a minute or so before adding the dried shrimp and a little hokum for a touch of tang. Then add the required amount of water and pressure cook for about 15-20 minutes or till the rice is cooked.
I must say these 15-20 minutes were the hardest time of my life and it felt like the wait was absolutely endless. Once I opened up the pressure cooker I believed I had stuck gold. The grains of rice were absolutely glistening and I would like to believe they were calling my name (LAUGHS!!!). This moment was more than 5 years in the making so I wanted to savor every second which is exactly what I did. I smelled the aroma first, then sensed the texture before swallowing my first bite and going into my own food heaven!!!.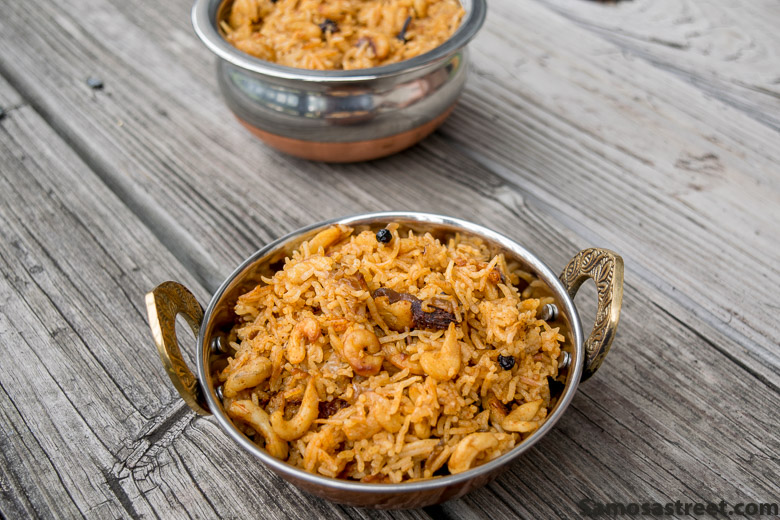 If you are on Facebook I would love it if you like my FACEBOOK page.
Dry Shrimp Pulav
Sun dried shrimp and aromatic spices makes this dish a hearty meal.
Ingredients
1½ cup Basmati Rice
¾ cup Dry Shrimp (sode)
½ Onion (diced)
1½ tsp Ginger Garlic Paste
5 Kokum
1 Bayleaf
1½ stick Cinnamon
½ tsp Peppercorns
10 Cloves
1½ tsp Cumin Powder
1 tsp Coriander Powder
2 tsp Malvani Masala
3 cup Water
Salt as per taste
Oil for cooking
Instructions
Rinse the rice, drain the water and set aside for 30 minutes.
Soak dry shrimp in water for 30 minutes.
Heat oil in a pressure cooker. Add bayleaf, cinnamon stick, peppercorns, cloves and let it infuse into the oil for 2 minutes.
Add onions and cook until they are golden brown.Then add ginger garlic paste and saute for a minute.
Stir in cumin powder, coriander powder and malvani masala.
Add rice, dry fish, kokum and salt. Mix and saute for a couple more minutes.
Pour water and stir well. Cover the pressure cooker and cook on low flame for 15 to 20 minutes.
Serve hot with cold yogurt or salad.
Please follow and like us: