It's the week after hitting a pretty significant milestone which is a century of recipes on the blog. The way I look at it, the hard part actually begins now in the sense that creating new recipes might get a bit difficult. On the flip side the world of food is so vast that hopefully coming up with something new should not be a problem. This Dal Pakora Chaat (lentil fritter chaat) is actually a mixture of something old i.e. chaat recipe combined with something new (lentil pakoras as the star of the dish). It is spicy, a little tangy and a tantalizingly unique twist on the traditional chaat rcipes.
The weather here in Birmingham has been unusually hot the past 2-3 weeks with the mercury consistently staying in the upper 80s and low 90s. It feels like every day I am praying for a little rain to mellow down the heat this late in the month of September. So far my prayers have not been answered but I am still hopeful because I have always had fond memories of the rain right from my childhood.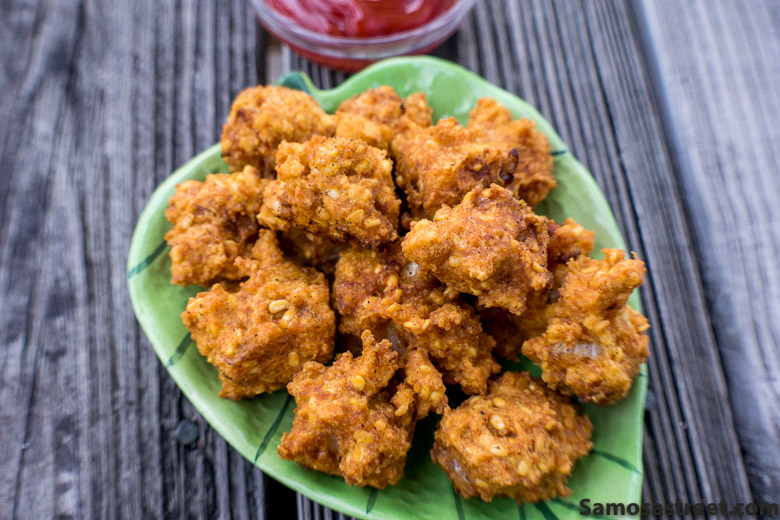 It always started with the first rainfall of the season for me because I have always found the smells after it quiet intoxicating. Then it was all about doing all the fun kid stuff which usually meant getting wet in the rains every chance I got. Being a crazy soccer fan I thought playing soccer in the mud was the best thing in the world for me. But I was wrong because I found out that eating hot spicy food after getting soaked in the rain was way better. This feeling became even more special during my college days when the best time of the day was spent with friends after college eating street food at a roadside stall.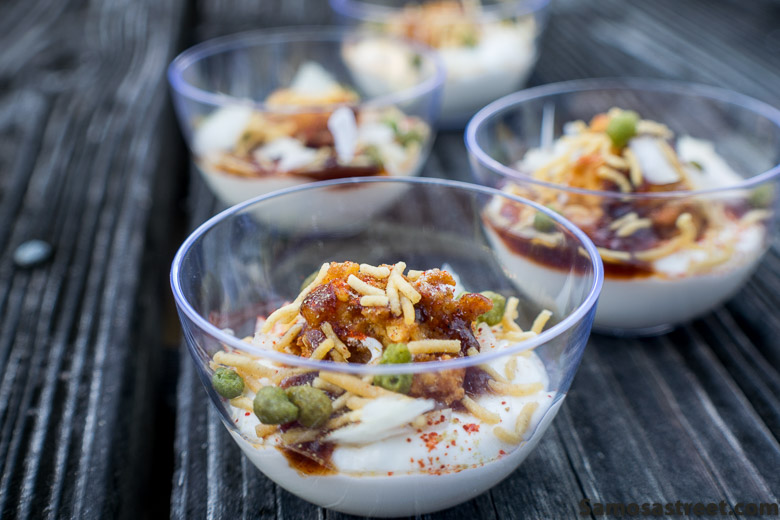 When the topic of street food comes up the first word that comes in mind was chaat and all the delicious varieties that are available today. A lot of people have come up with a bunch of variations that have made eating this delicacy an absolute pleasure. I decided to add my two cents to the cause by taking a lentil which usually doesn't take flavor well and making a dish like Dal Pakora Chaat which has different layers of flavor.
I personally think moong dal or mung bean as it is called doesn't take flavor too well. Still I kept the pakora/fritter recipe pretty simple and didn't try to do too much with it. Onions, ginger-garlic paste, chili powder, turmeric and chaat masala were the things that I ended up adding to the coarsely ground dal paste before frying it.  Once the pakoras were fried to a golden, crispy perfection it was time to assemble the dish.
Now this is the part where you build up layers upon layers of flavor. First up creaminess so the pakoras get lathered up with a little yogurt. Then comes crunchiness which means something like onion or a little sev (fried gram flour bites). I couldn't decide so I added both (CHUCKLES!!!). Tamarind chutney goes in next for a little tang and a touch of chili powder for a little extra spice. Cumin powder and black salt can also be added for the grand finale and finally the masterpiece is complete. And what a spectacle it is when y'all taste the different layers of flavor in every bite. I won't waste too many words talking about it. Instead I will let y'all eat it and decide (CHUCKLES!!).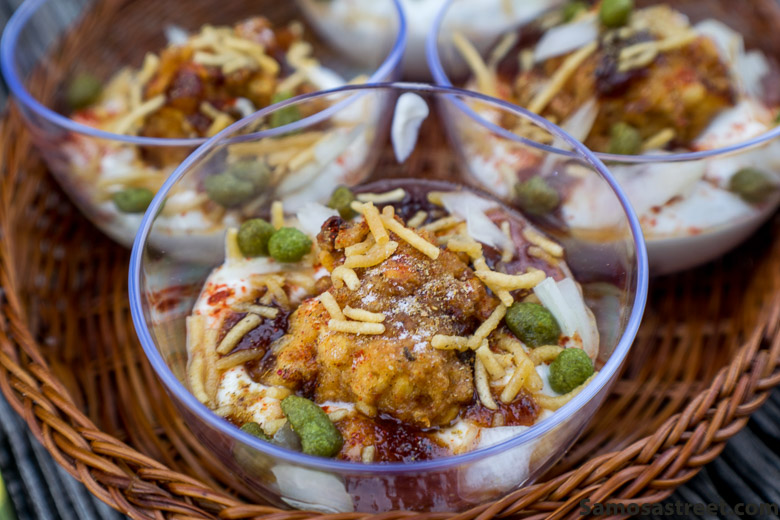 If you are on Facebook I would love it if you like my FACEBOOK page.

Dal Pakora Chaat
Crisp and flavorful moong dal pakoras are perked up with an assortment of exciting toppings ranging from a tangy tamarind chutney to creamy yogurt and zingy spices. Now, if that does not spell excitement to your palate, what does?
Ingredients
1 cup Moong Dal
¼ cup Onion Chopped
1tsp Ginger Garlic Chili paste
½ tsp Red Chili Powder
¼ tsp Turmeric Powder
½ tsp Chaat Masala
¼ tsp Baking Soda
Salt
Oil for frying
Toppings
½ cup Onion Finely Chopped
½ cup Yogurt (whisked)
½ cup Sev
¼ cup Tamarind Chutney
Red Chili Powder
Cumin Powder
Black Salt
Instructions
Rinse and soak the moong dal in enough water for 5 hours.
Drain the water and grind into a coarse paste.
Transfer the mixture in a bowl. Mix in onion, ginger garlic paste, red chili powder, turmeric, chaat masala, baking soda and salt.
Heat oil in a pan over medium heat and fry spoonfuls of the mixture in hot oil, a few at a time, till golden brown and crispy. Drain on absorbent paper.
Assembly
In small bowl spoon the whisked yogurt on the moong dal pakoras.
Top it up with tamarind chutney. Sprinkle little chilli powder, cumin powder, black salt, chaat masala and sev evenly over it.
Enjoy.
Please follow and like us: