We Indians tend to have a special relationship with our typical evening snack. By the time 5 o clock comes around, having a cup of Joe all by its lonesome just does not cut it. We got to have something to munch alongside sipping the cup of tea/coffee. Personally, I do not drink tea or coffee but that has not stopped me from chomping on a little something at the appropriate time. Usually it was something premade like biscuits, sev or chivda but with a lot more time on my hands these days I decided to indulge in this tantalizingly inviting "Dahi Vada".
There are no words to describe the bond between the average Indian and the evening snack. Just looking at the variety of options available makes you drool and pretty much tells the entire story on its own (CHUCKLES!!!). These options vary from state to state and more often from person to person. Some people prefer pastries while some prefer biscuits which can be dipped into the tea. If it is raining outside, then people usually like hot and fried fritters or pakoras as they are commonly known in India.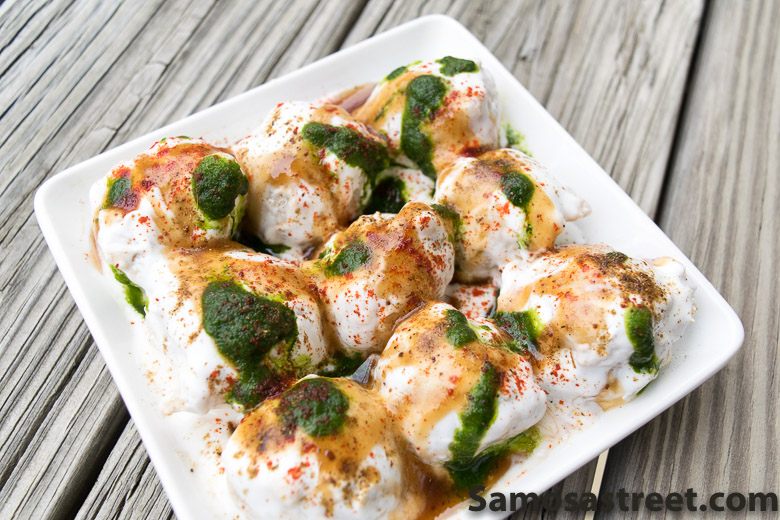 As for me I like something quick and easy to eat since I am usually at work or about to sit in class for the next 2 hours. However, the past couple of months has allowed me to pamper myself a little more since I have been working limited hours every day. I am home every day by 3-4 pm which means I have plenty of time to whip up something special more often than not.
It just depends on if I feel like going to the kitchen to cook or not i.e. how lazy I am feeling that day??/ (LAUGHS!!)
Well, a couple of days ago I got in the mood to cook pretty early in the day. The moment I realized I could leave early I called up wifey and asked her to soak the urad dal (lentil) which were going to be ready for my masterplan when I reached home (CHUCKLES).
The masterplan in reality was pretty simple i.e. Dahi Vada which literally translates to fried lentil balls dipped in yogurt. This is one of the innumerable chaat recipes found in India.
It would be unfathomable to even imagine any Indian dislike any of the different forms of chaat.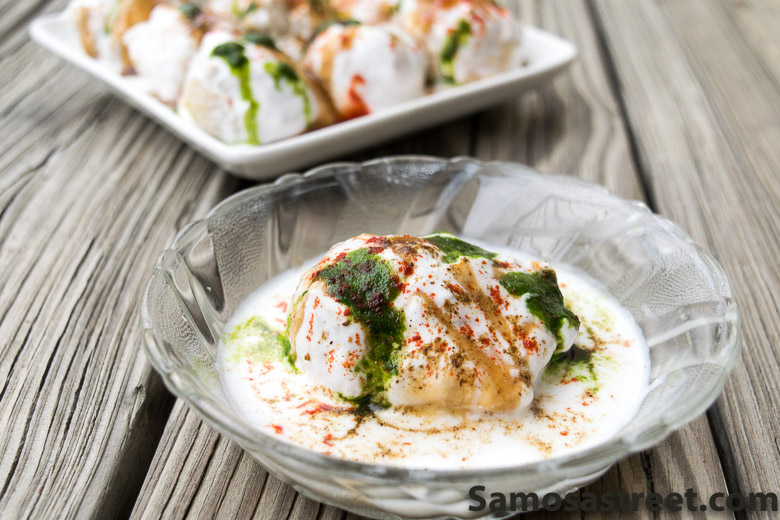 The vadas are pretty simply made with the lentils being blended with jalapenos, cumin seeds (my personal preference) and seasoned with salt and pepper. Round balls of this mixture are then fried to golden brown perfection.
The fried dough balls are then dipped with yogurt which is where the recipe name comes from. Having come from 95 F weather outside I could certainly enjoy the cool and refreshing yogurt.
However, chaat recipes tend to blast the palate with a lot of different flavors. So I topped mine with cilantro chutney, tamarind for some tang and red chilli powder for the spicy kick.
Finally I just sat back to enjoy the fruits of my labor which were simply DIVINE!!!!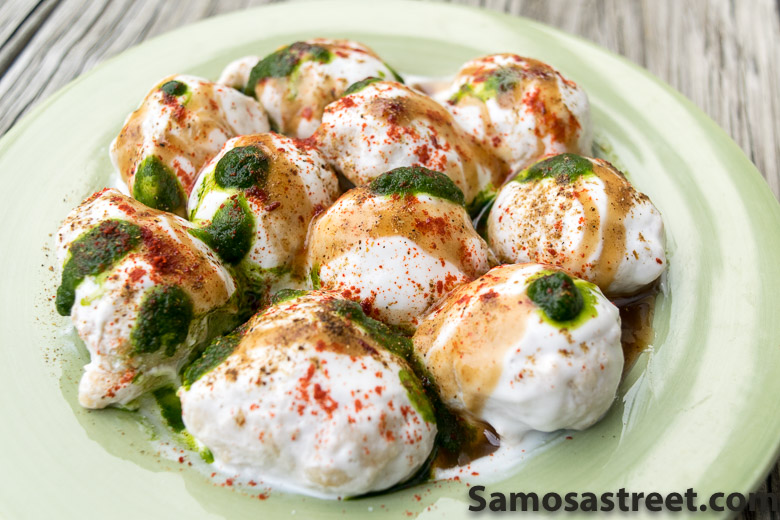 If you like this recipe here are few more similar recipes for you to try Dal Pakora chaat and Medu Vada
If you are on Facebook I would love it if you Like my FACEBOOK page.
Did you make this recipe? Share a photo on INSTAGRAM at #samosastreet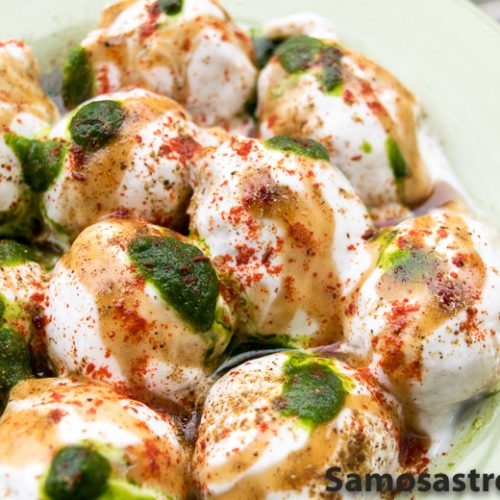 Dahi Vada
Delectably soft lentil fritters soaked in creamy yogurt and topped with sweet & spicy chutneys. Who would've thought a simple dish like this could pack such an assortment of flavors?
Ingredients
Vada
1

cup

Urad Dal/Black Gram

1

Green Chili

2

tsp

Roasted Cumin Seeds

¼

tsp

Baking Soda

Salt

Oil for frying
Topping
½

cup

Yogurt

whisked

¼

cup

Green Chutney

¼

cup

Tamarind Chutney

¼

tsp

Red Chili Powder

¼

tsp

Cumin Powder

¼

tsp

Chat Masala

¼

tsp

Black Salt
Instructions
Vada
Rinse and soak the urad dal in enough water for 4 hours.

Drain the water. Blend the urad dal, green chili and cumin seeds in a grinder to a coarse paste using very little water (I used 3 tbsp).

Transfer the batter in a bowl and whisk for 5 minutes until it is very light. Add salt, baking powder and mix gently.

Take a glass filled with water and drop small drop of batter in it. If the batter floats on top, it's ready. If not, then whisk it some more.

Deep-fry spoonfuls of the batter in oil till golden brown. Let it cool.

Soak the vadas in water for 15 minutes.

Squeeze the excess water by pressing in between your palms.
Assembly
Assemble the vada in the serving plate and drizzle the yogurt on top.

Garnish with tamarind chutney and green chutney.

Sprinkle red chili powder, cumin powder, black salt and chaat masala evenly over it.

Enjoy immediately or keep it in refrigerator for few hours.
Please follow and like us: