The city of Nashville has always held a special in the hearts of wifey dear and me. It was where we celebrated our first anniversary and we have not stopped loving the city even after so many years. As recently as 6 months ago we went back to the city to catch up with old friends and reminisce about old times. So, when wifey wanted to make Nashville hot chicken for our anniversary dinner there was no way for me to refuse. The only problem, it is an anniversary dinner and I have never made the dish before. So, I took the easy way out by making a delectably crispy Cornflakes Crusted Fried Chicken instead. The end result is still the same, a crunchy coating on the outside and tender chicken on the inside.
We have always had a love affair with hot chicken ever since we tasted it in a little hole in the wall place in Nashville. It is slightly different than southern fried chicken in the sense that it has spices in the batter. That was the Nashvillian twist in the recipe and it was right up our alley in that we Indians simply will not eat anything without spices (Laughs!!!!)
Getting a perfectly crunchy coating on the fried chicken is an art which can only be mastered with a lot of practice. In that regard to be perfectly honest with y'all I had no practice whatsoever.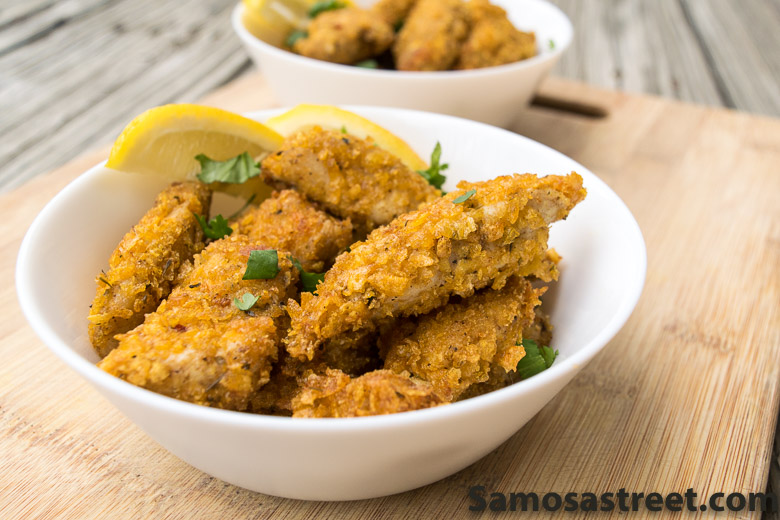 That meant frying by using a seasoned flour coating was completely out of question because I had no idea of how the coating was going to turn out.
I did not have breadcrumbs on hand, but I had the next best thing i.e. cornflakes. I just cannot resist the temptation of doing things my own way i.e. put my own spin on recipes, so the cornflakes were going to work just perfectly.
Now usually my spin on recipes tends to be the use of Indian spices but it was not so this time. Just in case y'all miss that Indian spin of mine then y'all can try these CHICKEN NAAN BITES & BUTTER CHICKEN FRIES.
Remember that trip back to Nashville I mentioned above. Well on our way back we took a little detour and stopped in a little town called Lynchburg. For those who may not know its where the world's supply of Jack Daniel's whiskey is made. Other than the expected purchase of a bottle of Jack I also bought a bottle of Tennessee seasoning from a nearby store.
It was this spice blend that I used to season my chicken. For the hot part of the equation in my recipe I added a few chili flakes as well.
With the chicken seasoned and the cornflakes crushed all that was left was to coat the chicken pieces with cornflakes and fry up those bad boys which I duly did. However, I wanted this meal to be extra special, so I was not going to be satisfied with bites of Cornflakes Crusted Fried Chicken no matter how much we devoured it.
The only thing that was going to take this meal from good to great was dessert. So, I did something that I have never done and that is "BAKE". The lemon pie that I made turned out to be such a delightful surprise that I surprised even myself. All in all the perfect cherry on top to a special meal.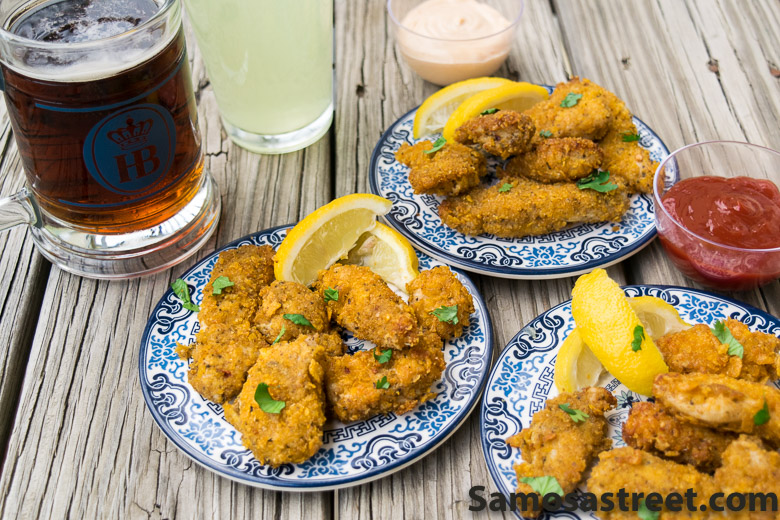 More Chicken Recipes Chicken Naan Bites, Chicken Quesadilla, Rosemary Chicken Tacos
If you are on Facebook I would love it if you Like my FACEBOOK page.
Did you make this recipe? Share a photo on INSTAGRAM at #samosastreet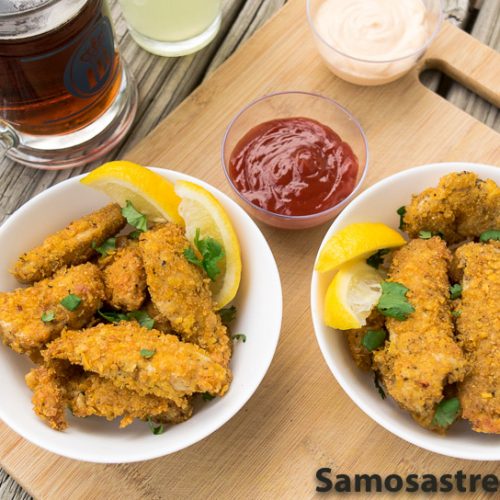 Cornflakes Crusted Fried Chicken
I dare y'all to find someone who doesn't love a crispy piece of tender juicy chicken??
Ingredients
½

pound

Boneless Chicken Breast

cut into strips

1

tsp

Cajun Seasoning

½

tsp

Chili Flakes

2

Eggs

2

tbsp

Milk

Salt as per taste

Pepper as per taste

Crushed Corn flakes

Oil for frying
Instructions
Combine chicken, cajun seasoning, chili flakes, salt and pepper in a large bowl.

Whisk milk and eggs in a separate bowl.

In a plate mix crushed cornflakes, salt and pepper.

Dip each chicken piece into the egg mixture, then into the crushed cornflakes making sure the chicken is completely coated.

Shallow fry in hot oil until crisp and golden brown on both sides

Serve hot with your favorite dipping sauce.
Please follow and like us: