There are times when old memories inspire you to create new ones. We want to do the exact same things we did as a kid but this time as an adult. One of the things I used to do with my dad every sunday was to go to the market and buy fresh fish/chicken and hand it over to mom to whip up something delectable. This fine Sunday morning I decided to do the very same thing. So I took wifey dear along for company to the market and bought a couple of pounds of clams. The problem was I had to do the cooking myself which I certainly didn't mind and ended up with this delightfully enticing "COCONUT CLAMS".
My family hails from a small town situated on the western coast of India. The town is part of a region called as the Konkan coast which is well-known for the fresh seafood as well as the sumptuously spicy dishes that go along with it. So it may not be much of a surprise when I tell y'all that I loved seafood growing up. Duh!!! Thank you captain obvious!!!. In fact my family had a tradition of eating seafood and/or chicken for our Sunday lunch every week. So I had one more reason to look forward to what is obviously the best day of the week for everyone (LAUGHS!!!).
My dad used to wake up early Sunday morning to go to the market because he wanted the freshest seafood that he could lay his hands on. He was pretty particular in what he wanted too.. We came back home and handed over the hard-earned prize to mom to wave her magic wand and turn it into something divine. That was then so coming back to the present we have recently come across a fish market which was just about a 5 minute car ride from our apartment.
This weekend both wifey and I were in the mood for seafood so just like those good ol days I woke up early and was in the market staring at the fresh fish (LAUGHS!!). Wifey's eyes pretty much lit up when she saw the clams so how being the good husband that I am how could I say no (LAUGHS HARD!!!).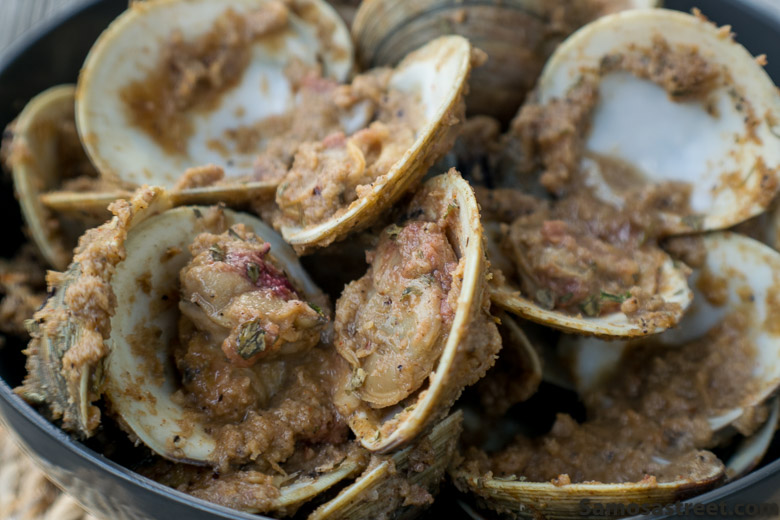 We came back home and without much ado we quickly steamed the clams open. As far as the sauce for the clams was concerned it was pretty much a no-brainer. I was going to make a coconut sauce for it just to pay homage to my home town. So the base of the sauce starts with roasting the onions and the shredded coconut with some cloves, cinnamon, dry red chili and a little bit of garlic. Once the onions and coconut are browned turn off the heat and blend this concoction into a fine paste with a little bit of water. The sauce is ready, the clams are steamed and now to put it all together.
After the sauce heats up in a medium sauce pan I am going to add coriander powder, red chili powder and most importantly a little malvani masala which is a locally made spice blend wifey dear bought back from her last india trip. If y'all don't have it then store bought garam masala will suffice. For the piece de resistance I also added a few kokum petals which gives the dish a uniquely tangy taste. This is a locally grown ingredient which is used extensively in Konkani cuisine. A little tomato paste can definitely be a decent substitute.
Finally add the clams and let this delicious brew cook for about 4-5minutes. Y'all can use any kind of bread to soak up all the delicious goodness and enjoy. I am going to dig in myself and then do what I used to do in those good ol days i.e. take a long nap after a fulfilling meal (LAUGHS!!!).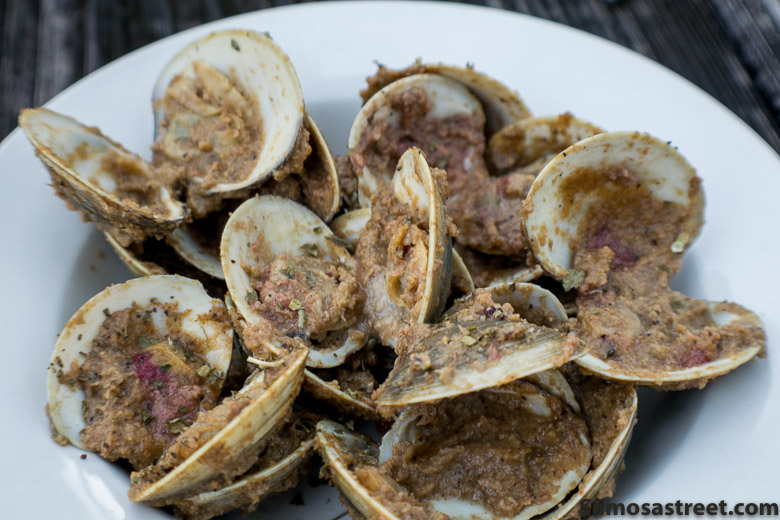 If you are on Facebook I would love it if you like my FACEBOOK page.

Coconut Clams
These spicy Coconut Clams are packed full of flavor and cook in less than 30 minutes. The red chiles and sweet coconut milk create the perfect sweet and spicy combination. The tanginess from kokum is the perfect icing on the cake.
Ingredients
2 lbs Clams
1 Onion (coarsely chopped)
3 Garlic Pods
1 cup Grated Coconut
5 Cloves
5 Dry Red Chilies
2 small Cinnamon Sticks
7 Kokum/Garcinia Indica
2 tsp Coriander Powder
½ tsp Red Chilli Powder
2 tsp Malvani Masala (OR Garam Masala)
Instructions
Wash the clams.
Steam open the clams in a large pot without adding any water. Retain the water from clams. Discard the clams that don't open.
Add a little oil to a pan and roast the cloves, cinnamon as well as the dry red chilies. Add the garlic and saute till the raw smell vanishes. Then add the onions and cook till translucent. Finally add the coconut and roast on a low flame till golden brown.
Blend the coconut-onion mixture into a fine paste using a little water.
Heat oil in a saucepan on medium heat. Once the oil is hot, add the above paste and saute for 2-3 minutes.
Mix in the coriander powder, red chili powder, malvani masala and kokum. Add water from the clams and allow to simmer.
Finally add the cooked clams. Cover and cook for 4-5 minutes. Season with salt.
Serve hot
Please follow and like us: