Happy Ganesh Chaturthi Y'all!!! May the arrival of Lord Ganesh bring a lot of joy and happiness into your life. This is that time of the year when I really miss being back home in India. But hey we Indians can be anywhere but we will never stop celebrating our festivals. Which means time to get together with friends and of course EAT!!!!!! I tried to make modak which is traditionally made for this festival but it turned out to be a DISASTER!!!! So the consolation prize was this Coconut Chocolate Burfi which wasn't too bad either…
I can spend a lot of time talking about not being home at this time of the year (I have done that multiple times already.) but I suspect y'all must have gotten bored of it by now (LAUGHS!!!). So I will spare y'all the torture (CHUCKLES!!!). However I can and will say that we Indians are a resourceful bunch. Whenever these festivals come along we are going to have a good time no matter what. Keep in mind its not just about having a good time but also keeping our culture alive and cherishing our values in a foreign land.
So when our good friends invited us to their house for such a special celebration there was absolutely no reason for us to say no. However the big issue was the recipe to make to take to the party. Also I had to keep in mind that I had to go to work for a couple of hours so I wasn't going to have much time in which to make it. In the hope of making modal (a dumpling filled with coconut and cane sugar) we had already bought a ton of coconut flakes. It was after seeing the coconut that I came up with this idea of a coconut burfi. Just to give it my own spin I added in the chocolate syrup for good measure.
There is basically now rocket science involved to make this recipe. I simply took the filling for the modak, thickened it up a bit and VOILA you have a burfi after letting it set for a little while. It all starts with roasting the coconut flakes in the ghee.
P.S The flakes I had were long so I ground them up a bit to get a fine mixture.
Then add the milk and sugar and keep stirring. The sugar will dissolve first and then the mixture starts thickening up and coming together. Now is the time to add the other flavors i.e. chocolate syrup and cardamom powder. Keep stirring till the mixture maintains its shape and has completely come together. The entire process should take somewhere between 20-30 minutes.
All that is left is to pour it into a greased tray and let it cool. Then cut it into bite size pieces and dig in.. But guys do not forget to offer some to Lord Ganesh before that….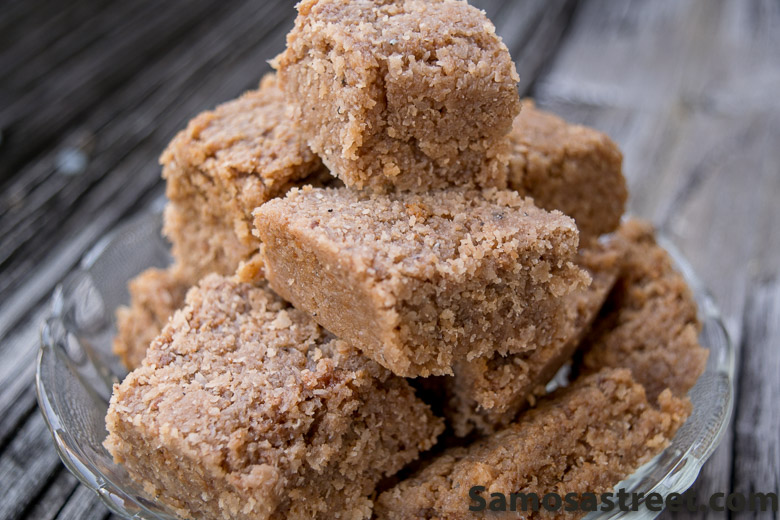 If you are on Facebook I would love it if you like my FACEBOOK page.

Coconut Chocolate Burfi
A simple easy to make burfi with chocolate added for a little extra oomph...
Ingredients
2 cups Desiccated Coconut
2 tbsp Ghee/ Clarified Butter
½ cup Milk
2 tbsp Chocolate syrup
½ cup Sugar
½ tbsp Cardamom powder
Instructions
Melt ghee in a non-stick pan on a low heat. Add milk and shredded coconut and keep stirring till the mixture starts to thicken.
Pour chocolate syrup and continue to cook, till it thickens.
Add cardamom powder and mix until it separates from the sides and forms a lump.
Spread the mixture into a greased tray evenly.
Once cool,cut into desired shape and serve.
Please follow and like us: