Wifey and I have somewhat of a tradition on each other's birthday's. We wish each other at midnight which is technically the start of the day and then make something sweet to mark the occasion. Usually it is quick mug cake or a microwavable chocolate cake. This year I decided to change things up a bit as far as the something sweet part of the equation was concerned. Instead of the usual mug cake it was time for something fancy the late hour notwithstanding. So, I made the decadently, rich and creamy "Chocolate Mousse" topped with pistachios for a little crunch.
Before talking about any recipe this is a time of great pandemic in the world so Please Stay Home and Stay Safe Everyone!!!!
Going back to the recipe wifey's birthday just happened before everything went bonkers here in the States. So, it was possible for me to plan a small surprise for her with a couple of our close friends. I ordered a cake for her and we had quiet a blast eating food that is very near and dear to our hearts i.e. Mexican.
If I want to go back to the origin of the recipe then I must go back to a couple of days before wifey's birthday. There was a packet of dark chocolate that was sitting in the pantry for a long time. The bitterness had turned me off since I have a big sweet tooth but at the same time trashing that and wasting food is just not in my DNA. While thinking about what could be done with it somehow, I randomly blurted out that a mousse could be made of it which could allow me to certainly tone down the bitterness of the dark chocolate.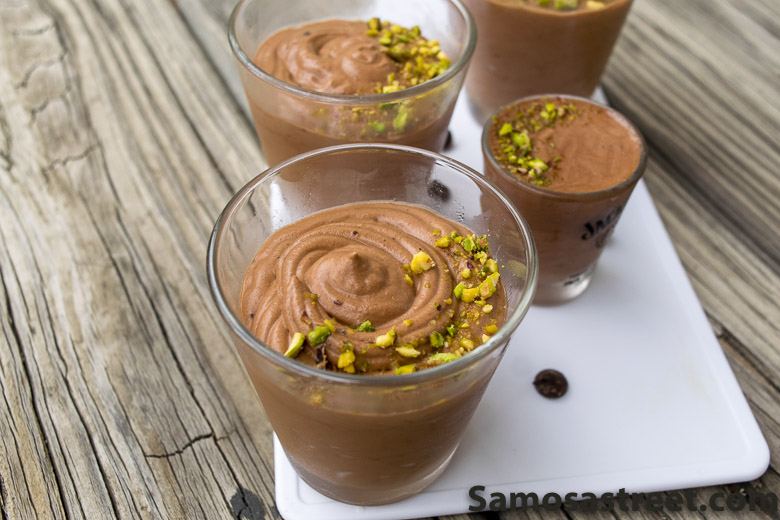 Having never made the recipe before, I had to do a little bit of research on it and being a fan of a lot of food network chefs, their website is the first place I looked. This recipe is an adaptation of what I found on their site. I was astonished to find out how simple and easy to make a chocolate mousse is.
All you need is chocolate, egg whites and heavy cream and a blender…
The process is simple. Whip the cream as well as egg whites into stiff peaks and mix the two. Mousse means foam and has a somewhat similar consistency which is what differentiates it from the ice cream. So, while mixing the egg whites and the cream it is important to do so gently to not take any air out of the mixture.
Another important point to note is to melt the chocolate using a double boiler. Applying direct heat to chocolate is never a good thing. I used the dark chocolate in this case, but it can be replaced with any kind of chocolate. While folding the egg white-cream mixture into the melted chocolate do take care to do so gently once again.
All that remains is to let the mixture set in the refrigerator for a couple of hours. Then y'all have a luxuriously rich and chocolatey dessert to enjoy which is perfect as the weather outside starts heating up!!!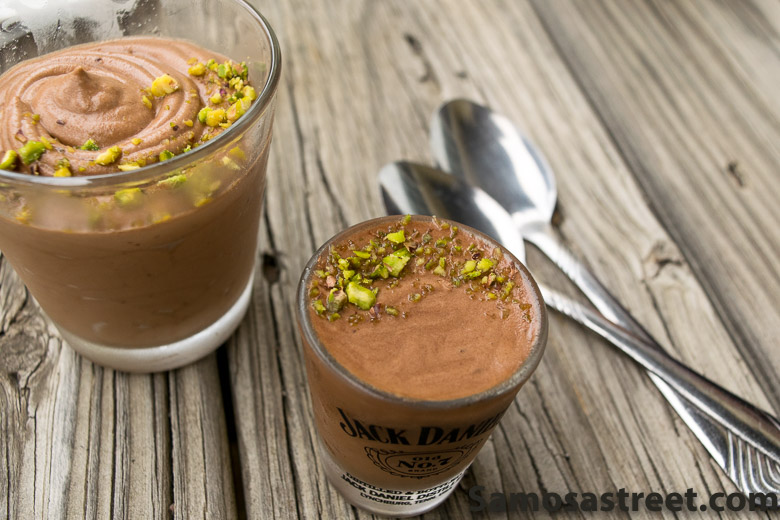 If you are on Facebook I would love it if you like my FACEBOOK page.
Chocolate Mousse
This classic chocolate mousse is a relatively easy to make dessert and is a fluffy, airy version of its brother i.e. the ice cream.
Equipment
3 oz Dark Chocolate Chips

7 oz Heavy Cream

2 large Egg Whites

½ cup Sugar
Instructions
Place chocolate in a bowl over a double boiler and stir chocolate until melted. Remove the bowl from the heat and let stand.

Using an electric mixer, beat the cream until it forms soft peaks. Set aside in a refrigerator.

Whip eggs until foamy. Gradually add the sugar and continue whipping until soft peaks form.

Fold egg whites into the chocolate bowl followed by the whipped cream.

Pipe the mousse into containers of your choice and chill until firm.

Enjoy!!
Please follow and like us: