Oh Boy, I just cant get enough of this journey. Its been one milestone after another punctuated by a lot of wonderful memories and most importantly by meeting some wonderful people. This time I am talking about recipe #100 y'all. I would never in my wildest dreams would have thought that something like this would have ever been possible. But the moment is finally upon me y'all. So what better way to celebrate than a bowl of utterly delicious ice cream. It is not just any ice cream but a Chocolate Brownie Ice Cream full of everyone's favorite indulgence i.e. Chocolate.
I think if I start recollecting all the wonderful blog related incidents in the last two years then I can pretty much talk for the next two days and write about 100 pages. So I am not going to dive too much into all that and just say that the blog has helped me grow as a person in innumerable ways. It has always been a safety valve for me which allows me to let go of a week's worth of stress. Last but not the least has been the role wifey dear continues to play in the blog. All I can say is the blog would never have come to fruition without you backing me up.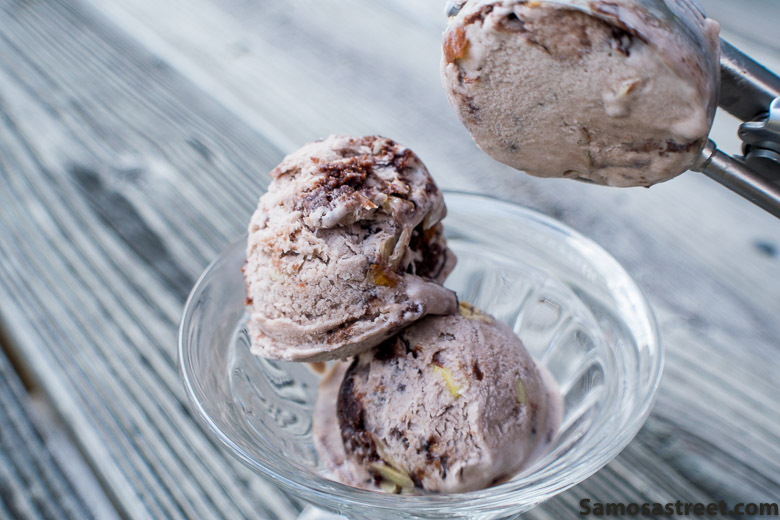 But this is a time for celebration Y'all. Especially for wifey and I and we are going to make full use of it. I don't know whether I mentioned it or not but I seem to have a big-time sweet tooth. Luckily for me wifey dear unabashedly shares my love of desserts which means she doesn't yell at me for buying too many cookies (LAUGHS!!!). But there is one thing that we can't get enough off. Y'all can almost say that we are addicted to it (CHUCKLES!!). We can eat it almost till our stomachs can't take it anymore. There are no prizes for guessing what it is since there are so many more people in this world who feel the same way.
Yes, people I am indeed talking about ice cream. My love for ice cream began in my childhood because of a completely unexpected occurrence. My mom learned to make some of the most amazing ice cream I have ever tasted right at home. She got so good at it that the only ice cream I ever wanted and ate was the one she made. She did all this about 20 something years ago without the use of an ice cream maker.
So what better way to celebrate this milestone than with my favorite childhood indulgence i.e. ice cream. The flavor was going to be an absolute no-brainer since the ice cream was going to have a lot of chocolate in it. So after the ice cream mix was dissolved in a mixture of milk and heavy cream I let it freeze overnight. The next day I broke it into chunks and used an electric beater to mix it till I got a smooth and creamy consistency.
Now the only question was how much chocolate I was going to add to it and in how many different forms? The first thing that went in was a heaping helping of Hershey's chocolate syrup. But that was never going to be enough. So in went a whole bunch of brownie pieces. Now I had chocolate ice cream with soft brownie pieces which means a little crunch was needed to balance things out. That was my cue to add in more chocolate in the form of chocolate cookies.
Finally, wifey dear had enough of my craziness and practically ordered me to add sliced almonds to cut through all the chocolatiness (Don't know if that's even a word…. LAUGHS!!!). At this point, even I thought I had added a lot (IMAGINE THAT… CHUCKLESS!!!) of chocolate so the mixture went in the freezer and my wait as well as the anxiousness to eat ice cream began (LAUGHSS!!!).
I am not going to say too much because one look at the pictures of this utterly decadent Chocolate Brownie Ice Cream is going to be enough to make y'all DROOL…..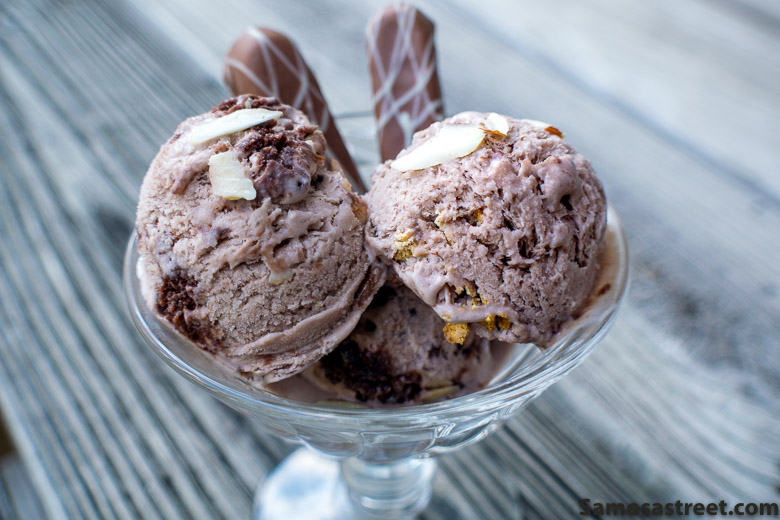 If you are on Facebook I would love it if you like my FACEBOOK page.

Chocolate Brownie Ice Cream
Chocolate Brownie Madness, It's rich, chocolatey with bits of cookies and studded with chunks of brownies. Take just one bite and you'll be hooked for life!
Ingredients
1 packet of Junket Ice Cream Mix
1 ¼ cup Whole Milk
¾ cup Whipping Cream
1 cup of Hersheys Chocolate Syrup
4 Brownies (chopped into pieces)
3 Chocolate covered cookies (chopped into pieces)
½ cup Almonds
Instructions
Mix the entire packet of the ice cream mix in the whole milk and the whipping cream. Stir until the ice cream mix is completely dissolved.
Freeze the mixture overnight in the freezer.
The next day break the frozen mixture into large chunks. Then beat it with a hand blender until smooth.
Mix in the chocolate syrup and continue blending till it is uniformly mixed.
Then add the brownies, crushed cookies and any other toppings as needed.
Cover and freeze overnight.
Enjoy !!!
Please follow and like us: