Simple yet delicious Carrot Soup, a perfect way to beat the heat.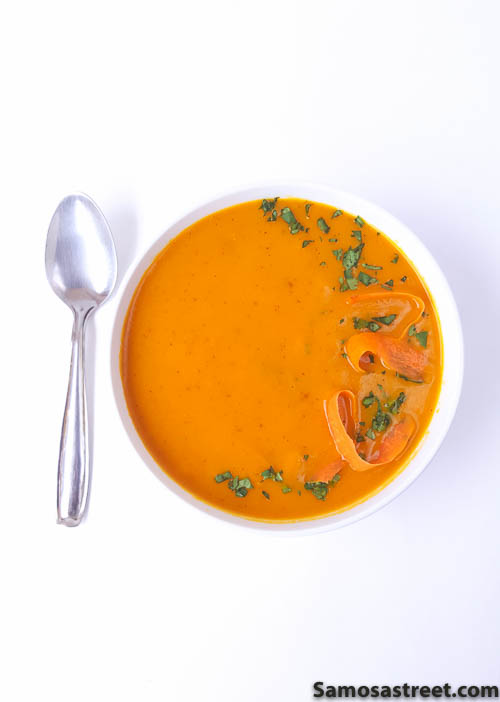 I hope everyone had a wonderful 4th of July just like I did. The only bad thing about such a terrific weekend was the 100 degree heat. It literally felt like your shirt would be soaked in 10 minutes the moment you stepped outside. But it wasn't going to deter us from making the most of this weekend. There was something else which also helped us combat the heat; a bowl of deliciously Chilled Carrot Soup. It was sweet, a little tangy with just a touch of spice. Overall the perfect antidote for the oppressive heat..
Normally holidays like these are a good way to recharge your batteries so to speak which is exactly what happened with me. It didn't matter that I had to go work on 2 of the 3 days. Even going to work turned out to be a bit of adventure (albeit a bit scary) when I found a snapping turtle next to my car (LAUHGS!!!). When I saw it I had no idea what it was. Fortunately I was sensible enough to stay away and escape with all my fingers intact. I never knew I was this smart (CHUCKLES!!!).
When I was not meeting snapping turtles I was shopping which shouldn't come as a surprise considering all the deals and discounts available at this time of the year. One of the things I found was a pasta maker so maybe there is a pasta recipe coming soon (WINKS!!!!). On the 4th wifey dear got to experience the fireworks for the first time. Needless to say she was absolutely mesmerized by it and hasn't stopped talking about it since then.
All that fun left us very little time to cook. In such a situation the sensible thing to do is to follow the KISS principle; it means Keep It Simple Stupid.. Which led me to this very simple but delicious carrot soup.
Heat oil in a sauce pan and add cumin seeds and coriander seeds. When the seeds splutter add in the onion, ginger and green chili and saute till soft. The chillies are optional as the soup will taste good even without them.
Add half the carrots along with 3 cups of water and bring to a boil. I also added bay leaves and a cinnamon stick to make the broth a little more flavorful. Reduce the heat, cover and let it simmer for 40 minutes until carrots are tender. Let it cool. Strain the cooking liquid in a bowl and discard the bay leaf as well as the cinnamon stick. 
You can do the above process with the entire batch of carrots and it will still work. I decided to twist things a little bit by oven-roasting the remaining carrots.
Preheat the oven to 400F. Cut the carrots in half. Drizzle generously with oil and toss to coat well.
Roast, turning occasionally for 40 minutes until they are tender, blistered and lightly browned.
Puree the boiled and roasted carrots in a blender with cooking liquid until smooth. The roasted carrots give a wonderful creamy and sweet taste to the soup. Season with salt.  Stir in lime juice and let it chill in the refrigerator for 2 hours.
Garnish with thinly sliced carrots and cilantro. ENJOY.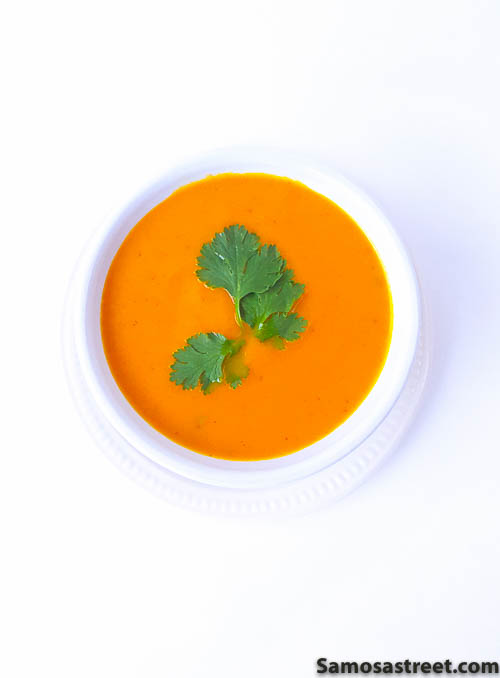 If you are on Facebook I would love it if you Like my FACEBOOK page.
Chilled Carrot Soup
Simple yet delicious Carrot Soup, a perfect way to beat the heat.
Ingredients
7 Carrots
1 Small Onion (chopped)
¼ tsp Coriander Seeds
¼ tsp Cumin Seeds
2 Green Chilies (optional)
1 inch Ginger (crushed)
1 Bay Leaf
1 Cinnamon Stick
3 tbsp Lime Juice
Salt
Cilantro
Instructions
Heat oil in a sauce pan and add cumin and coriander seeds. When they splutter mix in the onions, ginger and green chilies and saute until soft.
Add half the carrots along with 3 cups of water and bring to a boil. Add the bay leaf and cinnamon stick. Reduce the heat, cover and let it simmer for 40 minutes until carrots are tender.
Strain the cooking liquid in a bowl. Discard bay leaf, cinnamon stick and let it cool.
Preheat the oven to 400F. Cut the carrot in half. Drizzle generously with oil and toss to coat well. Roast, turning occasionally for 40 minutes until they are tender, blistered and lightly browned. Puree boiled and roasted carrot in a blender with cooking liquid until smooth.
Season with salt. Stir in lime juice and let it chill in the refrigerator for 2 hours
Garnish with thinly sliced carrot and cilantro
Please follow and like us: