Vada Pav!!! These two words are enough to get the mouths of any Mumbaikar salivating instantly. It is not just a piece of battered and fried potato tucked in two pieces of bread but people are more likely to have a lot of fond memories attached to it. These days people are coming up with a variety of creative takes on this iconic recipe which is making this dish more enjoyable. I decided to jump on this bandwagon with this "CHICKEN VADA PAV" which is my take made with ground chicken…
Vada in this case is made with mashed potatoes which have been spiced, then dipped in a gram flour batter and fried to perfection. The resultant fried goodness then finds its way into the arms of a bun along with its usual companion i.e. a dry garlic chutney just before it goes into your drooling mouth. So its no wonder that this is a much loved dish in my home state. You get a taste of it at a very young age and the craving for it usually lasts a lifetime. It is no surprise that wifey and my name is indeed on the long list of faithful devotees who desire this dish from time to time (LAUGHS!!!).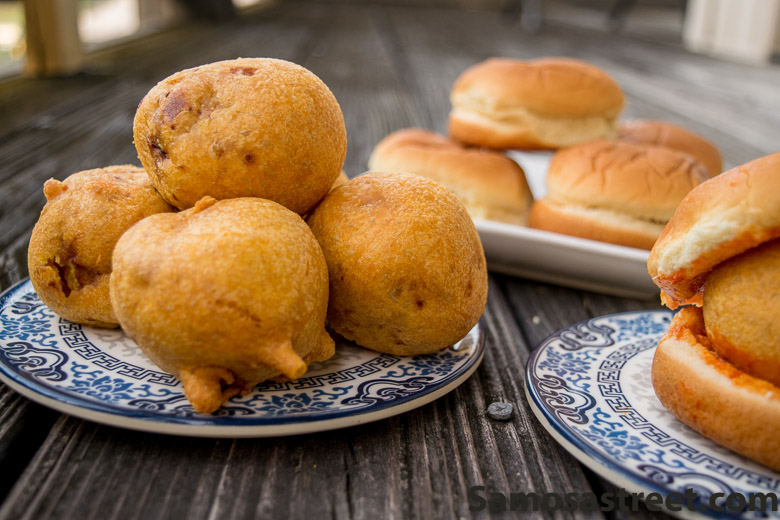 This week was actually one of those times when the two of us (especially wifey dear) were wanting this dish in a really bad way. But the problem was we have already done this recipe multiple times on the blog Broccoli batata vada & Beer Battered batata vada. So I had to come up with another new take. The inspiration came from wifey wanting to eat as much as much meat as possible before the holy month of Shravan begins. During this month she becomes completely vegetarian and it usually lasts till the Ganesh festival which happens sometime in the 2nd week of September.
So it will not come as a surprise when I say that wifey and I went on a chicken eating binge this week. Chicken curry, chicken pho, fried chicken; you name it and it was all there. Since chicken was kinda the theme of the week I decided to satisfy our craving for vada pav by making it with ground chicken instead..
Now isn't that a fun twist on this much-appreciated recipe Y'ALL??? I am sure all the meat-lovers are going to love this!!!!
Any time I cook chicken I always want to add a variety of spices and flavors to it. It makes no difference that all I am making is simply a fried snack. So everything from ginger, garlic, coriander powder, cayenne etc went into my ground chicken mixture. The piece de resistance was a special blend of spices called Ghati Masala which is locally found in Mumbai.
Now don't y'all worry!!! You can substitute with any store bought spice blend like garam masala instead. For all you adventurous folks out there y'all can even add OLD BAY SEASONING to it. The fried mixture is ready so time to cook it like the original vada pav.
Which means frying it in a batter of gram flour, turmeric, red chili powder, baking powder and salt. Once done simply put it in two pieces of bread with ketchup or a chutney of your choice and ENJOY!!!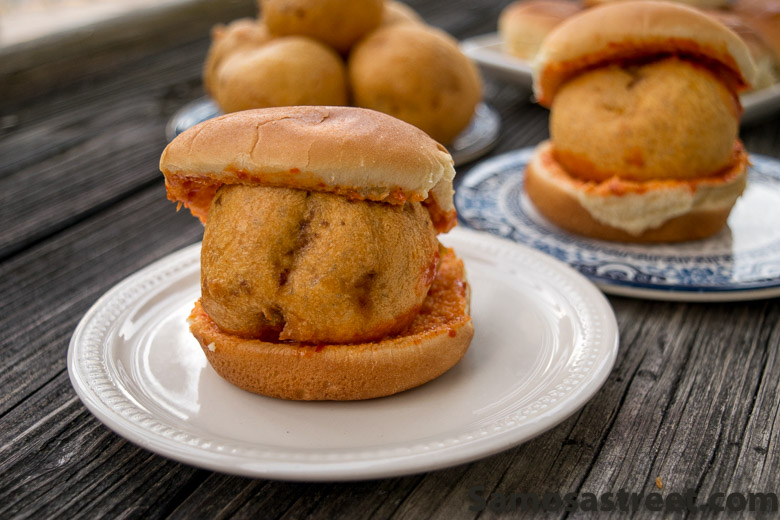 Other Chaat Recipes you may Enjoy !!
If you are on Facebook I would love it if you Like my FACEBOOK page.
If you like this recipe don't forget to Pin it and follow us on PINTEREST.
Did you make this recipe? Share a photo on INSTAGRAM at #samosastreet.

Chicken Vada Pav
Spiced ground chicken fried to perfection and then nestled comfortably between two pieces of bread..
Ingredients
Filling:
1 lb Ground Chicken
¼ tsp Turmeric powder
½ tsp Ginger powder
½ tsp Garlic powder
1 tsp Coriander Powder
1 tsp Cumin Powder
¾ tsp Dry Mango Powder/ Amchur Powder
2 tsp Ghati Masala/Garam Masala
1 ½ tsp Red Chili Powder
3 tsp Lemon juice
Salt: To taste
Oil for deep frying
Pav
Batter:
1¼ cups Coarse gram flour (besan)
1 tsp Red chill powder
½ tsp Turmeric powder
2 tsp Baking Powder
Salt to taste
Instructions
Filling
Combine ground chicken, ginger powder, garlic powder, turmeric powder, coriander powder, cumin powder, dry mango powder, ghati masala, red chili powder, lemon juice and salt and in a large bowl.
Divide the mixture in equal sized round balls
Batter
Place the gram flour in a bowl. Add salt, red chilli powder, turmeric powder, and mix. Add sufficient water to form a smooth and thick batter. Set aside for at least 15 minutes.
Frying
Heat sufficient oil in a big frying pan. Add baking powder to the batter and mix. Dip the balls gently in the batter and deep fry till golden brown on the outside.
Drain on absorbent paper.
Slit each pav, spread some chutney, place a fritter (vada) and press lightly. Serve immediately.
Please follow and like us: