Marinated boneless chicken thighs mildly flavoured with Old Bay Seasoning. A unique and distinctive curry.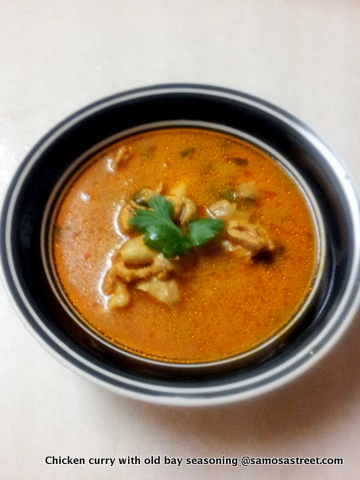 Like every Indian I am familiar with the aptly named spice blend "garam masala". It literally means "hot mixture of spices" and is so prevalent in Indian cooking that every Indian household will have its own unique recipe. Its uses are also plentiful; flavors in delicately flavored vegetable curries as well as the more robustly spicy meat dishes go up a notch with a few sprinkles of freshly made garam masala.
I have always thought of us Indians being the kings of spices since we use it to make a million different seasonings (chuckles!!!). So imagine my surprise when I came across an American variation of garam masala in a tiny little Subway store right here in Nashville. If you guessed it correctly then I am talking about everybody's favorite OLD BAY seasoning mix.

You will be surprised to know that I had absolutely no idea (I am ashamed to say that I have been in the US for about 6 years by then!!! Hahaha) about OLD BAY until the day I came across this gentleman standing in line ahead of me at subway. After he had finished ordering his sandwich he asked the server if he has old bay seasoning to sprinkle on top. When the answer came back in the negative then he literally pulled out a container of old bay from his pant pocket and added a little bit of the magic dust himself.
Being a curious cat myself I couldn't resist finding out more about OLD BAY myself. So of course I went ahead and bought a jar myself. The first time I used it on simple French fries I was hooked!!! Now I am at the point where I have to have a jar of OLD BAY in my kitchen 24/7. It also got me thinking about possibly flavoring some of the Indian preparations with this seasoning.
So this is just a simple chicken curry made with traditional Indian spices in which the flavor profile has been completely transformed with a touch of old bay added at the end.
You will be amazed at how this curry wakes up your taste buds.
Chicken Curry with Old Bay Seasoning
Marinated boneless chicken thighs mildly flavoured with Old Bay Seasoning. A unique and distinctive curry.
Ingredients
CURRY
1 lbs Boneless Chicken Thighs
1 large Onion finely chopped
1 tsp Cumin Seeds
1 tbsp Ginger Garlic Paste
1 cup Tomato Puree
1 tbsp Old Bay Seasoning
Coriander leaves to garnish
MARINATION
2 cups Yogurt
1 tbsp Lemon Juice
1 tsp Cumin Powder
2 tbsp Coriander Powder
1 tsp Turmeric
4-5 Red Chillies (Boiled in water and pureed)
Instructions
Mix together all the ingredients for marination in a bowl. Cut the chicken thighs into small pieces and add to the above mixture. Let it marinate in the fridge for an hour.
Heat oil in a pan. Add the cumin seeds.
Once the cumin seeds start fluttering add the onion and sauté them till they turn brown.
Then add the ginger garlic paste and cook for another minute
Mix in the tomato puree along with the marinated chicken and allow it to boil.
Then add the old bay seasoning and salt. Cook it for another 15 mins to let the flavors come together.
Garnish it with coriander leaves.
Notes
Longer marination (overnight) will give you better flavors.
Please follow and like us: