You never know when a recipe idea is going to pop up. A good chef is one who is constantly looking for those moments of inspiration and makes full use of each one. I am not a chef, just a good ol blogger so I tend to miss more ideas then I can care to admit. This week was one when I quickly latched on to wifey dear's words when she mentioned about having a burrito bowl at a friend's house. I knew then that I had to make that recipe and put my own spin on it. The end result was a colorfully enticing and absolutely divine "Chicken Burrito Bowl".
These days I have a of quiet a few things going on in my life. I have a day job to consider, then its on to school for classes in the evening and on weekends it's the blog plus any assignments that need to be done. So to say that the blog is not important might be a little harsh but it has definitely fallen down the pecking order of my priorities in life. I just don't have the time to ,  actively spend time looking for recipes. Which means coming up with recipe ideas in somewhat of a non-traditional way, i.e. chatting with friends (thanks Dan and Teresa… CHUCKLES).
Maddy loves to spend time with their new-born daughter (who is absolutely adorable by the way…) so she is over at their house multiple times a week. The other day Maddy came back home and started telling me about this burrito bowl Teresa had made for lunch. To be honest I stopped listening after the words BURRITO BOWL (Sorry wifey!!!!) My mind was running a mile a minute thinking about the ways I could customize the recipe in my own way for the blog.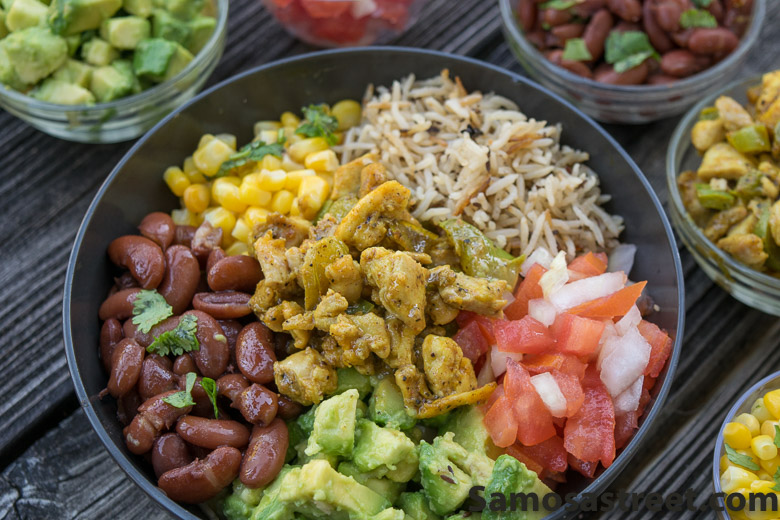 In the end I decided the best way would be to cook the chicken with flavors that I grew up with i.e. those from my home town. That means marinating the chicken first with yogurt and ginger-garlic paste. For the cherry on top I do have to add in the spices.. RIGHT Y'ALL!!!! I chose turmeric, coriander powder and malvani masala which is a spice blend local to my home town.
Don't sweat on the fact that you may not find this blend in your local Indian grocery store. Any blend that is available to you which can go in a chicken dish like garam masala/tandoori chicken masala will do just fine. Now that the chicken is sitting in the fridge absorbing all the delicious goodness I am going to start working on the other toppings.
I chose kidney beans and started to boil them. Then I moved on to the veggies like onions, tomatoes and green bell peppers which got chopped at breakneck speed (LAUGHS!!!). Once the kidney beans finish cooking all that is left is to cook the chicken. Which I did by sautéing in a cast-iron skillet along with the bell peppers.
Then if it were up to me, being the impatient guy that I am I would haphazardly throw everything in a bowl and start munching down. But I had to make the food look good so as not to embarrass myself in front of y'all. So I will let y'all tell me how the dish looks????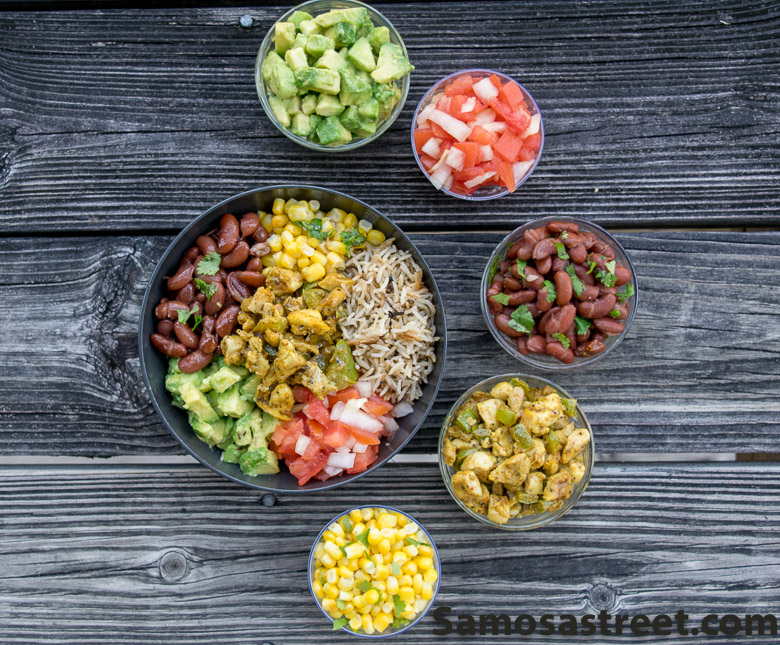 If you are on Facebook I would love it if you like my FACEBOOK page.

Chicken Burrito Bowl
Deliciously moist and succulent chicken with an assortment of toppings. Stuff it in a burrito or just eat it as it is!!! You just cant go wrong...
Ingredients
Marination
½ lbs Chicken (boneless skinless thighs)
2 tbsp Yogurt
2 tsp Ginger Garlic paste
½ tsp Coriander Powder
¼ tsp Turmeric
½ tsp Malwani Masala
Salt
Pepper
Jeera Rice/ Cumin Rice
1 cup Rice
1 tbsp Clarified Butter/Ghee
1 tsp Cumin Seeds
4 Cloves
1 Bay Leaf
1 Cinnamon Stick
5 Cardamom pods
Salt to taste
2 cup Water
Toppings
1 Green Pepper (diced)
½ Small Onion (diced)
1 Tomato (diced)
1 Small Serrano Chili
2 Avocadoes
1 cup Boiled Corn
1 tbsp Lemon Juice
2 tbsp Coriander leaves
1 cup Red beans
1 cup Yogurt
Hot sauce
Instructions
Marination
Whisk together yogurt, ginger garlic paste, coriander powder, turmeric, malvani masala, salt & pepper in a bowl. Cut the chicken thighs into small pieces and add to the above mixture. Cover and let it marinate in the fridge overnight.
Cumin Rice
Wash rice, drain the water and keep aside.
Heat ghee in a pan over medium heat add bay leaf, cinnamon stick, cloves, cardamon and sauté for few minutes till you get nice aroma from the spices.
Add cumin seeds, when it crackles, add rice. Stir till rice is well coated with ghee.
Add water and salt. Mix well. Cover and let it cook till water evaporates and rice is soft.
Chicken
Heat oil in a skillet over medium heat.
Add bell peppers and cook till tender.
Drain the chicken cubes and place on the pan and cook till each side golden and cooked through. Season with salt.
Assembly
Whisk together greek yogurt & hot sauce.
In a pressure cooker add red beans, salt and cook till soft.
In a bowl mix tomato, onion, serrano chili and salt.
Cut avocado in cubes and mix with lemon juice to prevent avocadoes from browning.
In a big bowl add rice, top with chicken mixture, red beans, corn, avocado and tomato onion mixture. Drizzle with yogurt sauce.
Please follow and like us: