Chicken, Cheese & Frying are my three favorite words in the world. When they come together the result is CHEESY CHICKEN FRITTERS jam-packed with flavors.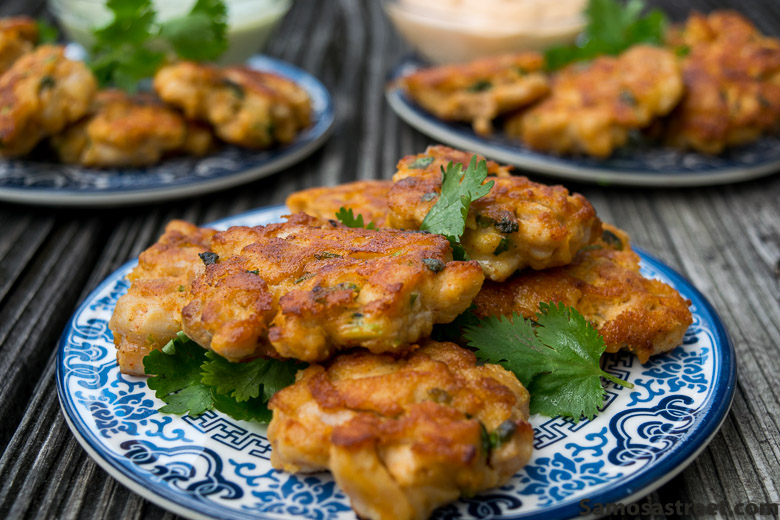 One of the annual occurrences in our house at this time of the year is that wifey dear usually binges on meat dishes just before the holy month of Shravan begins. It is her job to pick out the meat and my job to cook it (LAUGHS!!!).  On this beautiful Sunday afternoon she picked out chicken, which gave me a wide variety of options to cook. I was in the mood of gameday food since my favorite tennis championship was going on and came up with these crispy, delectable "CHEESY CHICKEN FRITTERS".
The Ganesh festival, which is one of the biggest festivals in my home state of Maharashtra begins next month. For a month leading up to the festival people celebrate the holy month of Shravan. During this time a lot of people tend to give up eating meat. Wifey dear just happens to be one of them and I am not. I mean I love my food too much to give up anything for even a few days let alone the entire month. Fortunately for me I can cook a little so I can make anything I want, even meat and wifey dear being a good sport doesn't mind me doing that. But I am a good husband too who supports his wife every time even when he has to give up meat for about a month (LAUGHS!!!)
I think I have gone way off track so let me get back on it. What I was saying was that we usually gorge on meat dishes for a good two weeks before the month of Shravan begins. This time wifey dear picked out chicken and for reasons unknown wanted me to make chicken nuggets. Being the good husband that I am I was certainly not going to listen to her (LAUGHS HARD!!!). I know, I know y'all can start talking about how a husband should always listen to his wife and all that. But hey rules are rules y'all. She picks the meat I pick the recipe and that's fair…
To be honest part of this was her fault too since she showed me a recipe video on facebook of chicken fritters which I instantly fell in love with.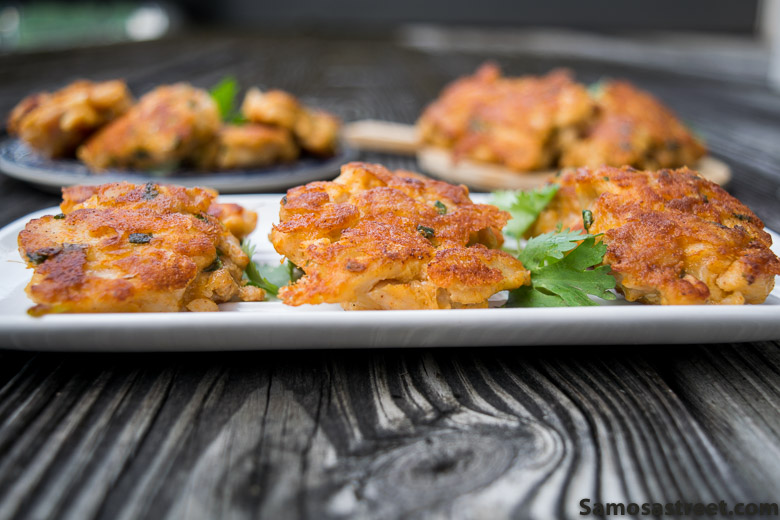 The concept was simple; mix all the ingredients and pan fry the fritters instead of deep-frying it.  So I took the idea and made my own version of it by adding some Indian spices to ratchet up the flavors.
To the chicken, AP flour and eggs I added a little ginger-garlic paste, lemon juice, cilantro and a heaping helping of mozzarella. The piece de resistance was the malvani masala which is very local to my hometown. Y'all can substitute in garam masala or the more adventurous ones can go for old bay seasoning. Once all the ingredients are mixed together just let the mixture chill in the fridge for about an hour.
All that is left to do now is to heat up a skillet and pan fry these bad boys till they are golden brown on both sides. As for the dipping sauces I made two of them i.e a cilantro coconut chutney and a sriracha mayo. To cap off a perfect afternoon wifey dear and I are going to sit on the patio and enjoy the rains with these steaming hot chicken fritters..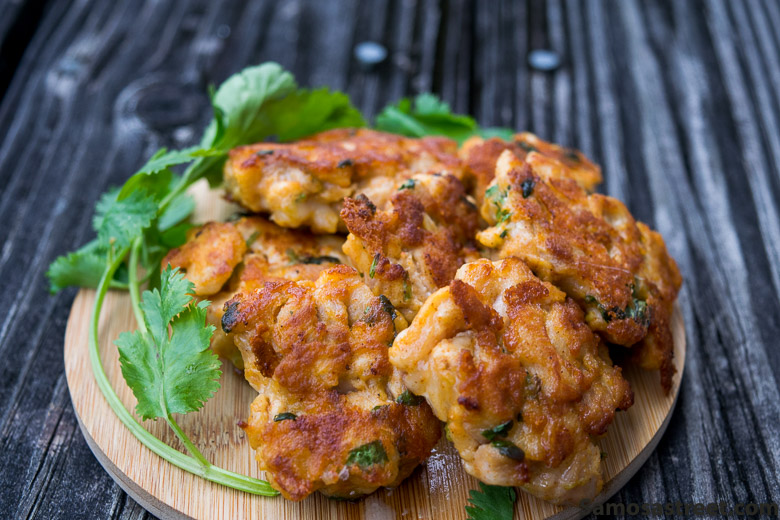 If you are on Facebook I would love it if you like my FACEBOOK page.
Cheesy Chicken Fritters
Chicken, Cheese & Frying are my three favorite words in the world. When they come together the result is CHEESY CHICKEN FRITTERS jam-packed with flavors.
Ingredients
1 pound Chicken (cut into tiny cubes)
¾ cup Mozzarella Cheese
2 tsp Ginger Garlic Chili Paste
1½ tsp Malvani Masala/Garam Masala/Old Bay
2½ tbsp All Purpose Flour
1 Egg (beaten)
5 tsp Lemon Juice
Cilantro (chopped)
Salt – to taste
Instructions
Combine chicken, cheese, ginger-garlic-chili paste, egg, all purpose flour, malvani masala, lemon juice, salt and cilantro in a large bowl. Cover and refrigerate for an hour.
Heat skillet over medium heat and Drizzle oil on it. Once hot, add a heaping tablespoon of chicken mixture and cook the fritters, until crisp and golden brown on both the sides
Serve hot with choice of sauce
Please follow and like us: