Something the corona virus has done is to force people to come up with creative uses of spending time. One such easy to use outlet for a lot of people has been cooking as the current situation has made amateur chefs out of a lot of people. The inability to shop for things that people are used to in their daily lives has forced people to make those from scratch at home. I can cook a bit, so I certainly do not mind doing so. So, when I started missing my tea-time snack i.e. the ever popular Indian chivda I decided to make it from anything that I had in the pantry. That anything turned out to be breakfast cereal in this case and the result was a spicy, somewhat sweet, and very nutty "CEREAL CHIVDA".
Growing up in India you quickly realize the important role food plays in your daily life. It seems as if there is something tailor made to eat for every occasion. It does not matter if that occasion is a big festival, a wedding, or a quick bite to eat with your friends. Even the humble cup of joe can be served with innumerable accompaniments. From biscuits to cream puffs to fritters everything is fair game and depends on personal taste. These accompaniments tend to change depending on your surroundings. For e.g. if its pouring cats and dogs outside then a lot of people like to have a cup of tea with steaming hot onion/potato fritters. On the other hand, some people like to have biscuits which they can then dip into the hot steaming mug of tea and eat.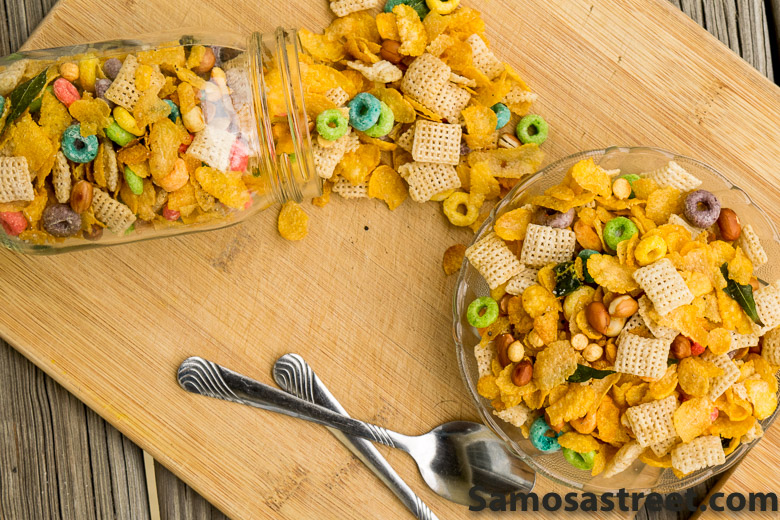 Living here in the US on the other side of the pond every Indian tends to miss their favorite Indian snacks. The Indian stores here are heavily stacked with snacks to cater to everyone's tastes so it has not been a big deal till the virus put an absolute damper on things. Now its either go to the store to buy the snacks or make them at home. If you ask me then one of my favorite things to munch on always is the chivda which is basically a mixture of a variety of spicy dried ingredients like lentils, corn, puffed rice, curry leaves etc. Y'all will not believe the variety of options available to make the same dish.
My personal favorite is the cornflakes chivda made with y'all guessed it "CORNFLAKES". Hello Captain Obvious!!! So far, I have had an unlimited supply available to me via the Indian grocery store. But the virus situation forced me to improvise and I began racking my head about ways to make it at home.
The one thing I did not have was cornflakes but then my eyes fell on the box of cereal in the kitchen and VOILA it was the perfect substitute for the crunchy cornflakes. The box of fruit loops that I had made for an interesting addition since it added a touch of sweetness to the cereal chivda.
Its amazing how a recipe with so few ingredients and is so easy to make packs a quiet a punch when it comes to flavor. In this chivda all you need is chilies for a little heat, along with curry leaves and peanuts. Just sauté the above ingredients mix in the cereal and season it and that is it. It's a pretty addictive munching snack at all times of the day so be sure to let me know if anyone of y'all get hooked on to it.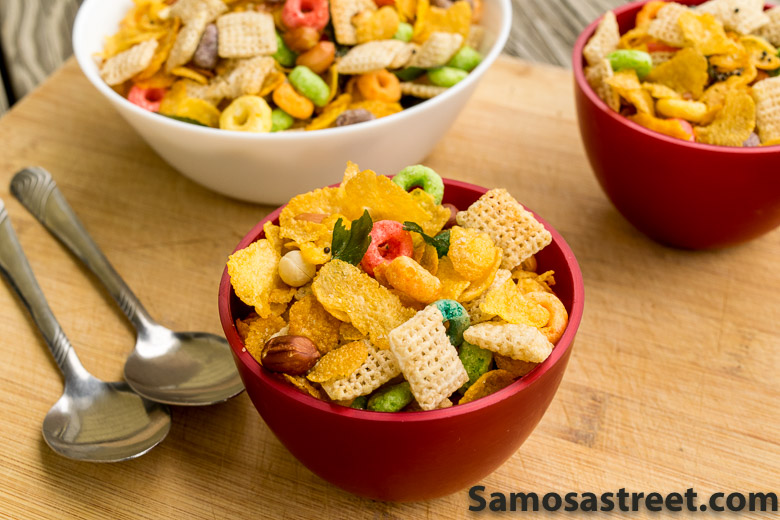 Here are some similar recipe to go along with a cup of tea.
If you are on Facebook I would love it if you Like my FACEBOOK page.
If you like this recipe don't forget to Pin it and follow us on PINTEREST.
Did you make this recipe? Share a photo on INSTAGRAM at #samosastreet.
Cereal Chivda
A twist on the traditional Indian chivda made with breakfast cereal. The fruit loops lend a touch of sweetness to the chivda.
Ingredients
3

cup

Corn Flakes

3

cup

Rice Chex

2

cup

Froot Loops

2

tsp

Mustard Seeds

4

Green Chilies

15

Curry leaves

½

cup

Raw Peanuts

¼

cup

Dalia

Salt

Oil
Instructions
Combine all cereals in a bowl and mix well.

Roast peanuts in a large pan until golden brown. Remove and keep aside. In the same pan lightly toast the dalia and set it aside

Heat oil in the same pan and add mustard seeds. When they splutter add curry leaves and green chilies and saute for 2-3 minutes.

Toss in the cereals, roasted peanut, dalia and salt and mix.

Let it cool. Store the chivda in an air-tight container.
Please follow and like us: