With a lot of spare time on my hands I often find myself wondering about my next recipe to obsess over. My current obsession is making paneer i.e. cottage cheese from scratch. So far, all my attempts have been nothing but an absolute disaster with the end product being a crumbly mess every time. However, it is just not in my nature to waste food, so I had to put that blob of so-called cheese to good use. The cheese was obviously not going to be the star of the dish, but it could be used as a garnish in this delectably fulfilling "Cauliflower Burrito Bowl".
We had just returned from a big grocery trip from Costco. As anybody who has been there will attest you tend to get things in bulk at this store. By the time it was all said and done I had a gallon of milk for my cheese making experiments (LAUGHS!!!) and a huge bag of cauliflower that we had picked up without realizing.
I did not know it at first, but these two facts were going to help me come up with one delightfully enjoyable recipe which was a divine fusion of Indian spices combined with Mexican flavors.
After my two disastrous attempts at making paneer I had half the quantity of cheese which was barely holding together that ultimately went in a curry. The other half was not fit to be called cheese, so I had to come up with something to use it in. My first thought was a chicken burrito bowl but in my mind chicken and paneer just do not go together.
It was at this point that wifey came up with the idea of simply replacing the chicken with the heaps and heaps of cauliflower that we had recent bought and turning this recipe into a vegetarian's delight. The bell peppers that we had also bought only lent credence to this idea.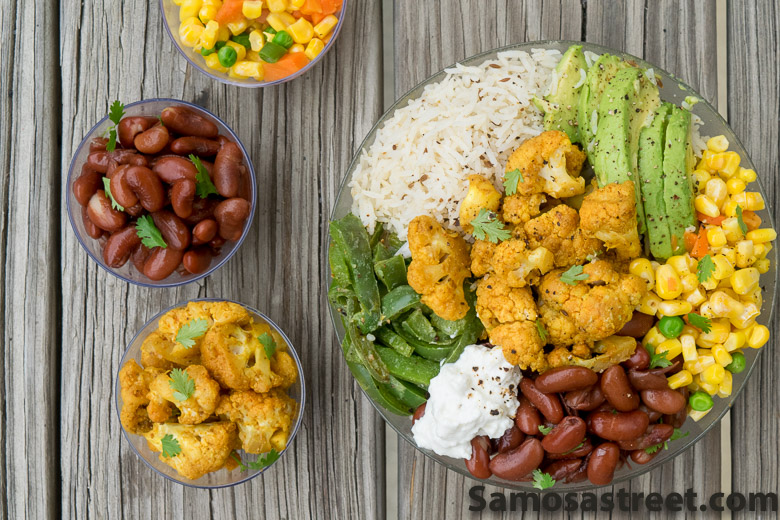 In keeping with the theme of the blog I sautéed the cauliflower with a little turmeric, subji masala (can be replaced with any store bought garam masala) and chili powder for a spicy kick. The subji masala or the garam masala for that matter usually is a mixture of a variety of different spices and lends a nice complexity to the dish. The cauliflower is the star of the dish and should be treated like one. Don't y'all agree???
The kidney beans on the other hand were simply cooked with salt and pepper. However, there was an added wrinkle with the rice which was cooked and then toasted with cumin seeds which gave a nice earthy tone to the overall dish.
The cherry on top was the avocado slices and my messy paneer turned out to be the ideal garnish in the recipe. The colors in the bowl just scream "EAT ME" and the whole dish when put together delivers a barrage of flavors onto your palate. Y'all can stuff the whole thing into a tortilla or any Indian bread and I guarantee y'all that it will taste just as good if not better.
This just proves that cooking disasters can sometimes lead to great recipes.
By the way if y'all have any tips to help me in my paneer making adventure then they would be much appreciated????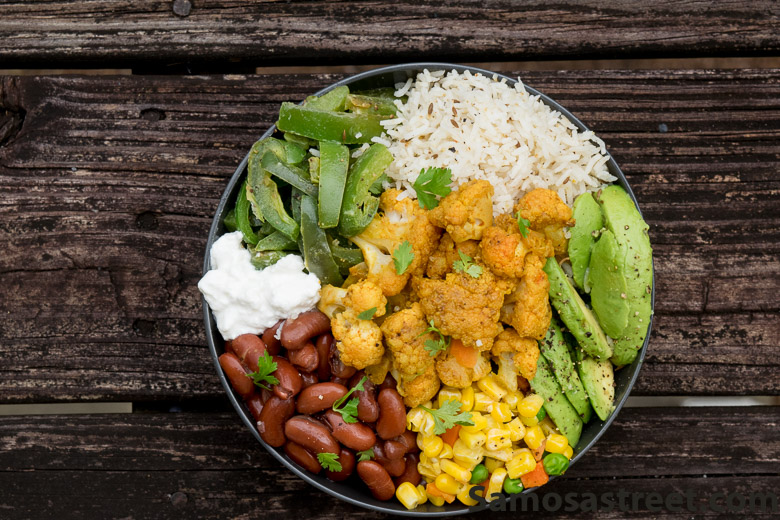 Here is a recipe for Chicken Burrito Bowl for non veg lovers.
Other Cauliflower Recipes you may Enjoy !!
If you are on Facebook I would love it if you like my FACEBOOK page.
Did you make this recipe? Share a photo on INSTAGRAM at #samosastreet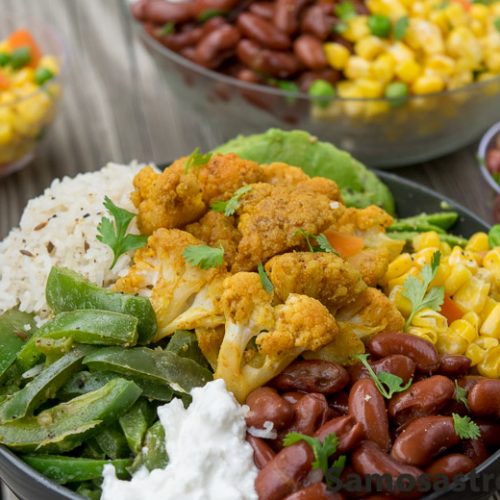 Cauliflower Bowl
This bowl is packed full of flavors and loaded with veggies, jeera rice and can be easily customized with a variety of fun toppings. Might just become a staple at your dinner table!!
Ingredients
Cauliflower
½

lbs

Cauliflower

cut into florets

½

small Onion

diced

2

Garlic Cloves

minced

1 ½

tsp

Red Chilli Powder

½

tsp

Tumeric

2

tsp

Sabji Masala

Salt
Jeera Rice/ Cumin Rice
1

cup

Basmati Rice

1

tbsp

Clarified Butter/Ghee

2

tsp

Cumin Seeds

Salt to taste

Pepper

2

cup

Water
Toppings
1

cup

Rajma/Kidney Beans

2

Green Pepper

julienne

2

Avocados

sliced

2

cup

Boiled Corn

1

tbsp

Lemon Juice

½

cup

Paneer/Cottage cheese

2

tbsp

Coriander leaves
Instructions
Cauliflower
Heat oil in a heavy bottom pan over medium heat.

Add onions, garlic and saute for about 4-5 minutes.

Mix in the cauliflower florets and add the dry spice powders when they are half-cooked.

Cover and cook on low flame till cauliflower is soft.

Season with salt and garnish with coriander.
Cumin Rice
Wash rice, drain the water and keep aside.

Heat ghee in a pan over medium heat add cumin seeds, when it crackles, add rice. Stir till rice is well coated with ghee.

Add water, salt and mix well. Cover and let it cook till water evaporates and rice is soft.
Assembly
In a pressure cooker add red beans, salt, pepper and cook till soft.

In a bowl mix corn, lemon juice and salt.

Cook the green peppers in a skillet over medium heat and season with salt and pepper.

In a big bowl add rice, top with cauliflower mixture, red beans, bell peppers, sliced avocados and garnish with paneer.
Do try and let us know how it turned. We would love your feedback, Please leave your comments below.
Please follow and like us: